Nicosia sees the departure of Turkish drillship Yavuz from Cyprus' exclusive economic zone (EEZ) as a positive development but will await developments to better evaluate the situation, government spokesman Kyriakos Koushos told the Cyprus News Agency on Monday.
He was commenting on reports that the Yavuz had moved out of Cyprus' EEZ and was returning to Turkey, days after an EU summit postponed a decision on possible sanctions against Ankara for its illegal actions in the Eastern Mediterranean to give time for diplomatic initiatives.
Koushos said that the departure of the Yavuz was a positive development which contributes to a positive climate.
But he said that it was unclear whether the ship was leaving for good and noted that Turkey's seismic research vessel Barbaros remains within Cyprus' EEZ, while threats to settle the fenced city of Famagusta continue.
Nicosia will await developments to evaluate the situation, he said.
The European Commission spoke of "another welcome step towards de-escalation in the Eastern Mediterranean".
"We hope to see similar and additional steps in this direction, as described and discussed by leaders at the (EU) Council, last week," Peter Stano, lead spokesman for external affairs told the Cyprus News Agency.
Disy president Averof Neophytou said the ship's departure was a response to all those who had downplayed the recent EU summit decisions and showed President Nicos Anastasiades had acted correctly.
He also anticipated developments on the Cyprus issue, noting that beyond being a Cyprus-Turkish problem, it was also a European and geopolitical one.
But the small opposition party Solidarity said that Turkey could send the Yavuz back at any time. It questioned what promises Nicosia had given at the EU summit so the drillship would leave, and reiterated that Cyprus was weakened within the EU.
And the Greens said that although a positive step, the departure of the Yavuz was incomplete. What would genuinely help de-escalate tension in the region is the full restoration of sovereignty of Cyprus' sea areas and the ending of Turkish plans to settle Famagusta.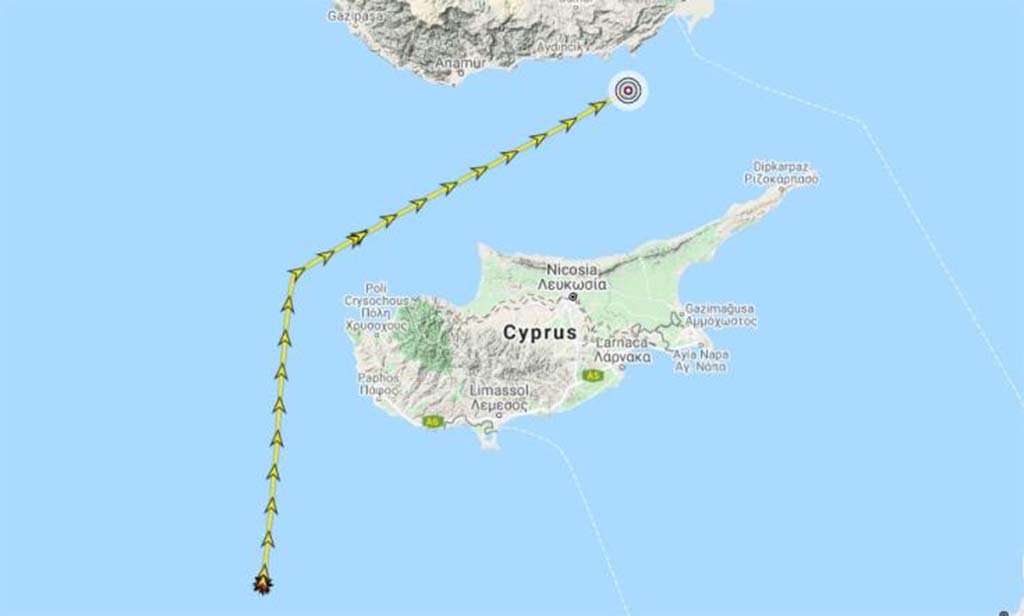 Reuters said the Yavuz had left the area where it had been operating southwest of Cyprus and had reached the Turkish coast.
The Yavuz vessel first began operations east of Cyprus in July 2019. Its latest operations to the southwest of the island, were most recently extended until October 12.
Ship tracking data showed Yavuz as being near the port of Tasucu in Turkey's Mersin province on Monday morning, having departed from Cyprus on Sunday.
The Energy Ministry said it would now prepare for work in a new location.
The ship finished work at the Selcuklu-1 well on April 24 and returned to Tasucu Port, the energy ministry said. "Following preparatory work at the port, Yavus will continue drilling operations in a new location," it said.
On Friday, EU leaders assured Cyprus the bloc would punish Turkey if it continues drilling in disputed Mediterranean areas, after resisting Cypriot calls to impose sanctions on Ankara.
Regional tensions have simmered since Turkish and Greek frigates collided at sea in August near a Turkish exploration vessel but cooled after Turkey and Greece agreed to resume "exploratory talks" that ended in 2016.
But Turkish seismic research vessel Barbaros Hayrettin Pasa remains off southeastern Cyprus and its operations there have been extended to October 18.
On Monday, reports said Yavuz's departure was likely linked to behind-the-scene diplomatic efforts, especially by Germany to ease tensions in the Eastern Mediterranean.
According to Phileleftheros, during long discussions at the European Council, German chancellor Angela Merkel had asked Anastasiades not to insist on the issue of sanctions and promised him that moves would be made by Turkey.
Among those moves would be that she expected Turkey would not renew its Navtex for activities in the region, and the possible withdrawal of one or both drilling rigs from Cyprus' EEZ.
At the EU Council meeting on Thursday, Anastasiades had been pressing for EU sanctions against Turkey for repeatedly violating Cyprus' EEZ, at one point linking them with proposed EU sanctions against Belarus.
But under strong pressure from other EU leaders, Cyprus agreed to a compromise that the EU review Turkey's behaviour in December and impose sanctions then if its provocations did not stop.
Anastasiades said that leaders had discussed how to create a climate that would allow a strategic relationship between the EU and Turkey based on the principles and values of the EU and international law.
He highlighted the 'unanimous position' that a precondition was Turkey ending its illegal actions against the sovereign rights of Cyprus and Greece. A number of proposals, including immediate sanctions or giving time for diplomatic initiatives, were discussed.
Ankara has on several occasions sent its seismic research vessel Barbaros to Cyprus' EEZ following Cyprus' decision in 2011 to start exploratory offshore drilling.
After May 2019, Turkey caused a stir by sending consecutively two drill ships, Fatih and Yavuz, to conduct unauthorised drilling activities of hydrocarbons in the Eastern Mediterranean, at times in areas licensed by Cyprus to international energy companies.