Test, test, test has been the mantra from the scientific community for months. But how accurate are they?
With Covid-19 cases rising around the world and the dreaded flu season approaching as well, testing for coronavirus (SARS-CoV-2), the causative agent, is set to take on new dimensions, and pressures, which is prompting debate within the medical and research communities.
In-depth articles on the Polymerase Chain Reaction (PCR) testing have recently been published in the New York Times and BBC, raising some crucial questions. If someone tests positive, how positive are they in terms of being infectious? What might their prognosis be when it comes to disease progression and death?
In a nutshell, the PCR-based tests amplify the genomic material of the virus (RNA) from a person's swab. Specifically, the RNA is converted to DNA, a process called reverse transcription (RT) and after that, the DNA is exponentially amplified through a series of PCR cycles that ultimately create billions of viral DNA copies. These trigger a fluorescent signal which is detected by laboratory equipment called real-time PCR (rt-PCR) instrument.
The PCR cycle in which the signal becomes detectable is called the threshold cycle (CT). A person could test positive at any threshold cycle from the early cycles to as many as 37-40.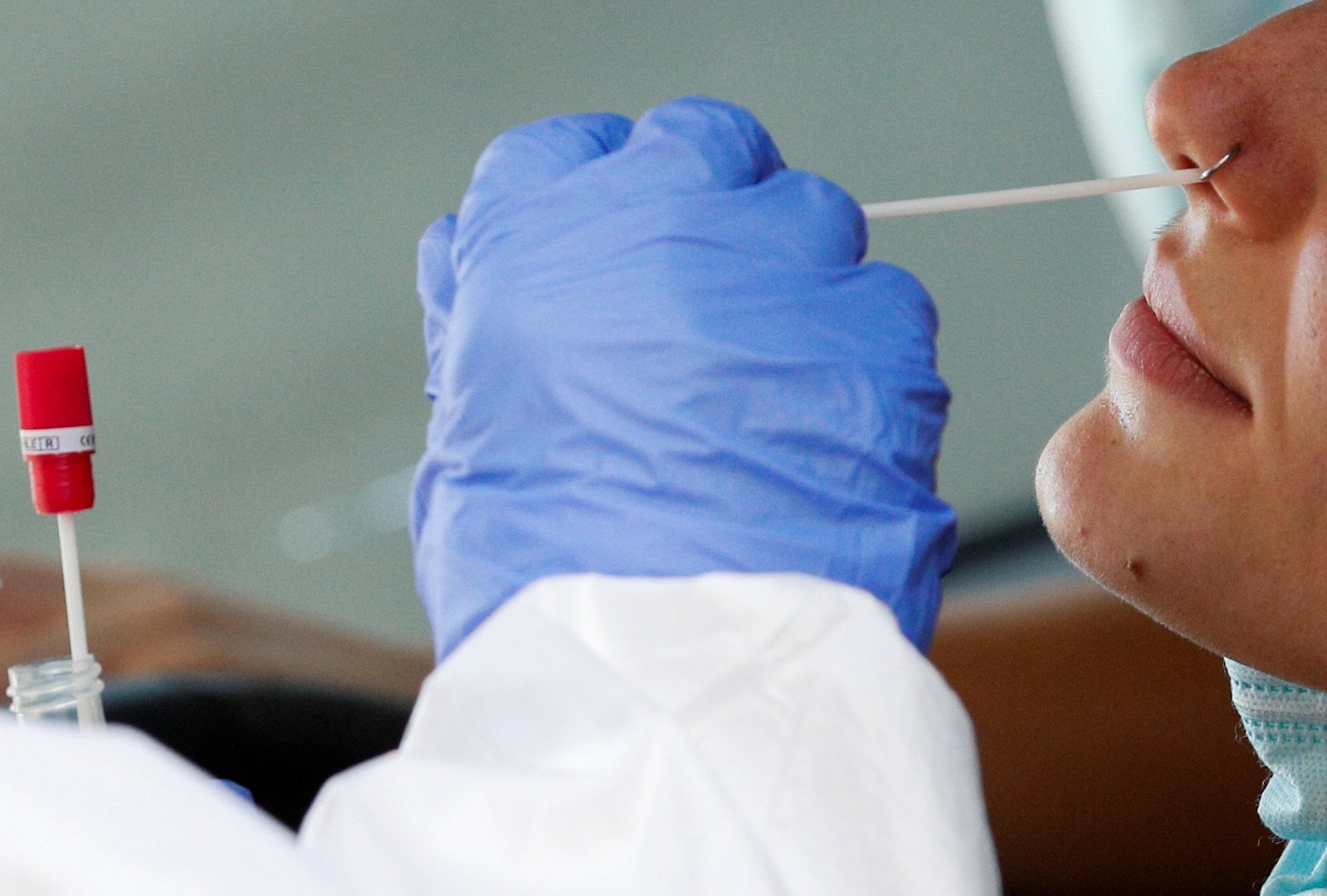 The fewer amplifications it takes to detect the virus, the higher the initial 'viral load' of the sample, that is the amount of virus present on the swab and in extent, carried by the person. The higher the number of cycles, the lower the 'viral load'.
Currently, in every country, only researchers appear to be keeping track of the number of CT values where a sample gives a positive signal. The public are only told whether they are positive or negative. Labs, Cyprus included, are not required to report the CT values for each individual case.
According to the New York Times, in three sets of testing data that include threshold CT values, compiled by officials in Massachusetts, New York and Nevada, up to 90 per cent of people testing positive carried barely any virus. It said most tests set the CT value limit at 40, a few at 37. Scientists around the world are at odds as to whether the CT value limit should be stopped at 30 or 35. Dr Michael Mina, assistant professor in the epidemiology department at the Harvard School of Public Health called this "one of the most pressing questions today".
"If 100 patient files are on my desk for tracking, I will prioritize people with the highest viral load because they are more contagious," said Mina. "We need to stop thinking of people as positive or negative and start wondering how positive they are," he added.
Not everyone agrees with such a simplified approach.
Cyprus' own leading expert in the field of molecular virology, Leondios Kostrikis, head of the biotechnology and molecular virology lab at the University of Cyprus, founding member of the Cyprus Academic of Sciences Letters and Arts and lead adviser to the government on Covid-19, urges extreme caution and thus, strongly believes that the private labs, who report directly to the health ministry, should actually provide the CT values for each positive case.
He told the Sunday Mail in an interview it was important to know the CT value along the PCR process the signal was picked up. Kostrikis has published numerous scientific articles over the years about this technology and he argues that CT values beyond 37 should be treated with caution. In his experience, a threshold cycle of 37 corresponds to an initial concentration of 100 copies of the virus in the real-time PCR sample. In extrapolating this, it roughly corresponds to 10,000 viruses per swab. "We always stop at CT values of 40 since anything beyond this number is highly questionable in terms of accuracy," he said. Even a CT value 37 is "pushing it to the limit" and barely picks up a positive signal. "If a lab reports positive samples with CT values above 40 they are making a terrible mistake" he added.
"My personal opinion, is that the CT values have to be reported and they need to be interpreted in a pragmatic way, not over-interpreted. CT values have a lot of caveats and these caveats are due to the variability in the amount of virus collected by the swab," he said.
As Kostrikis explained, he is not too fond of the term 'viral load' associated with Covid-19. The term 'viral load' was first defined in the mid-nineties for the HIV-1 virus, which is the causative agent for Aids. The 'viral load', he said, simply defines the concentration of the virus in the blood plasma for example, number of viral particles (virions) per millilitre of plasma or blood.
He cited a scientific study by John W Mellors published in Science in 1996. The study followed the test subjects for more than 10 years.  "The risk of acquired immunodeficiency syndrome (Aids) and death in study subjects, including those with normal numbers of CD4+ T cells, was directly related to plasma viral load at study entry," the study concluded. Kostrikis, himself in a study published in the Journal of Virology in 2003, focused on the quantity of HIV-1 DNA in cells or the "cellular viral load" for the progression of HIV-1 disease. "We have shown the concentration of virus inside the cells is also an extremely good predictor of disease progression," said Kostrikis.
Considering that samples for Covid-19 come primarily from nasal swabs and not from blood or cell samples, Kostrikis is cautious of using the term 'viral load'. "For this virus, the term 'viral load' doesn't mean anything," he said.
"SARS-CoV-2 is secreted in the mucosal pharyngeal areas so, the definition of viral load is difficult to define because there is no unit of volume for the sample. This is a very important parameter and something to stress when interpreting test results," said Kostrikis.
"We need to define it. It's not defined yet so when you take a swab and you test that swab for the presence of SARS-CoV-2, the RNA, you don't have a sense of the viral load because the virus that you detect cannot be normalised per unit volume.  You cannot use the term 'per swab' because the amount of sample on a swab can vary significantly. Currently there is no defined way of collecting a fixed amount of sample on a swab."
Kostrikis said much more basic science work is still needed on Covid to prove the notion of viral load as a predictor of disease progression in the way it is understood in HIV-1. "The scientific paper that defines the SARS-CoV-2 viral load and its importance as a predictor in disease progression, similar to what was published by W Mellors… is not out there yet," he said.
Recording the CT values at which people test positive should however be part of the equation as more is being learned. "For example, if the CT values at 20 can be distinguished from those 30, we could possibly get a sense of the amount of virus a person carries," he said.
"It is possible that an infected individual with a positive sample of CT value 20 may have more severe clinical symptoms than an infected individual with a CT value of 30, however, this needs to be scientifically proven," he said. "I believe the labs should report the CT value for positive samples, however, it requires caution in interpreting these values."
Cyprus averages 2,000 to 3,000 tests a day with, lately, positive cases coming in around 20-25. It may sound low but for Kostrikis, the bar is set higher. Five positives per 1,000 tests would be borderline for him. "We want to keep it less than five positive cases per 1,000 tests. We're getting higher and that indicates that the dynamics of transmission are high and the concentration of cases in the community are such as they can be exponentially expanded," he said. "Hospitalisations are also rising."
He does foresee with the onset of the annual flu season that there will be a greater demand for testing as Covid-19 will have to be ruled out first for people who fall ill since the clinical symptoms are quite similar. But there will likely be increased demand for testing at some stage.
Kostrikis does not see a new lockdown the likes of which Cyprus had in March and April because the virus is now endemic to Cyprus and a lockdown would not no longer have the same effect in controlling the spread as it did previously. He is an advocate of masks, and while admitting they were not nice to wear, was not convinced people in Cyprus were complying with the mandate as fully as they could. He also believes social distancing is far more important as a preventative measure.
As for herd immunity, Kostrikis said: "In my view, there is no such thing as herd immunity without a vaccine."
Trying to achieve herd immunity without a vaccine could not work because the natural immune response developed by previously infected individuals, may not be enough to prevent them from getting reinfected, he said. "The only way to control the virus from spreading is through vaccinations and there we will have another struggle…"