Turkish Cypriot 'prime minister' Ersin Tatar ousted his rival, incumbent Mustafa Akinci with 51.74 per cent of the vote to 48.26 per cent in the Turkish Cypriot 'presidential' elections on Sunday, press reports from the north said. 

By 7.45pm Tatar's supporters were already congratulating him on his election as 'president'. Others were gathering at the offices of the National Unity Party (UBP) and started celebrating.
Today the 'TRNC won', one of Tatar's followers said while waiting for him to make his first address as 'president' at the UBP offices.
When he spoke to his supporters, Tatar, 60, thanked all of the Turkish Cypriots who elected him as 'president', of "their own free will".
He called for unity, so that everyone, those who voted for him and those who did not, could work together for everyone's benefit.
He also thanked "motherland Turkey" and Turkish President Recep Tayyip Erdogan for all the help given to the north during the difficulties faced due to the pandemic, especially the economic ones.
Speaking also in English Tatar sent the message: "We are the voice of Turkish Cypriots, we are fighters, we are fighting to exist within the TRNC, Therefore our neighbours in the south and the international community should respect our fight to live with freedom within the TRNC."
Tatar also said the north would expand its relations with Turkey, economically and protect its rights in the eastern Mediterranean.
He also said he wanted to extend a branch of  "peace and friendship" to the Greek Cypriots.
"I am ready to sit at the (negotiating) table and end the Cyprus issue based on facts," he said.
Solving the Cyprus problem, he said, would "set an example to our region, to the world" and would benefit both sides and the Turkish Cypriot 'state'.
It would also improve Turkeys and Greece's relations, he said.
"If our Greek Cypriot-Greek friends read correctly the strategic, economic and social balances in our region, considering the future, I believe it will not be difficult for us to sit at the table and reach an agreement," Tatar said. "If they do not and maintain their uncompromising attitude, they should know that we will not give up our rights."
He said he would take the necessary steps to protect the Turkish Cypriots' rights to the end.
Turkish President Tayyip Erdogan sent a message of congratulations to Tatar on social media on behalf of himself personally, and the Turkish nation.
"Turkey will continue to make every effort to protect the rights of the Turkish Cypriot people," Erdogan tweeted.
Turkish Foreign Minister Mevlut Cavusoglu also messaged through social media saying Ankara would work with Tatar "for the development and security of the Turkish Cypriots".
"We will protect their legitimate rights in the Eastern Mediterranean together," he said.
Akinci also congratulated Tatar but also took a swipe at Ankara and its heavy interference in the election process.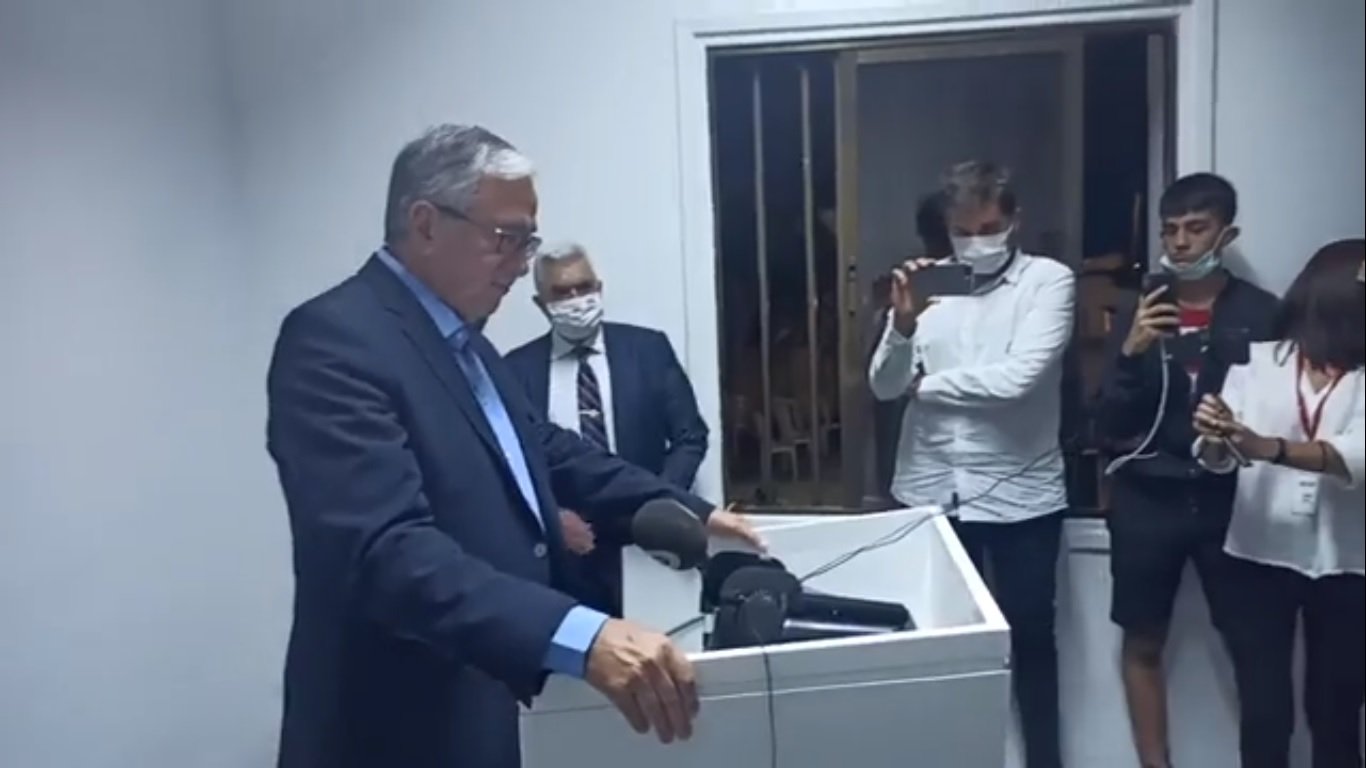 "I already said what happened during the election campaign and everyone knows what happened," he said, right after the final results were announced.
He added that it had not been a normal election campaign.
"I congratulate Tatar and those who helped to bring this result, we all know who helped bring these results. I hope these interventions won't happen again."
He described the lead up to the election as 'black pages in our history'.
Akinci, 72, also said this would be the end of his political career after 45 years.
His followers expressed their sadness on social media. Οne Facebook user wrote on Akinci's official profile that he was elected by Cypriots, while Tatar by people from the Black Sea region in Turkey. "You are the greatest leader ever to have come to Cyprus, we are with you, my president," he said.
Tatar's win will have huge implications for the Cyprus issue and the way forward. Pro-federation Akinci has been negotiating with President Nicos Anastasiades since he was elected as the Turkish Cypriot leader in April 2015. Tatar, who is backed by Ankara, is not a proponent of a Cyprus federation and has led the charge recently in opening up parts of the fenced-off area of Varosha in Famagusta.
Analysts in the north said before the ballot that this election was critical and that Ankara was not very keen on the federal solution any more. They said Turkey's foreign policy was changing and becoming more aggressive, so it shouldn't be surprising if it becomes more hawkish in Cyprus as well.
With Tatar a federation might become very difficult to achieve, they said. There was also a fear that a Tatar victory would result in more blatant interventionism in the north's internal affairs by Ankara.
Polls opened at 8am and closed at 6pm. Voter turnout last week was a record low of around 58 per cent but rose to 61 per cent this week.
In the first round Akinci received 29.84 per cent of the vote and Tatar, backed by Ankara, 32.35 per cent.
Tatar was supported in the second round by his party, National Unity Party, the Renaissance Party and the Democratic Party.
Akinci was backed by the Republican Turkish Party and the Community Democracy Party.
The number of registered voters was 199,029 who cast their ballot at the 738 polling stations.