A disappearing wall will be brought to Nicosia and Limassol in the following weeks as an interactive installation organised by the Goethe-Institut. It will combine quotes from European high and pop culture to demonstrate Europe's diversity. This is not a Cyprus exclusive but a global installation as from summer 2020, the striking walls have been seen in 10 European countries. In Cyprus the Disappearing Wall will be shown on Saturday and Sunday at Faneromeni Square in Nicosia and on November 7 and 8 at the Molos seafront in Limassol.
The Goethe-Institut presents the project on the occasion of the German presidency of the EU. It presents a selection of famous quotes – fragments from songs and poems, quotes from favourite films, novels and philosophical works – submitted by Europeans through the process of local open calls. Whether it is a quote from Hannah Arendt, a lyric from a Beatles song, a line from the film Amélie, or a statement by the Hungarian Nobel Prize winner Imre Kertész, the quotes chosen for the installations are diverse and illustrate the linguistic and intellectual diversity of our continent.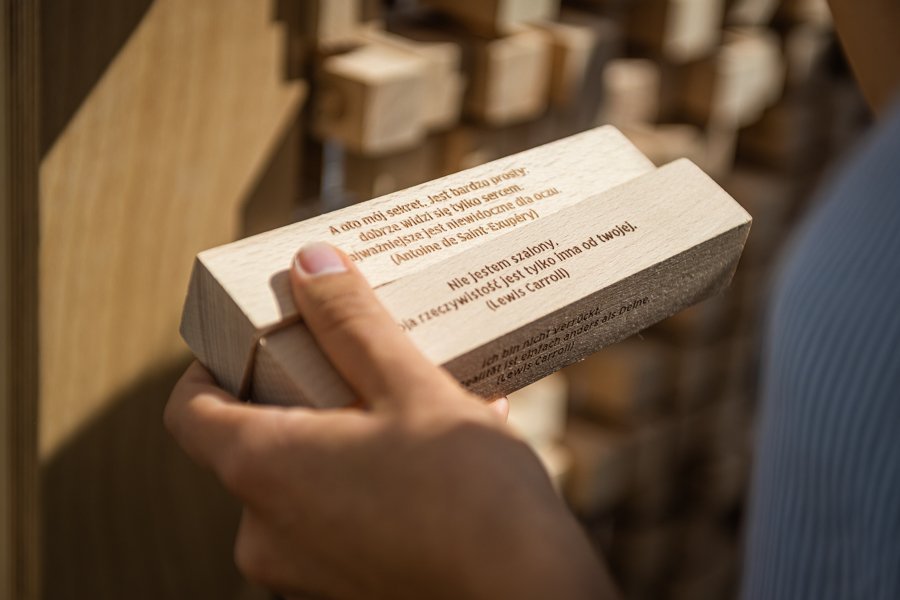 The installation consists of a plexiglass frame filled with thousands of small wooden blocks, which are engraved with the quotes in their original language as well as in translation. After the installation's unveiling, passersby will be permitted to take a block home with them. As the quote-blocks are gradually removed, all that will remain is the transparent plexiglass grid that held them: the wall will disappear. This process symbolically shows that the walls that we build and which separate communities, peoples and everyday people can disappear with collective effort.
The Disappearing Wall is based on an idea of Maria Yablonina and carried out by the architect and engineer Werner Sobek. The Disappearing Wall roadshow also includes cities in Belgium, Germany, the Netherlands, Great Britain/Northern Ireland, Poland, Lithuania, Spain, Italy and Greece.
Its presentation in Cyprus will be accompanied by a sound installation created by Nektarios Rodosthenous.
Disappearing Wall
Public installation. Faneromeni Square, Nicosia. October 24 and 25. Molos Seafront (near Caffe Nero), Limasso. November 7 and 8. 11am-8pm. Free. www.goethe.de/cyprus/disappearingwall