Back in 1950, the most popular Hallowe'en costume was a cowboy. All over the States (because the rest of the world wasn't really big on Hallowe'en back then), kids were dressing up as John Wayne, Gene Autry, r Roy Rogers, fuelled by Hollywood's obsession with Westerns. A decade later in 1960, thanks to returning servicemen and Hawaii joining the US, grass-skirted hula girls were all the rage; by 1970 – just a year after man first landed on the Moon – an astronaut was the most popular get up; and in 1980 Hallowe'en went all Saturday Night Fever. 1990 saw kids dressed as Marty McFly and adults taking on the Doc Brown persona, while the turn of the century was a split between Britney's 'Oops I Did It Again' schoolgirl persona and Fred Flintstone's yabba dabba caveman costume.
There's a definite trend here, with films and music (Moon landings and accessions aside) generally informing the most popular choices. Within the last couple of decades, we've seen everything from Avatar to Princess Tiana, Iron Man to the Lade Gaga – depending on the music and movie hits of the past 12 months.
But in 2020, Things Have Changed. It's hardly been a normal year, and with gatherings limited in number and measures still in place across much of the globe, it looks like the top costume choice will be inspired not by the film industry, but by Covid-19. Yes, we may see the odd character from Tiger King and Enola Holmes, and Marie Claire suggest Beyoncé's look from Black Is King as top contender. But it's doctors and nurses who are most likely to receive top sartorial billing, as the pandemic informs and inspires this year's fancy dress.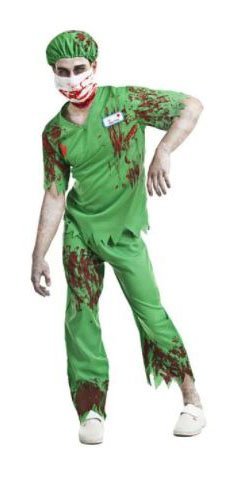 "To be honest," says 33-year-old Nicosia resident Elena Mavromatis, "dressing up as a medic of some sort is the easiest option this year! I'm going to a house party with some friends, and since I'm not sure how many people will be there, I'm definitely going to take my mask. So I'll be going as a paramedic – I've borrowed a boiler suit from a friend, and I'm adding a stethoscope and my mask; it's not as exciting as last year's costume" – in 2019 Elena dressed as Harley Quinn – "but at least it's relevant. And safe!"
If Pinterest is anything to go by, it's not just present day physicians who have the fancy dress edge this year: medieval medics are going to be big news come October 31. With people harking back to pandemics of years past, plague doctors are set to be huge – the bubonic clinician is all over the site!
"A few weeks ago, there was a video that went viral in which a bunch of schoolkids dressed up as Medieval figures for their history class," says 42-year-old mum and Limassol resident Petra Stevens. "And while most of the kids went as knights and princesses, there was one boy dressed as a plague doctor, and it really captured the imagination. Well, my 11-year-old saw the video, and of course that's what he wanted to be for Hallowe'en! It's such an unusual, creepy costume – really spooky and yet super topical. We've repurposed a Batman cape into a black cloak, and we're working on making the mask out of papier-mâché. Let's hope it works!"
From the medieval past to potential futures, pandemics through time are informing costume choices all over the world this year. Halloweenforum.com – repository of all things Hallowe'en and a mine of information come October – suggests that gas masks will lend themselves nicely to 'post-apocalyptic' costumes. Or possibly play well in a more steampunk getup. And anything and everything quarantine related, they suggest, will be an absolute hit in 2020!
"We're expecting more than a few people to choose something related to quarantine this year," reveals Aliki Christodoulides, owner of Nicosia's premier fancy dress shop, Funny Business. "Generally, in Cyprus, people tend to go for more traditional costumes," she continues, adding that the classics – witches, devils, and zombies – have, until now, always been a bestseller at this time of year.
"Of course it does depend on age and sex," she acknowledges. "Women are always far more enthusiastic than men about dressing up – husbands and boyfriends tend to be drawn into fancy dress by their wives and girlfriends, and generally prefer something very simple and comfortable. On the other hand, teenage girls love to go all out, especially with makeup! Since the advent of YouTube and TikTok make up tutorials, I've noticed lots of teenage girls buying specialised make up and wigs, and using their creativity to create a 'look' rather than an actual costume."
While Aliki expects that local kids will still prefer costumes informed by the movies – "Elsa and Maleficent are still going strong!" she smiles – she's waiting to see how the pandemic will inform local costume choice. "Along with a vast array of traditional costumes, and loads of accessories and wigs, we have several doctor and surgeon costumes in stock," she reveals, "some of which come with mask incorporated. We also have several gas masks, if people want to take that route, along with a number of nurse costumes – though these tend to be on the sexier side!"
Perhaps the biggest indicator of 2020's Hallowe'en choices is Jumbo, which churns out seasonal garb for the masses, and goes big each October. Despite the pandemic, the chain has once again pulled out all the stops to offer a surfeit of seasonal stuff – including decorations, accessories, and more stage make up than you could throw a pan stick at! And while many of their costumes are of the more traditional variety – witches, vampires, zombies, skeletons, and the obligatory sexy cat line the aisles – 2020 sees one, rather topical addition…
Make way for the newly-minted 'Zombie Surgeon', a costume never seen (or even thought of, most likely!) prior to Covid. Consisting of ripped and bloodied scrubs, cap, name badge, and blood-soaked mask, it's definitely a nod to the pandemic. With even the masses ready to reference Covid in their creepy costumes, this year is going to be very different…
Forget the cute cowboys and happy hula girls of halcyon Hallowe'ens past – costumes in 2020 are going to be pretty damn dark!
To find out which Hallowe'en costume as the most popular the year you were born, visit https://www.rd.com/list/popular-halloween-costume-year-you-were-born/
For more information on Funny Business, call 22 75082