Followers of Cypriot football do not need to be told how fragile a manager's position can be, with teams on the island seemingly swapping managers at a faster rate than they do their match balls or training bibs.
Veteran manager and FIFA's Chief of Global Football Development Arsene Wenger has often highlighted how little time managers are given nowadays, with decades-long tenures such as his own and erstwhile rival Sir Alex Ferguson's now being pretty much extinct, reflecting a significant shift both in terms of how management is perceived as well as how clubs are now structured.
"If you look at the numbers it is quite worrying, because the average expectancy of a manager in England is 18 months", said the Frenchman in 2016, two years before his own 22-year stint as Arsenal manager would end.
Earlier this month, a study conducted by Vyom Chaudhary, an analyst and writer for RunRepeat, has looked into the top five European leagues to see which one is the safest for managers and what is the average job life expectancy in each country.
The study has gathered data from 815 distinct managerial tenures during the previous decade to gain insight as to how each league conducts itself when it comes to giving a manager patience.
It poses no great surprise to find out that the English Premier League provides the greatest sense of professional solidity to managers, with an average length of 69.4 games per manager during the aforementioned time period. France and Germany follow in second and third place respectively, with Ligue 1 giving managers 58.2 games per tenure and the Bundesliga giving managers 45.5 games on average. La Liga and Serie A are much more impatient with managers, giving them 39.6 and 35.1 games on average.
To add context to the above figure comes the number of distinct managerial tenures being ended during that same time period. The Italian Serie A matches its lowest number of average games per managerial stint with the highest number of managerial contracts coming to a premature end, with 220 managerial stints terminated during that time. The Premier League and Ligue 1 are on the other end of the spectrum with 131 and 130 respectively.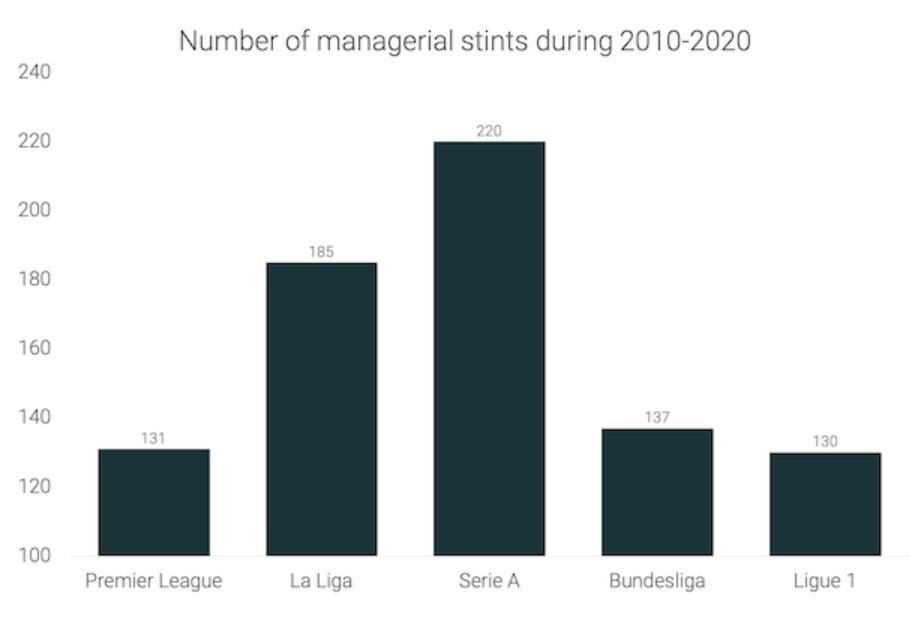 Moreover, the study looks at the distribution according to league game duration. Put bluntly, it is far likelier that a manager will lose their job in the first 20 games of the season, with both La Liga and Serie A showing a major inclination towards firing managers early on in their tenures. Conversely, the Premier League is the only league in which managerial terminations peak between the 20 and 29 league game mark.
However, being sacked is just one way a manager's contract can end. Other reasons include leaving by mutual consent, which some will argue is just a way to reframe a sacking, resignations, leaving the post for another job at a different club, and a contract reaching its natural end through the completion of the designated time period.
In every instance bar France's Ligue 1, firing the manager outright represents more than 60 percent of the way a manager's time comes to an end. Ligue 1 is an outlier with 42.9% of terminations being the result of a sacking. The Premier League, despite its generally higher patience threshold, tops this table with 65.7% of contract terminations being the result of a sacking.
What about Cyprus? Although the Cypriot first division is not included in the study, a quick look back at the past two seasons paints a fairly indicative picture. After the signing of Mick McCarthy, Apoel, one of the biggest clubs on the island and the current league title record-holders, have appointed their sixth manager in two seasons. A frankly incredible turnover in managers.
Up until November of this year, Apollon Limassol had two managers since January of 2017, albeit with the recently-departed Sofronis Avgousti's tenure at the club being split by a brief spell with Ivan Vukomanović at the helm. Therefore, if we go by the study's standards, this will have counted as three managerial runs over the past three years. In terms of the past decade, the club have had 15 different managerial tenures, with a new one set to begin within the coming weeks as the club identifies a replacement for Avgousti.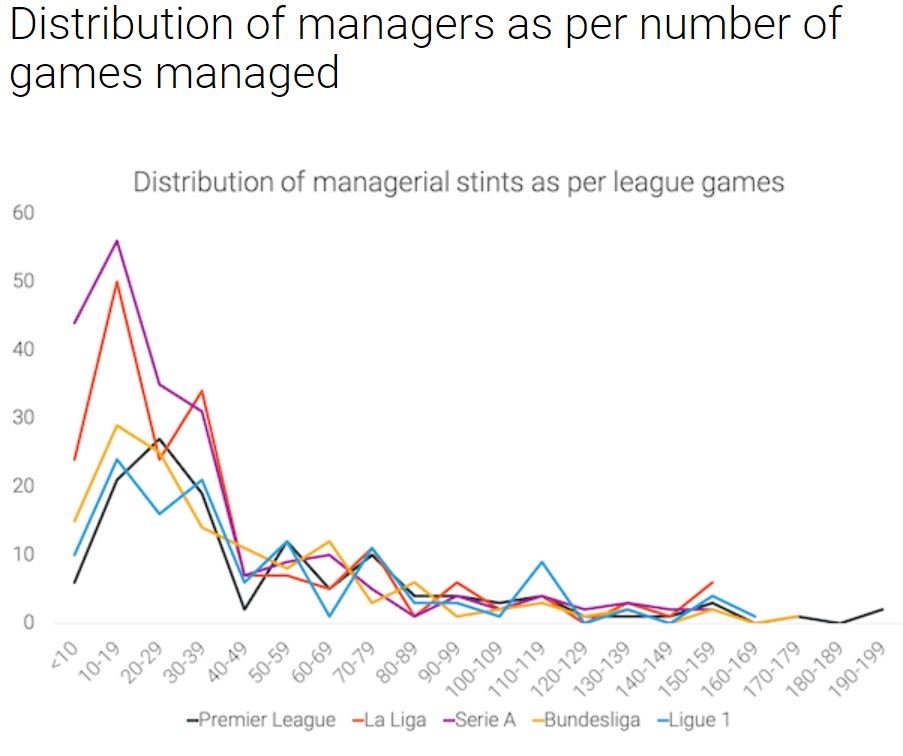 Omonia Nicosia, who have been relatively stable in recent times, have had 15 different managers since 2010. During the same period, Anorthosis Famagusta had 12 different managers, with current manager Temur Ketsbaia returning to the club for a second spell after leaving in 2009.
Ermis Aradippou meanwhile have also had 15 different managerial stretches over the past decade. However, what stands out for the Aradippou club is that they have already dismissed two managers this season alone, while they had three distinct managerial stints in the previous season.
One thing is certain. No manager should rest on their laurels and look too far ahead down the line. Jose Mourinho has often been accused of being a manager who sacrifices long-term prospects for short-term gains. When you see how little patience exists within the game and how results-driven the industry has turned out to be, it becomes somewhat difficult to blame him for this approach, despite his extreme interpretation of it.