Inmates at the central prison built and donated 30 doghouses to two animal shelters as part of their Christmas charity activities, it was announced on Wednesday.
The prisons management and inmates visited two animal shelters to which they delivered 30 houses, 10 of which double, "for our four-legged friends," the prison service said in an announcement.
The visit was part of the prisons department's charity activities, social solidarity and active citizenship.
The houses were built by the inmates who are taking classes in carpentry and furniture making at the evening technical school as part of the 'Doggies Project' which started at the initiative of the prisons department during the pandemic period, and was completed in November 2020.
During the Christmas holidays, the prisons management and inmates in recent years would customarily visit nursing homes, as well as the Oncology Centre of Makarios Hospital for children, sing carols and offer gifts, delicacies and contributions.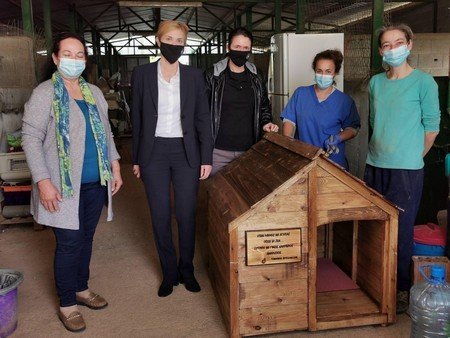 "With the new state of affairs, however, and the difficult period of the pandemic, this year there will be no visits to these places, but it was decided instead that we will offer joy to our four-legged friends with the Doggies project, by building houses for them to have a warm place during cold winter nights and especially at Christmas," it added.
As part of the same project, silversmithing/goldsmithing students at the prisons' evening technical school, have made name tags for dogs which are available for sale and all proceeds will be used to cover animal shelters' needs.
The name tags – €4 for the small ones and €8 for the large ones – are available for sale at the Cyprus K9 rescue organisation in Nicosia.
For more information: https://www.facebook.com/CyprusK9/ or call 99 420100.