Volunteers and donations have dried up while the cats are multiplying
The cat lady of Paphos says she is overwhelmed with dozens of stray cats and kittens that are being dumped on her doorstep and is appealing to the public to step in and help her.
Gaynor Georgiou, 76, has been feeding stray and unwanted cats of Paphos old town for the last 33 years, but after recent spinal surgery that has left her with mobility issues, along with the fallout of the Covid pandemic, she has reached a 'brick wall.'
"There are no tourists, and no-one has any money. People keep dumping cats and they have changed as well. They tell me off when they see me feeding the cats and say I should be helping people instead," she told the Sunday Mail.
"But people can ask for help and articulate when they are in pain, animals can't, they just slink away and die. Everything deserves to live and have food."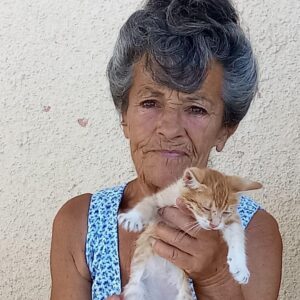 The numbers are overwhelming. Gaynor feeds around 160 stray cats on her daily rounds of the old town and is also looking after 15 kittens that were recently born in the area, as well as a mother cat and her six kittens that were dumped on her doorstep last week. On top of all that, she feeds 30 street cats in an area behind her house and spends almost all of her modest pension on cat food each month.
The cat lady is a popular sight around Paphos in her 'branded' car, and both tourists and locals used to approach her with offers of help or donations. However, this has all dried up since the first lockdown last year, she said.
"There is no end to this, it's like a daily battle. If the cats didn't all rely on me, I wouldn't go every day, but at each stop there are groups of them waiting for me. When I die, I won't worry, but as long as I'm alive, I can't stop, I have to keep going."
Each 'cat stop' has a story, she explained, and it all began in 1990 when a woman asked Gaynor to feed her 15 cats whilst she went on holiday, leaving 80 tins of food for her to use.
"She never came back. And there was nowhere really to get them spayed, so they had babies and that was the start of it all," she said.
Gaynor is not internet savvy and has a volunteer in the UK that operates her Facebook page, so often doesn't realise all of the comments of support she receives. She is desperate for donations and volunteers, as all but one, have had to stop for a variety of reasons.
Although the cat lover takes as many felines as she can to be neutered or spayed, there are also a growing number of that need these operations as well as dental treatment,' she said.
"I really need people to help. People often think I'm an organisation, but it's just me."
To help Gaynor continue to look after the cats of Paphos old town, you can donate at:https://paphoscatlady.com/
Find her on Facebook : www.facebook.com/paphoscatlady
Or call: 97 673986