Cyprus has scored an impressive sixth place finish at this year's European Cyber Security Challenge.
Germany took the top spot, followed by Poland, Italy, France and Denmark.
The competition, which took place in Prague between September 28 and October 1, involved the participation of young people (aged between 14 and 26 years old) from 19 European nations, in addition to Canada.
"To help mitigate this shortage of skills, many countries launched national cybersecurity competitions targeting towards students, university graduates or even non-ICT professionals with a clear aim to find new and young cyber talents and encourage young people to pursue a career in cyber security," the ECSC said.
"The European Cyber Security Challenge (ECSC) leverages on these competitions by adding a pan-European layer," the ECSC added.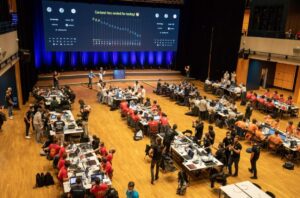 Contestants were tasked with solving cyber security-related objectives from a number of areas, including web security, mobile security, cryptography puzzles, reverse engineering and forensics.
The performance in each task was rewarded with a varying total of points which ultimately shaped each team's final placement.
The members of the Cypriot team were Constantinos Diomedous, who was also captain, Neophytos Christou, Vasilis Charalambous, Christos Makrides, Leonidas Stylianou, Christodoulos Sotiriou, Charis Hadjiantonis, Joseph Modestou, Marios Kailis, and Christos Fala.
Cyprus was one of the surprise performers in the competition, prompting one of the members of the team organising and managing the challenge to pay specific mention to the team's performance.
"It is hard to say who was the biggest surprise but I think this would be Cyprus," Jiri Bartusek said.
"I was expecting something better from all teams, something bigger, but I think Cyprus was the team who managed to do that," Bartusek added.