"We don't know how many more Ukrainian refugees will come to Poland – what we do know is that we will take all of them in." The speaker is Irena Lichnerowicz-Augustyn, the ambassador of Poland to Cyprus.
"Of course," she continues, "we need to discuss with our European partners about support mechanisms but one thing is sure: we will keep our border with Ukraine open."
The official data says that by March 20 more than 2 million refugees had reached Poland, most of them being Ukrainians. There were also thousands of foreigners who had been working or studying in Ukraine. Some of the refugees subsequently left for other countries, primarly in Europe. Still, the majority most likely will remain in Poland in hopes that soon they will be able to return back home.
"Most of them are women with children and elderly," the ambassador says, speaking in compassionate tones as she notes that many still believe and hope that the current awful situation is temporary.
"Of course, the truth is that nobody knows when it will be possible to return. That is why last week the government of Poland passed the law making it easier for Ukrainians to acquire a national identity (PESEL) number that enables them to work and to access benefits, healthcare and education. Many Ukrainian refugees in Poland are already looking for work, while their children have started going to Polish schools."
The ambassador also proudly points to the amazing job that has been done by thousands of Polish volunteers who have been tirelessly helping the influx of refugees caused by Russia's invasion of Ukraine.
"The way my compatriots have been welcoming Ukrainians has been exceptional and very touching," she says. "From organising sleeping bags to soup kitchens to ad hoc transfers not only to various towns and villages in Poland but also to other places in Europe, and to opening their homes, Poles have been absolutely amazing."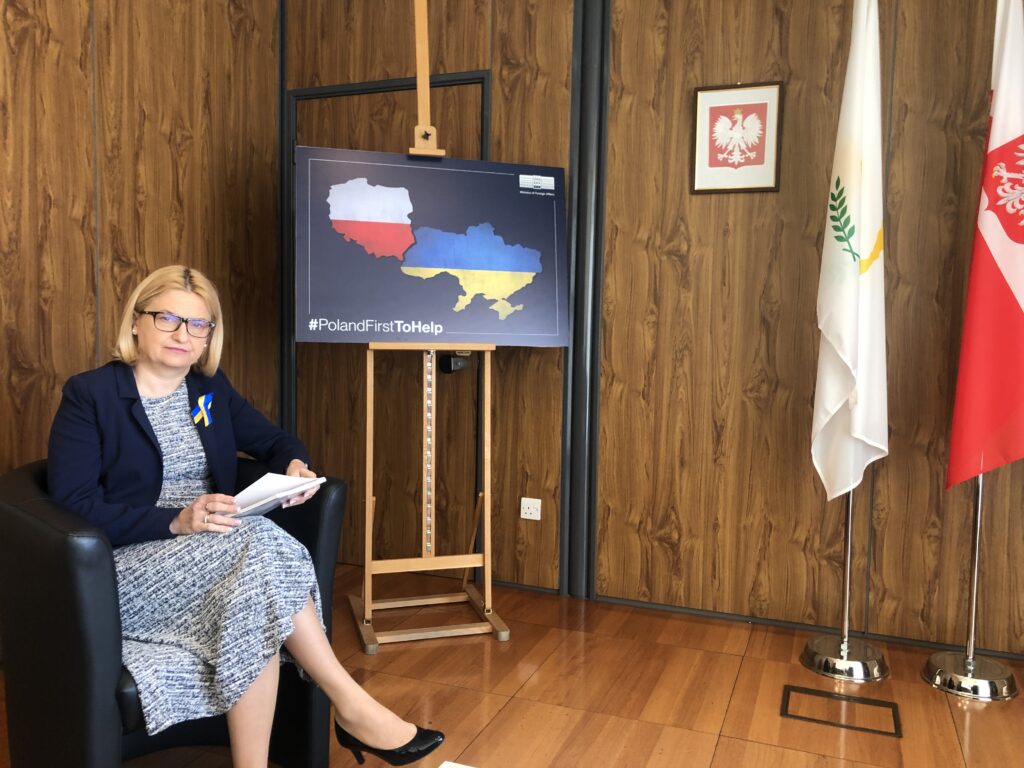 Poland indeed has become a logistical hub for the humanitarian and military aid coming from across the world to Ukraine. And it supports Kyiv in other ways as well. Last week, the Polish PM Mateusz Morawiecki together with his Czech Republic and Slovenian counterparts, Petr Fiala and Janez Jansa, travelled by train to the Ukrainian capital, which remains under bombardment, in an "unequivocal" and, given the fraught circumstances, courageous show of support for the people of Ukraine and their leader President Volodymyr Zelensky.
"That was a very symbolic, important gesture," the ambassador declares. "Extremely risky and politically significant, it showed Ukrainians that they can always count on us."
Another significant move by the government of Poland aimed at strenghtening Ukraine's hand is its support of Kyiv's EU membership.
"Our recommendation is to give Ukraine candidate country status without any delay," the ambassador asserts.
"Ukrainians are fighting and dying not only for Ukraine but for all of us. The prospect of EU accession is very important for them, also from a psychological point of view since it will give them an enormous moral boost."
Poland is also one of the driving forces behind efforts to impose increasingly harsh and effective sanctions on Russia.
"Poland insists on imposing further sanctions both on top Russian oligarchs and on their family members in addition to further sectoral sanctions. This approach offers a peaceful way of making Russia's invasion of Ukraine less profitable. War requires money. If the Kremlin is short of money it will be more difficult for them to continue," she says.
"Yes, it is true that these sanctions will also have a negative impact on the countries implementing them, and that includes Poland. According to Goldman Sachs, we have some hard times ahead. But it is important for all of us to stick together because solidarity is a key to success."
That same spirit of unity has to be applied when it comes to any military assistance provided to Ukraine, the ambassador insists.
"It is extrememly important to take all the decisions together and to continue the military support of Ukraine. Another very important step is the need to strengthen the EUs military potential as well as Nato's eastern flank. Both are actually already taking place in front of our eyes."
The ambassador is adamant that the Russian invasion of Ukraine must end as soon as possible.
"Since this war started, I have an impression that not everybody understands what it is all about. For this reason and because Russia's aggression against Ukraine is not just about tanks and gunfire, but also involves the use of one the most pernicious weapons of our times, by which I mean disinformation, I feel compelled to reiterate here that this war was triggered by Russia only, and not not by any other country or international organisation. Nato is a defence pact. All the reasons Putin has given for starting this war are merely excuses and lies. This invasion was planned very carefully and is a part of a much bigger strategy. If we don't stop this war very soon it will spread much further and that is something we have to avoid at all costs."
With this in mind, the ambassador made a point of stating her deep satisfaction and gratitude for the solidarity and cooperation shown by the government of Cyprus and for all that the Cypriots have done to date in showing its support for Ukraine.
"As I notice, the government of Cyprus provides excellent support to the embassy of Ukraine in Nicosia. The authorities have been implementing all the sanctions imposed by the EU against Russia as well as dispatching help to the refugees. Cyprus has also agreed to host a significant number of the refugees. We are all aware that the Cypriot economy will suffer because of the decisive stand that Cyprus has taken. This makes us even more appreciative of what our Cypriot hosts are doing."
Ambassador Lichnerowicz-Augustyn sums up the dilemma represented by the current political situation in Europe, putting it simply and succinctly. "It is a time of trial for all of us. Human life is the highest value. On this foundation, European integration began, guided by concerns for the peaceful coexistence of nations, ethnic groups and individuals. Today, we are being put to the test. The existential question we face is to what extent these values will shape the future of the next generations."