In an actor who says he enjoys playing women, PAUL LAMBIS finds a London Cypriot who thanks the community that raised him for giving him his values
 Over the years, comedians have invented and performed a plethora of roles, but every now and then a comedian creates a character so memorable that the alter-ego takes on a life of its own. Soulla is a fictional character created and performed by British Cypriot comedian Alexander Theo who is known for expressing her mind and telling everyone what she is thinking.
Social media comedians are certainly evolving and continue to thrill audiences with different patterns and styles. However, when a comedian dresses like a middle-aged Cypriot lady to portray his skit and is quick to deliver more than expected, the path to social media comedy fame is inevitable.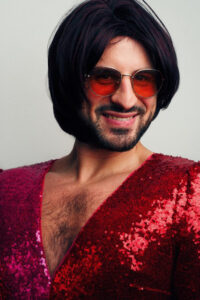 Alexander is inspired by all the women who have played a key role in his life. "The women in my life have always impressed me and encouraged me to be a better person," Alexander explains. "Women have the power of not only revealing the beauty in all of our other identities, but also of demonstrating to the world what true wholeness looks and feels like."
As a respected actor in the UK, with several off- and on-screen credits under his belt, Alexander finds it easier to play female roles because of their great tenacity and deep connection to the complete range of human emotions. "I enjoy playing women, and I have the utmost regard for Greek Cypriot women, who have been through so much."
Born in East London to Greek Cypriot parents, Alexander was raised in North London in a predominantly Cypriot environment, with cultural values that set the tone for the family's foundation. "Immediate and extended family members play a central role in the lives of most Cypriots, often sharing their opinions and views on food, relationships, education, business and everything else in between," Alexander says.
Even though Greek Cypriots, particularly those in the diaspora, are proud people, Alexander argues that they like talking about their trials and tribulations as a reminder of how far they have come. "I am grateful to the older generation for working so hard to provide for us, making my generation's road easier."
Soulla, according to Alexander, is the crazed matriarch of the Cypriot family who speaks about topics that border on offensive, saying things most of us are often thinking. "She is an indestructible force, and a very useful mouthpiece who can literally point to the nudity of the emperor.
"The Cypriot community has been great and supportive, both in the United Kingdom and overseas. Soulla, on the other hand, has struck a chord with people from different cultures, who see numerous parallels between her Greek Cypriot culture and her sense of nostalgia and rigid upbringing."
She has though amassed thousands of followers worldwide since her social media debut, has headlined sell-out tours across the United Kingdom, wreaked havoc in the kitchen with Great British Bake Off contestants, and has even visited Cyprus on occasion, basking in the sun on a private yacht while being flirted upon by adoring Greek Cypriot men.
Soulla, just like Alexander, uses humour to bring out the best in others. "It is all about spreading joy in this world. Since I was a child, I always had theatrical ambitions. I have played a lot of dramatic roles in the past, but I am glad comedy has resurfaced and is now an integral part of my life."
Soulla's long-term goals include hosting her own chat show on television, interviewing celebrities (including Peter Andre, whom she adores), and even starring in a sitcom based on her life. "My goal is to keep Soulla as vibrant and relevant as her followers want her to be." Based on the response, the "indestructible" Soulla appears to be here to stay.