With the weather warming up it can only mean one thing: festivals. ELENI PHILIPPOU looks at what is coming up
 With world-renowned music acts, creative workshops, village visits, striking set-ups and conceptual themes, Cyprus' festivals are highly anticipated. As their organisation and reach grow, the island's summer festivals have upped their standard, giving us every reason to want to go and all the more motives to stay in the country and party Cyprus-style.
After two years of pandemic life nearly all of the usual summer festivals (big and small) are returning to almost-full scale editions this summer. Here's a round-up of what we can expect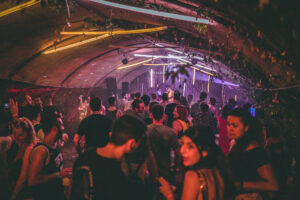 Afrobanana Festival, July 13-17
The innovative and colourful Afrobanana Festival returns with a five-day extravaganza this July, held again at the captivating venue of Val's Place in Gialia, Paphos. A line-up of diverse acoustic collaborations, eclectic DJs and local musicians, surreal audio-visual experiences, concerts, wellness events, creative workshops, and food and drinks can be expected – all against a backdrop of enchanting sunsets.
But it is the music performances that make this festival come together. This year's line-up includes the long-awaited return of a history-making AfroBanana act. The Balaphonics first performed at the festival seven years ago and after many requests return with their groovy mix of Afro-fusion, funk and jazz. Also, headlining the festival are the extra-terrestrial, intergalactic ravers Henge.
"We are beyond thrilled that we can finally bring people together, in one space, with one purpose," the festival team told Cyprus Mail. "For the audience and participants alike, to express ourselves, communicate, and create and share culture together."
Xarkis Festival, July 15-17
The 9th edition of Xarkis Festival will take place in a different village this year. Agros will host the three-day festival under the theme of onwards and backwards: colonialism and intersectionality. A group of selected artists is working together with the Xarkis team and the local community to prepare creative works that make up a large part of the programme.
It is these workshops and performances, typically held around central village points or traditional venues, that make Xarkis a memorable experience. Participatory classes, cooking sessions, camping and music add to its agenda along with activities from the Agros community. These will include walks, tours and talks related to the natural and human ecosystem of Agros, a women's coffee shop and of course, rose picking for which the village is known.
Beyond the local programme, this year, Xarkis will also host nine additional artists from the EU project Contested Desires, where challenges and taboos will be discussed in relation to colonial legacies.
"Although we can't reveal too much of our programme at this stage," say the festival founders, "the 2022 edition will also feature two nights of lively music events. Among other participations, we will host local alternative artists' works who will be presenting the outcomes of their residency at Xarkis, including for example Stelios Ilchuk and x.ypno and we will host Cyril Cyril, an energetic duo from Switzerland that blends various musical genres."
www.facebook.com/xarkisfestival 
Fengaros Festival, July 28-30
This year's Fengaros Festival celebrates its 10th anniversary. Returning to its traditional location of Kato Drys, the organisers are ready to welcome music lovers and festival-goers with concerts and iconic headliners as well as the vibrant atmosphere that takes over the village each time.
"Since putting Fengaros Festival on hold these past couple of years," comment the organisers, "our audience has shown they are eager to come back all together for the Fengaros experience – they proved that with our series of workshops at Fengaros Music Village that was able to take place with record attendance. It really warms us to be collaborating with people across the world as well as local artists for our Tenth Anniversary line-up".
Expect pop, rock, folk and electronic music plus brand new local acts, sure to delight all audiences. With more announcements to come, Fengaros recently opened its ticket sales on its website and announced some of its headlining artists which include Marina Satti, Balkan rock monsters BaiLDSA and Bulgarian ethnobass connoisseurs Oratnitza.
By now, the festival is known for combining top-notch music with the charming scenery of a traditional Cypriot village where visitors can explore and camp underneath the stars of the summer night sky. And it is true, besides the acclaimed musical acts that take the stage each night, it is the vibe around the village and the engagement of the locals that make Fengaros such a unique experience. Impromptu street parties, jam sessions with strangers at the campsite and a sleepy breakfast at the village coffee shop can be a wonderful festival treat.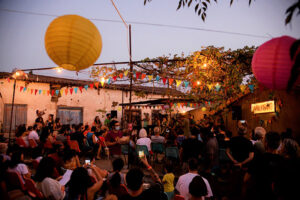 Windcraft Music Fest, August 5-7
The Windcraft Music Fest is preparing a groovy comeback with an international line-up that will include bands from Brazil, Germany, Italy, Israel and Cyprus. The 8th edition of the fest will take place in the village of Katydata featuring wind instruments and players in a variety of musical styles: from world music and jazz to techno, Middle Eastern, North African and dance music.
In between workshops for seniors, adults and children as well as games and theatre performances some of the highlights will include: a celebration of Maghreb music combining brass, Tunisian woodwinds and vocals and a DJ; a customised 24-stringed guitar based on the Indian slide guitar; deep bass woodwinds and effects creating powerful beats; and a whole brass band setting up an analogue techno party.
"We are optimistic that this year things will return to normal," says founder Elli Michael, "and we look forward to experiencing what we have been missing in the last few years – to interact, to embrace and to dance together, to get involved in the social life of the community and to mingle with old and new friends in a festive mood!"