Universities and other educational institutions in Paphos, which have been increasing in number over the past few years, provide a valuable contribution to the development of the district, non-profit organisation Oxygono said on Tuesday.
Their ability to boost development, as well as their capacity to promote entrepreneurship in Paphos, were the main points of discussion during a recent event, which took place on May 20, with mayor Phedon Phedonos in attendance.
During his address, the Paphos mayor underlined that the municipality deliberately chose to focus on the development of higher education in order to reduce the district's excessive reliance on the tourism and construction sectors.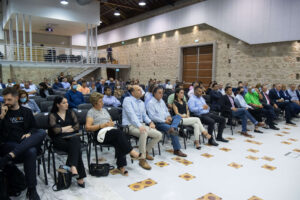 "Despite the benefits of both sectors, they are mainly manual professions and so we focused on developing a more intellectual sector, that of higher education," Phedonos explained.
"It is no coincidence that Paphos was selected by two universities from Israel and Lebanon, who have settled in Cyprus, especially since our country is so close to the Middle East," he added.
The mayor added that the education sector can be further developed in concurrence with other sectors, such as technology.
Frederick University rector George Demosthenous detailed the benefits that a university can bring to a city and the area surrounding it.
"Frederick is located at the eastern tip of Nicosia, and if it did not exist, the area would eventually become one of the most degraded not only in Nicosia, but also in Cyprus," Demosthenous said.
"However, in order to develop a sustainable ecosystem in Cyprus, more than 100,000 students are needed and that is why some procedures will have to change," he added, referencing the stumbling blocks that currently exist in reaching that number.
University of Ioannina rector Triantafyllos Albanis noted that the university's 30,000 students make for roughly 25 per cent of the city's local economy.
"According to calculations made, Ioannina has the highest density of students, 150 per 1000 inhabitants," Albanis said.
"One measure implemented by the university so that good students do not leave the city after their studies is to not charge tuition fees for postgraduate programmes," he added.
Meanwhile, Oxygono president Georgia Athanasiou also praised the role of higher education in creating added value for Paphos and its residents.
"The absence of universities nullifies the ability of each city to talk to the modern reality, which is largely shaped by institutions that produce knowledge," Athanasiou said.
She also stressed that universities contribute to the fields of innovation and culture, while at the same time investing in humans and bolstering the creativity of the city they are based in.
"For this purpose, there is a need for vision, strategic planning and formulation of specific policies with long-term results, as well as the combined action of the government, local authorities, organised groups and the citizens themselves," the Oxygono president concluded.