In the owner and creative force of a local foodie institution THEO PANAYIDES finds a hard-working man in total control of his kitchen who is passionate about cooking for people to enjoy the food
'Do you have any memorable foodie moments?' I ask Craig Tweedie, chef and co-owner (with his partner Hilary) of Tweedie's Restaurant. Oh yes, many, he replies, leafing through his mental inventory of top gastronomic experiences. "I remember going to a Thai restaurant with Hilary, and we had – I think it was Thai bean curry or something. And I actually had a tear in my eye, because it was that good!"
And where was that?
"Just outside Daventry, in Northampton. It was a very unassuming place, but the food they produce…" He shakes his head in amazement.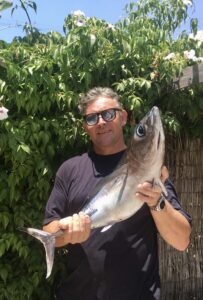 I'm a little taken aback, I admit; I assumed the restaurant would've been in Thailand, or in the vicinity – Australia, for instance, where he travelled widely for a couple of years – or at least in London, in the midst of some big Thai community. Then again, the link between location and quality of food isn't set in stone. Tweedie's, after all, has been in Kissonerga, just outside Paphos, since 2004; the village is smaller than Daventry, and about as likely to provide a gourmet experience – but why shouldn't some hypothetical visitor be able to say: 'We had pan-roasted fillet of kangaroo with blackcurrant angel-hair tartlet and sweet potato puree – and I actually had a tear in my eye, because it was that good'?
That particular dish is on a sample menu on the restaurant website, and not actually available given that the menu changes every day (not to mention the supply-chain issues of the past few months, on which more later); still, the point stands. The only real surprise is perhaps that Craig and Hilary moved to Kissonerga in the first place, looking to improve their work-life balance. "I didn't come to Cyprus to be a millionaire," he explains, "I came here for a better lifestyle" – yet he'd just spent six years running the Castle Inn, a pub restaurant in Shropshire on the banks of the river Severn, and in fact had just sold it for a good price to a conglomerate called the Punch Pub Company. He was then 33 (he turned 50 last July), an age when a young entrepreneur who's just concluded a successful deal might think about taking the next step – opening a place in a big city, perhaps, winning awards, maybe even looking for a stint as a TV chef.
"I had no aspirations to do that, to be honest," says Craig, speaking on a Zoom call on a Wednesday morning (his day off). "I was pushed to – y'know, gain stars for restaurants and blah blah blah. Rosettes… But it's not something that I'm passionate about, I'm more passionate about cooking for people who enjoy it. I don't do it for accolades," he adds, rubbing his chin pensively as if trying to articulate a philosophy, "I enjoy cooking so people enjoy the food. So I'm making some money, they're enjoying it and that's – that's me, really. I don't go chasing – um, stardom, if you like. It's not important to me."
You could certainly imagine him as a TV chef; he looks quite debonair (at least on Zoom), with his handsome features and lush head of silvery hair. Then again, he might not be the type for Jamie Oliver-style waffling and schmoozing. He's not brusque, exactly – but his answers are short, to-the-point. "A bit of flair and organisational skills are the sorts of things you need when you're a chef," he says at one point – but later admits with a chuckle that he's not "overly flair-ish" when I ask if he has an explosive side, Gordon Ramsay-style. Organisational skills are perhaps his forte, that and being in total control of his kitchen (the two go together), marshalling ingredients like so many troops.
His dad, after all, was a military man when Craig was born – and Dad had quite a defining influence, in many ways. "Most of my interest in cooking came from my father, because my father's a very good cook. So, from a very early age, I was in the kitchen with him. I cooked my first Sunday lunch when I was seven, actually, for my whole family!" Dad also offered him the £26,000 loan needed to open the pub restaurant, then ended up retiring to Cyprus (both parents still live here) which is why Craig was familiar with the island and decided to open his restaurant in Kissonerga – though in fact he was also born here, in Akrotiri, while his dad was in the RAF. Tweedie Sr later moved into commercial aviation, relocating to Brunei for 14 years as technical services manager for Brunei Airlines – which, again, was influential for his son, both because he spent four of those years at boarding school in Norfolk (a life-changing experience) and because he took a 22-hour flight to Brunei three times a year, acquiring a taste for travel. His dad actually offered to put him through pilot school at 18, presumably able to use his airline connections to give him a leg up – but Craig preferred to go travelling instead, roaming around Australia working at everything from a banana plantation to a permaculture institute. "Great times. Great times…"
I'm surprised he turned down the offer of a pilot's job, though. That's quite a glamorous job when you're 18.
He laughs: "You have to be pretty clever".
It's a pointed reply – and I'm guessing he was never particularly 'clever', in the academic sense of poring over textbooks and passing exams. Again, the best analogy is probably with a military man – though not necessarily a private, since he's not especially suited to taking orders: "I haven't had a boss for a long, long time. My last boss was 30 years ago, probably". His strengths are those of a good CO: an aptitude for order and control, a zest for doing things rather than sitting around – above all, a fearlessness and confidence. "Confidence is a very big thing, I like to think I'm a very confident person. In anything I do, really."
What made him so confident?
"I think boarding school brought out the best in me, and travelling brought out the best in me." The school, in particular, "made me the man I am, I think… I still remember the day when the suitcases were dropped off at the front door of the school, and I was waving goodbye to Mum and Dad going down the drive, and at that point – you know, you think 'Right, self-preservation!'. Get on with it, enjoy it. And I enjoyed every single minute of boarding school, I have to say. Great experiences… The army cadets' shooting teams, football, rugby. Had it all, really."
Some kids (he was 13 at the time) flail about when forced to fend for themselves. Some end up getting bullied. It's unclear whether the experience changed Craig – but it's more likely that it unlocked the self-possessed, soldierly side that makes him a good restaurateur, among other things.
There's a twist, however – because being organised doesn't mean he's risk-averse. "I do something dangerous every day, it keeps you alive… I'm a bit of an adrenaline junkie, to say the least." (That, too, is a soldierly trait.) He loves motorbikes, and rides them fast: "I've got an enduro bike that I take up into the mountains, on the dirt tracks, and a big superbike which I go track racing, down at Achna". He likes sea fishing, with a lure off the back of a boat, and is outdoorsy in general; he's done one of the world's highest bungee-jumps, off Victoria Falls in Zambia, and recalls it with affection. "It's great to stand on the edge of a massive abyss, you and a piece of elastic, and have the nerve and the confidence to push yourself off. That's the buzz of it, for me." And they say being a chef is high-pressure.
All these strands come together in his job, I assume – the organised side, the 'nerve and confidence', the taste for adventure. Being a chef is something he fell into, and a good fit from Day One. He was 20, just back from Australia and in need of cash; he saw a waiter's job being advertised at a hotel in Shropshire. "So I went for the interview, and the waiter's job had gone but there was an opening in the kitchen." He was hired as a commis chef, the lowest rung on the ladder; within six months, he was head chef. But he also realised early on that the only way he was going to enjoy the job – and make a bit of money – was to do it for himself.
Tweedie's is a small operation (10 tables, four staff), a local institution – especially among the expat crowd – and, in its way, an adventure. It's not just that the menu changes daily, it's also that Craig isn't sure when he wakes up what he'll end up cooking that day. "I go shopping for two hours every day before work," he explains. "You go to a fish counter and you'll see a barracuda, you haven't seen that for a long time, so you think 'Oh' and you have some ideas… You're thinking what sauce would go with that, then you buy some dill, and it goes from there". He'll repair to a coffee shop to write up the menu – then shut himself up in the kitchen for four or five hours, "and we kick off at 6.30". Ingredients are a mix: fruit and veg are local, of course, meats tend to be imported – though the aforementioned price hikes and supply-chain issues make that increasingly tricky. "The price of Black Angus fillet steak a month ago was €41, now it's €62". (He's cooking more fish these days anyway.) Chef-owned restaurants are already an endangered species in Cyprus; it's not clear if a small operation can survive if this goes on, especially on top of Covid – though Craig actually reckons that being small (essentially a two-person outfit, with Hilary as manager and front-of-house) is their salvation. "We control it," he says, sounding very military again. "And we control it well".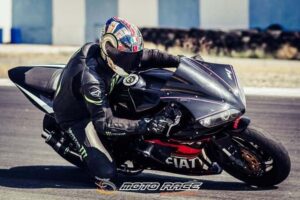 Craig Tweedie isn't entirely what you might expect. The chef stereotype (less so in the age of Masterchef, admittedly) is of someone temperamental, a bit artistic – but he comes off as forthright, no-nonsense, rather macho, and of course very hard-working. The restaurant life is all-consuming (having kids was never on the cards, it seems); most days he won't even stop to have a meal, powering through on cigarettes and coffee. "At the end of the service I'll finish and go down to my local pub, have a pint of beer and a game of pool, then I find myself going home and just eating some cheese and biscuits and olives." It's not the healthiest lifestyle for a man who's just turned 50 (he's not fussed about that, of course: "It's all part of living") – then again that's how he likes it, running on adrenaline. Like he said, he didn't come to Cyprus to be a millionaire – just to make enough "to put a new tire on my motorbike, buy a new lure for my fishing rod. I lead a simple life".
That's the point, I guess. Craig comes off as a rugged type, hands-on, level-headed, neither introverted nor especially exuberant – "I wouldn't say I'm an extrovert but I'm not shy at all," is how he puts it – and also unpretentious, a man of simple pleasures. It's no wonder that he never craved stardom, or TV chef-dom. Instead he talks about tuna fishing, which he does when the fish are in season (there's a deep channel about three miles off the coast; the migrating tuna swim along, coming up to feed at sunset and sunrise), and the thrill of catching produce for the restaurant.
"The albacore isn't the best of all tuna, to be honest – but when it's freshly caught and I put it on the menu next day, it's wonderful. And even when you're out on the boat, sometimes we have some sashimi and we'll just take some slices off – take some ginger and wasabi and soy sauce, and have it straight off the fish". He nods with a connoisseur's delight: "I mean, that and a cold beer, you can't beat!". Turns out you don't have to go all the way to Daventry for a foodie moment.