A Cyprus Scops owl has made herself comfortable in an artificial nest, one of about 1,000 owl nesting boxes that have been put up in various locations across the island as a natural way to combat rodents.
BirdLife Cyprus volunteers found and ringed the female owl and her chicks last year. They caught up with her again this year, at the same nest, with three chicks which were also ringed.
In a post on its Facebook page, BirdLife Cyprus said that there are more than 1000 artificial nests for barn owls across the island.
The move is part of the pilot project which aims to increase the population of barn owls and the biological control of rodents. This will help reduce the use of chemicals which pose a serious threat to biodiversity and wildlife.
Barn owls are nocturnal birds of prey and are considered the farmers' best ally in the fight against rodents in the countryside since it feeds almost exclusively on rodents, namely mice and rats.
Each barn owl consumes four to six rodents every night, while a family of barn owls consumes up to 6,000 rodents per year.
Indicatively, BirdLife Cyprus gave the example of Israel, which, thanks to artificial nesting boxes,  has managed since 2006 to slash the use of rodenticides in the countryside by 80 per cent.
"During our recent visit with the environment minister Dr Kadis, we had the opportunity to find out more about this successful effort through constructive meetings with the ministers of environment and regional cooperation of Israel and other officials, as well as through visits to rural areas where this method is used," the NGO said on Facebook.
During the visit, it was decided that a memorandum of understanding will be drawn up and signed, it added.
There are currently more than 4,500 artificial nesting boxes throughout the country.
"We are optimistic that the coordinated effort that Cyprus has already started with the preparation of a national action plan for barn owls will be the solution to the widespread us of rodenticides in the Cyprus countryside," it concluded.
Back to Cyprus, the NGO noted that though intended for barn owls, the nesting boxes are often used by other birds such as kestrels, Cyprus Scops owls, European rollers.
Case in point, the female Cyprus Scops owl with ring number E01328, who having nested in an artificial nest in the Larnaca area last year, did so again this year.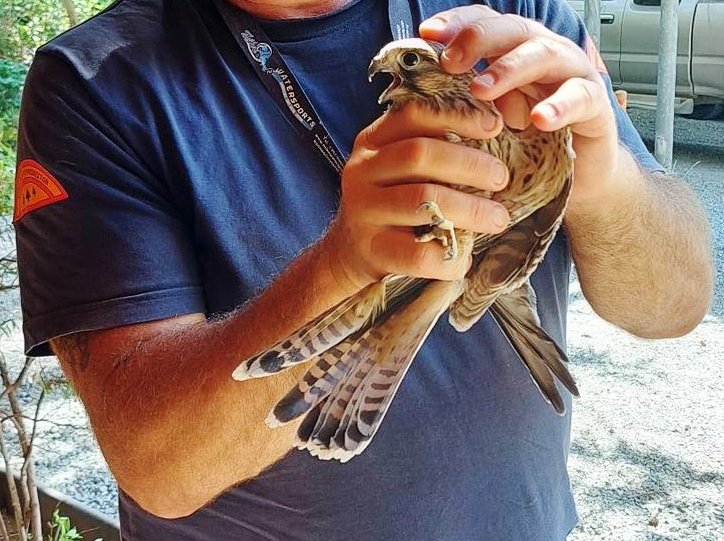 Meanwhile, an injured kestrel (Falco tinnunculu) found by a member of the public – probably after being hit by a car –has been treated and been handed over to the game service, the forestry department said.
The kestrel is the most common bird of prey in Cyprus. It has pointed wings and a tail which it closes when flying but opens like a fan when hovering. It can be spotted beating its wings at the same spot for long stretches of time as it looks for its prey. It nests at cliffs and in tall buildings in towns, the forestry department added.