Even though we're now in September, the weather doesn't look like it's letting up and summer seems to be lingering. This was not good news for getting chores done in town. After struggling in the heat for a while, we definitely needed to find somewhere for some respite!
We came across a small shop front with tables, chairs and people inside. A sign on the door said 'it's cold in here!' That sounded perfect so in we went. I looked up and saw the sign Glykolemono. Upon entering, we immediately faced a problem, it was packed! We were offered the last table, up against the hot glass shop front and one of the chairs would actually block the door when it was sat in. We declined the table and were about to leave when we were offered a table in their outdoor area. I didn't like the sound of being sat outside but took a look.
We were led to an alley way that had decking, shade, well-kept plants and most importantly, it was catching the breeze. Another benefit was that it was quiet.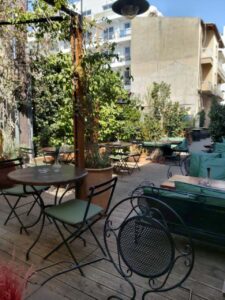 The kind lad who showed us to the alley also brought us menus. It's just the one page but, it was one very large page! At first glance, the menu looked a little uninspiring. There were sections for salads, sandwiches, burgers, pasta and the 'mains' that consisted of four dishes; salmon, chicken, schnitzel and chick peas. However, there was one other section that did catch my eye. It just so happened I was in the mood for pizza and the most interesting part of the menu was the pizza section. Result!
There were a couple of classics on the menu but the other eight options are unique to Glykolemono. I settled on the prosciutto pizza, topped with Mozzarella, prosciutto, rocket leaves, parmesan and tomato sauce, and added peperoni. Extra toppings are only 70 cents! My brother chose the 'special' which has tomato, cheese, bacon, ham, mushroom, peppers and tomato sauce.
For a place that was packed full of people, the food actually came out quite quickly. The waiter placed a wooden pizza tray with a monster of a pizza on the table, in front of me! I wondered if I had been given an extra-large as I didn't specify a size so I looked at the menu again and the pizzas are one size. There is no way the little table we were offered inside could have handled these!
The pizzas had come straight out of the oven and on to our table and so were piping hot. In awe and disbelief at how big this pizza was, I began to comprehend just how generous the toppings were. There must have been close to the equivalent of a pack of prosciutto on my pizza.
The time came to begin the challenge! I took my first bite and the temperature was just right and so I was able to savour the flavours that complemented each other so well. My one comment would be that the pizza could have been left in the oven a couple more minutes to firm up the base a little more. It was by no means undercooked or stodgy at all but the extra couple of minutes were my personal preference.
I really enjoyed the pizza but I'm not going to lie, it was definitely a struggle to finish it! As I was sat there, I overheard a couple on another table order a pizza and a salad between them. They had definitely been before!
The final bill came and it was very reasonable indeed. The two pizzas, plus drinks came to an amount that some places charge for just one pizza. When I have a hankering for a good pizza, I'll definitely go back to Glykolemono but would go the way of the people on the other table and share!
VITAL STATISTICS
SPECIALTY Pizza, international
WHERE Zinonos Kiteos 105, Larnaca
WHEN Daily 8.30am-11pm
CONTACT 24 623010
HOW MUCH Pizzas €9-€10. Mains €8-€13