Chilling exhibition details how birds flying through Cyprus are illegally trapped
In a month full of exhibitions, one really makes a statement. Kochinohoma – Red Soil is a collaboration between the AG Leventis Gallery and BirdLife Cyprus, and tells the story of the illegal killing of migratory birds on the island. Presenting the exhibition during this change of seasons is intentional as millions of birds leave Europe to seek the milder climes of Africa during winter. To these migratory birds that fly thousands of kilometres to their wintering grounds, Cyprus offers refuge along the way. For many, however, this route turns out to be fatal.
A collaborative project that has taken the form of a book-artefact, a documentary film, as well as an interactive installation is now a chilling exhibition at the Nicosia Gallery, led by photographer Silvio Augusto Rusmigo and designers Omiros Panayides and Thalis Nicolaou.
All of the project's forms and elements come together to transport the viewers to a figurative crime scene, bringing them close to the objects, sounds and landscapes that make up this illegal activity, while confronting them with some hard-hitting truths on the magnitude of this problem. Through this experience, the exhibition, open until October 9, invites the viewer to delve into the multifaceted environmental and cultural issue of wildlife crime in Cyprus, raising questions about individual responsibility as well as collective action.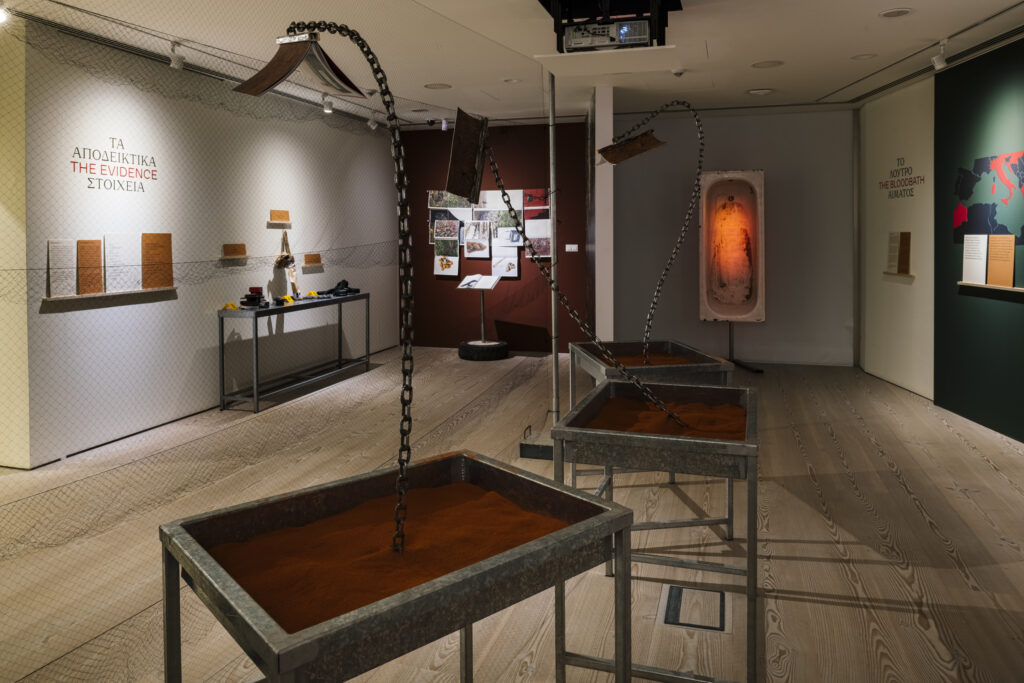 A large mist-net traps the room, the kind that is used to catch birds to be ringed, studied and released. And though the net's fine strands make it somewhat invisible its presence certainly lurks, especially when one considers that on trapping sites the nets tend to be five times longer than the one in the exhibition.
Across the room, on a lonely wall, is an old metal bathtub, dirty, almost bloody red and with scratching. Bathtubs placed randomly in the fields are a common sight in the Cypriot countryside, especially in bird trapping areas as they are used to keep water in the fields, and attract birds.
A decoy device also sits in the exhibition room to demonstrate how they are used to lure birds to the trapping site by using bird songs. In this case, it is a combination of a mobile phone, remote control and an old car audio system. The evidence list goes on, presenting a very realistic look at how the process works, its documentation and media coverage. Irrigation pipes, limestick baskets, pole bases and more make up the exhibition, alongside images, books, a video and even cards that visitors can take home with them.
Kochinohoma – Red Soil
Exhibition including a book-artefact, a documentary film, and an interactive installation. By AG Leventis Gallery in collaboration with BirdLife Cyprus. Until October 9. AG Leventis Gallery, Nicosia. Wednesday: 10am-8pm. Thursday-Sunday: 10am-5pm. Tel: 22-668838