In central Protaras PAUL LAMBIS finds a place to relax, dine and soak up the best of what Cyprus' beach locations have to offer
If you, like me, are frantically clinging to summer, even though it is October and there is a slight chill in the air at night, a weekend getaway to a corner of Protaras comes highly recommended.
No list of family-friendly hotels in Cyprus would be complete without the inclusion of Evalena Beach Hotel, a coastal retreat with modern, sleek white and earthy tones acting as the backdrop to refined and flavoursome cuisines that use ingredients that are organic and locally sourced whenever possible.
I was drawn to this hotel for its unique setting, and more importantly for its outdoor pool area with its plush sunbeds, overlooking the pristine waters of Protaras. However, I was delighted to discover a lot more than a relaxed outdoor experience. The degree of personalised treatment provided by the hotel's managing director and his immediate family certainly made an impression on me.
The Evalena Beach Hotel is a former complex of hotel apartments that was recently renovated into a family-friendly four-star hotel in 2017.
"We want our guests to have a shared experience in Protaras," managing director George Tofinis said. "This experience begins at our hotel and continues to our upscale amenities and beyond."
The building, which was originally constructed in 1989 by George's father Andreas, underwent a significant makeover in 2017 when the family chose to renovate it and turn it into the contemporary hotel and spa resort.
Together with his sisters Natasha and Eva, George spent the most of his childhood working at the hotel, learning the ins and outs of the industry, and putting their father's customer-centric philosophy into practice. "I selected a career-focused education in global hospitality and hotel management in Switzerland because I enjoyed interacting with people," he said.
"Our heart is at the centre of everything that is being done at the hotel, and this passion can also be found in our employees.
"Although we are running a modern hotel with 179 rooms and suites, we do not want to compromise on the charm of a family-run hotel and the home-like characteristics that large hotel chains fail to provide," Tofinis told Living. "The emotional trip starts the moment our guests arrive, and we are delighted to be at the beginning and end of that journey."
In addition to the hotel's central location, which places it close to a variety of popular sandy beaches, organised water sports, tourist attractions, bars and eateries, Evalena Beach Hotel offers its own in-house dining establishments serving a selection of Mediterranean meals, whether one chooses to dine casually as the gentle waves of the sea lap against the shoreline or to head indoors to the hotel's dining room for a buffet.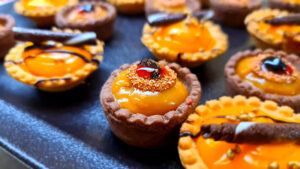 When it comes to sustainability, George said the Evalena Beach Hotel has implemented an ongoing series of practices aimed at minimising the hotel's impact by reducing the unnecessary use of energy. "We encourage guests to conserve water and energy, reduce food waste, and recycle their rubbish at one of the recycling points at the hotel. In addition, our hotel chooses cleaning products wisely, and selects local food products for our restaurants, uses high-efficiency water fixtures and LED lighting to safeguard our ecosystem."
After a wonderful day lounging by the pool and sipping a classic Mojito, I made the decision to reward myself with a full-body Swedish massage at the hotel's spa and wellness centre. Undoubtedly one of the best massages I've ever had, the skilled masseuse's technique promoted relaxation by releasing muscle tension.
As the sun began to set, the lights of Protaras twinkled across the promenade, and the sound of the last tour boat signalled its approach to the charming pier located opposite the hotel. I encountered George in the hotel lobby that evening, after pampering my palate in the dining room. As he offered me an aperitif before I headed towards my suite, I noticed his ever-present family mingling with the guests, enchanting them.
"I want Evalena Beach Hotel to be the best four-star hotel in Protaras, at the same time making it affordable for everyone," he said. "This is the vision that my father had from the beginning, and I believe that I owe it to him and to the rest of the family to carry it through."