Surrounded by the finest gems of nature, one local craftswoman tells NIKI CHARALAMBOUS of the decades of knowledge that go into her one of a kind pieces
Although most of the world's leading jewellery brands were founded by men working with diamonds and gems, there is a local brand that has added that sparkle in the lives of its clients for three generations in a legacy passed down from its founder Chrysanthi Karanicola to her daughter and granddaughter.
Politia, based in the heart of Nicosia, is today a well-known Cypriot jewellery brand that has been serving its clients since 1967, when one woman strove to set the standard of jewellery manufacturing in an industry that was predominantly occupied by men. "My grandmother wanted to carve her own path in the industry and worked very hard to establish her own business and set a benchmark for jewellery design in Cyprus," co-owner Chrysanthi Georgiou said.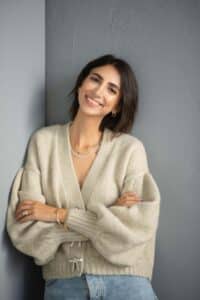 "She was an incredible inspiration for many women because she took the bold step of starting her own business at a time when most organisations were passed down from father to son."
Her grandmother's jewellery store was founded under a different name, and her expertise of cutting-edge jewellery design motivated her own daughter, Elena Karanicola, to continue her mother's legacy, which led to the establishment of the current jewellery store, Politia, three decades later.
It was only a matter of time until Chrysanthi, like her mother and grandmother before her, was drawn to the fascinating world of diamonds and stones, which inspired a career in jewellery creation and assured the continuation of the family's legacy.
"Even though I grew up in the jewellery industry and always imagined myself expanding our family business, it wasn't until I graduated from university that I realised this is where I belong and what I wanted to do," Georgiou told the Cyprus Mail. "Surrounding oneself with creativity and nature's great treasures makes one feel in love all the time."
After graduating with a degree in business management from the University of Southampton, Chrysanthi's passion for jewellery led her to London where she pursued an intensive course in knowledge, standards and education in gems and jewellery from the London branch of the Gemological Institute of America. "The course focused on coloured stones, gem identification, and colour stone grading, and it provided me with the skills and credentials I needed to start a successful career in the jewellery industry."
Chrysanthi has been working alongside her mother in the business since 2017, creating inspirational works of art for their clientele who, like them, span multiple generations. "My grandmother built a reputation for her one-of-a-kind approach to jewellery; although times have changed, our modern pieces are still colourful, playful and elegant, while retaining that timeless quality that is suitable for both day and evening wear.
"Diamonds and coloured stones are my source of inspiration. They are a natural marvel; it takes years for them to rise to the surface and then pass through the hands of so many creative and talented people to become the sparkly gemstones we see before us," she explained. "Although ordinary on the outside, they are extraordinary on the inside and make people feel special – this is the best part of my job. I get to create and provide something meaningful to each individual."
Women are another source of inspiration, Chrysanthi said. "I believe that without women there would be no romance, true strength, beauty, or confidence."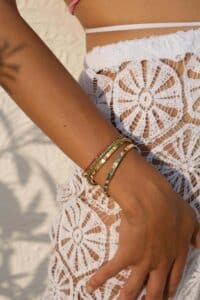 Regardless of how dazzling the world of diamonds and gems may look to most, the sector is, according to Chrysanthi, not without its own set of obstacles. "Difficulties are an inherent part of the game. As Cypriot jewellers, we frequently confront added competition from international jewellers; we are a small market, and we may lack sophisticated jewellery engineering technologies. The most challenging issue, however, is that the Cyprus jewellery industry is not united," she added.
Despite the challenges, Chrysanthi is keen to continue her work, which includes concentrating on a website to reach clients around the world. "I have so many ideas that it can be difficult to decide which path to take, but you have to trust your vision and your instincts."
Founded by her grandmother as Jubilee Jewellers five decades ago, since being rebranded as Politia, the jewellery boutique also serves as the workshop from which each contemporary item is crafted using traditional techniques, incorporating both classic and unusual diamonds and gemstones, making each item in their collection one-of-a-kind.
"The name Politia is derived from the Greek word for state, which perfectly describes the unique state and perfection of our work," Chrysanthi explained.
"As a third generation female jeweller, I am committed to upholding my grandmother's strict standards, including the honesty and integrity she built through her brand. I am part of a generation of women who design for women, and this makes me proud."