Ayia Napa Marina, the ultimate entertainment and leisure hotspot of the island, continues to expand, offering an enhanced experience to the numerous visitors seeking relaxation, shopping and entertainment. As part of its ongoing development, its Commercial Village is welcoming selected stores, restaurants and brands that are set to open in June, providing an even wider range of options to satisfy every need and taste.
Among the new additions, Le Sundeck Robuchon – the newest "sibling" of L' Atelier Robuchon and Le Deli Robuchon – stands out. Located in the outdoor area of Le Deli Robuchon, Le Sundeck Robuchon offers exquisite signature cocktails and an exceptional variety of tapas from the external bar until late. It's worth mentioning the Marina's Le Sundeck Robuchon, is the first of its kind in the world.
Adding to the Marina's culinary delights, Margherita Pizza Artigianale is the first Italian restaurant of the well-known Greek chain to open its doors in Cyprus. Following its success in Kifisia, Thessaloniki and Corfu, the restaurant will captivate lovers of Italian cuisine with its authentic wood-fired pizza and other Italian delicacies, delivering an unforgettable dining experience that will keep guests coming back again and again.
In terms of shopping, the new Mint Boutique and highly-anticipated reopening of Tiffany Mare Boutique ensure an unparalleled shopping experience, with carefully-curated designer collections from around the world, along with trendy handmade accessories. Art enthusiasts can also explore the Marina Art Gallery, featuring works by emerging Egyptian artists and the esteemed TAZU collectible windsurf boards that embody the essence of their creators.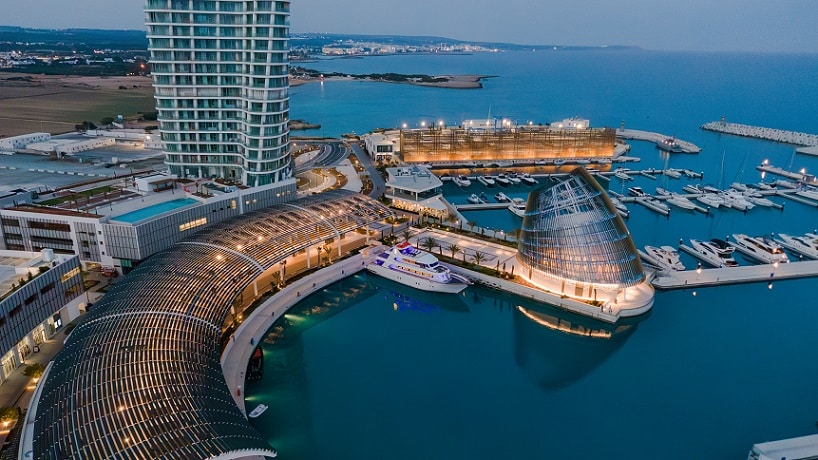 A pharmacy has also opened at Ayia Napa Marina, catering not only to medication needs, but also carrying personal hygiene, care, and wellness products. Meanwhile, the brand-new Marine Aesthetics beauty salon offers top-quality treatments from a top-notch team of doctors, plastic surgeons and aesthetic therapists, each of whom offer high-quality services.
Regarding the Marina's nautical stores and services, already operating are: Importica LTD (Italboats Ribs, Stingher and Predator, Salpa Ribs, Skipper Ribs, Sessa Marine Yachts & Cruises, Podeidon Boats, Protagon, Quicksilver Boats, Regal, Beneteau), Chandlery, and Blue Point Yachting (Azimut Yachts, Benetti, Sea Ray, Nautor's Swan, Elan, Priviledge Yachts), as well as Yachts & Co. (Ferretti Yachts, Pershing, Itama, Riva), which are able to offer truly comprehensive services, from new yachts to top-level aftersales, to existing and future customers.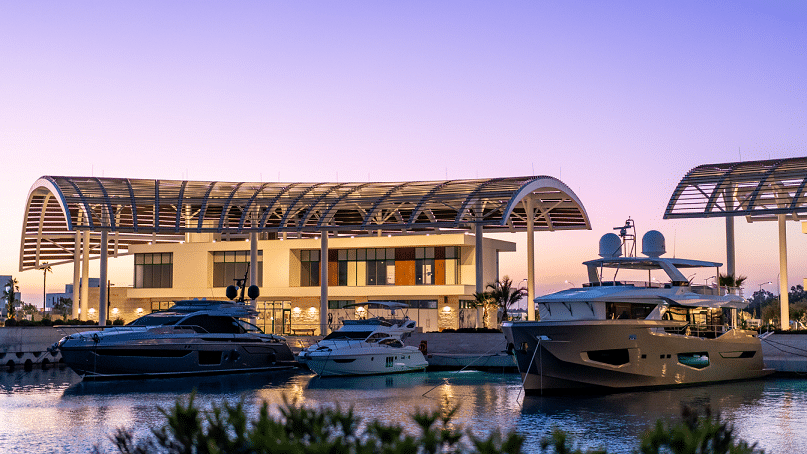 Over 20 shops and restaurants!
Yet Ayia Napa Marina is more than just a collection of shops and restaurants: it offers a complete lifestyle experience, an idyllic escape from the everyday routine, establishing itself as an international lifestyle destination for coffee, strolls, lunch, afternoon snacks, or a five-star dinner with flavours that will delight even the most discerning palate. Visitors are reminded that Chandlery, Coffee Berry, L' Atelier Robuchon, Le Deli Robuchon, Riva Beachouse, Sushi Yama, Sueno Azul, Pahit Ice, Alphamega Convenience Store, and the Crew Lounge are already operating in the Marina. So, whether you crave classic or new flavours, well-known or newly-established spots, there's something to suit every preference and every moment of the day.
This summer, again, Ayia Napa Marina stands as the ultimate hotspot for entertainment and leisure. It is worth noting that during the Kataklysmos/Festival of the Flood weekend, specifically on June 4, 2023, from 8am-9pm, the Marina will host several events for both kids and adults. The programme features a diverse range of activities, including Aquathlon, arts and crafts, activities for children, puppet theatre, a live link, a unique Fly Boarding Show, dance shows, and DJ. The evening will culminate with a spectacular concert by the renowned Papiyion Band, ensuring a memorable experience for all attendees.
For more information, click here.