Not that much of an excuse for going out is ever needed, so a birthday lunch felt like a good enough reason to try something new. I had heard of a gastro-bar in Kiti and thought to head that way, away from the crowds in the centre of town.
Jackson's gastro café and bar is located in part of a quiet, charming little village square with a quaint church in the backdrop. Jackson have been around since 2015 and promise that top quality, locally sourced, seasonal ingredients are used.
Being a warm afternoon, Jackson had a multitude of shades up to provide a comfortable seating area for diners.
I had expected that we would be seated inside with the comfort of air conditioning but this was not the case. As it turns out, it was actually fine because the shade provided and a gentle breeze coming through the square made it just right! The square and seating areas were also decorated with some beautiful plants and flowers which made it all the more appealing to the eye.
Prior to going to Jackson we had taken a little peek at the menu on their website to avoid disappointment. However, it would seem that their website has not been updated as some of the food online was no longer listed on the menu! Also, the online prices for food that still is on the menu do not match up. I also later found out that an event that looked interesting on their website actually took place in 2017! So, if you want to do a bit of research before going, check out their social media for accurate and up-to-date info.
The website menu not matching was not a problem in the end as everybody found something. Small plates, salads, pasta, burgers and main dishes are just a few and in each of the sections there is a good variety of each. After 'umming and 'ahhing about what to have, it was the bbq sauce glaze on the pork chop that helped me make my mind. Other orders included stuffed chicken, grilled halloumi salad, two warrior burgers and a Jackson's egg and bacon burger.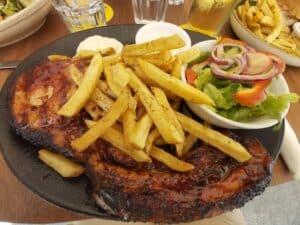 The food arrived and the presentation was most impressive. The only comment we had was that the stuffed chicken was a roulade which was not described on the menu, so whilst it looked pretty, it was not what was expected so there were mixed emotions about being given this well presented dish.
My pork chop was really good! The top of the chop, which can be easy to dry out if you don't know what you're doing, was succulent and tender. However, as the chop was covered in a very flavoursome bbq, the tzatziki on the side didn't really complement the chop so I repurposed it as a tasty dip for my crunchy chips!
The halloumi salad was given a big thumbs up. Halloumi nicely grilled, salad fresh and crisp, the caramelised walnuts adding a nice crunch and although initially being slightly dubious about the pomegranate and lavender honey-mustard dressing, it turned out to complement the salad really well!
The burgers were cooked to perfection. They were meaty and you really got the feeling that you were biting into a high quality, juicy burger. All the fillings such as the onion rings, bacon, cheese and bbq aioli in the Warrior burger made for a scrumptious and filling meal. The flavours combined well and complimented the meaty burger, though the patty itself could have done with a little more seasoning.
I'd like to go back to Jackson, not only to try one of the other dishes on the menu but to experience it at night with a different energy. And of course to also try out a few of the tempting and interesting cocktails. Just have to make sure that next time, I'm not the designated driver!
Address: 36,Kitiou avenue, Kiti.
Telephone: 24 400313
Cuisine: International
Prices: Salads €7.80-€10.00. Burgers €9-€17. Mains €11.50-€27 (Jumbo pork chop €12.90).