The municipality of Nicosia's recent redevelopment plans for the city centre are discriminatory and have not accounted for the blind, the Pancyprian Organisation of the Blind (Pot) said on Tuesday morning.
The organisation said the municipality had spent EU funds on projects that could unwittingly put blind individuals in danger "in activities as mundane as taking a walk downtown or visiting Eleftheria Square".
The newly unveiled project was "designed and executed with no regard for our country's blind and vision impaired citizens, and without consulting either the organisation representing them, or the Cyprus Confederation of Organisations of the Disabled (Kysoa)," a statement said.
In a statement issued later in the day, the municipality seemed to take on board what had been said. "We understand the difficulties faced by our fellow vision impaired citizens," it said "and recognise that in Cyprus we have a long way to go in terms of ensuring public infrastructure is widely accessible".
The municipality also said that through its projects, it aims at taking into account the accessibility needs of all disabled groups. The goal is to create "large webs of accessible urban areas", starting with the commercial triangle Eleftheria Square is part of.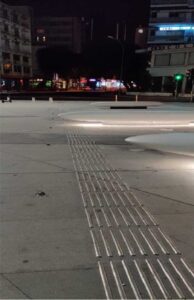 Some of the problems highlighted in Pot's statement were a lack of accessibility between main roads and public spaces, incorrect placement of pavement guides and tactile paving, little to no signs or indicators and a variety of obstacles that might impede the movement of the blind and vision impaired in and around Eleftheria Square.
The municipality described Eleftheria Square as a project "conceived as a shared space, with designated areas for pedestrians and motorists. The clear division between the two is marked by benches, warning signs and raised sidewalk guides."
As a space for gathering, the square's design caters to the free movement of pedestrians across the entire structure, the statement said, adding that it has been designed according to national and international standards for accessibility and was approved by the Ministry of communications and works.
Pot said that by refusing to cooperate with them towards more inclusive practices, and "fixated on the idea that the blind are second-class citizens to be patronised and met with pity and charity", the municipality and mayor of Nicosia are reinforcing antiquated stereotypes of the blind.
The municipality said it is prepared to make any improvements necessary to the measures taken, if they are not sufficient. A meeting with Pot representatives has been arranged to discuss their concerns.