Beyond its blue waters, clear skies and coffee shops, the island many of us call home can be interpreted in myriad ways depending on which lens you look at it through. For some it is about historical abandoned buildings, for others it's about tavli games in village squares, grandma's cooking, feminist graffiti, the dead ends of the buffer zone.
How we interpret a place, be it a foreign country or our neighbourhood, can often be based on our existing interests, our emotions, our mental state, the books we've read and the films we've watched. Even the news can shape how we look at the spaces around us.
A new destination is a blank canvas for the eyes and what has become home can look different when revisited through the eyes of foreign visitors.
This is what the Cultural Centre Phaneromenis 70 in Nicosia has been doing for the past decade. Collecting images and text by visitors to Nicosia and the rest of the island for an anthology in an attempt for residents to interpret their land in new ways. Each year a booklet is published with the views of foreign visitors to the island. Just before 2020 ended, the 26th edition of Delivering Views was published in the form of 10 mini booklets featuring 10 women visitors' impressions and memories of Cyprus.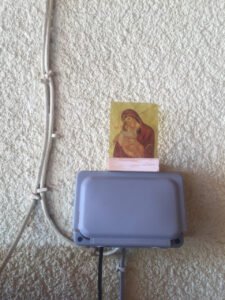 Some of them are artists, some are visitors, some are Erasmus students, others are researchers, each documenting their time in Cyprus in a different way. Poems of coastal window views, photographs of donkeys, images of icons hung in random places, graduation photos on show at grandma's house and texts about being catcalled are printed in the form of notebooks. Delivering Views #26 includes a random collection of how various first-time visitors perceived Cyprus, the good, the bad and the ugly.
Flicking through the 10 different booklets, I was reminded of the street art we often walk past, the soldiers changing shifts, the shiny cars, the lack of parking. Yet observations of aspects that local residents might overlook also come up. Like the fact that many public spaces in Nicosia have a triangular shape.
Delivering Views aims to redirect locals' gaze on what they are familiar with. Even for its organisers, collecting these memoirs over the years introduces new suggestions as to how to perceive our surroundings.
"From all of the years I have been working on the Delivering Views project," said founder of Phaneromenis 70 and project creator Kyriaki Costa, "with all kinds of different people from Cyprus and all over the world, and from wandering around, noticing the small details of the island."
As an ongoing project, Kyriaki collects these memoirs from visitors, tourists, friends and people that stop by the cultural centre and are intrigued, and excited to share their viewpoint with the rest of the world. "They are all so interesting, in so many different ways," she added. "Some are nostalgic, hard, realistic, unpredictable, others are emotional, food and animal lovers, graphic, contemporary, pop, with a big interest in the history and archaeology of the island, pacifists, patriots."
The project keeps Kyriaki, and inevitably its followers, curious and observant. Taking a walk with a first-time visitor invites a new approach to seeing our all-too-ordinary spaces. "I wanted Phaneromenis 70 to 'make sense' for the community around us and all the people that were passing by, and for me as well. The first objective of the project was the interaction, the recording and presentation of small everyday details of the island that connect us all but we miss. These details, through Delivering Views, are now open to be viewed by everyone interested, be commented on and provide a different view, that of the 'other'."
The 10 mini books are now on display at the Cultural Centre alongside dozens of other projects Kyriaki has organised and numerous pieces by local designers and artists. Phaneromenis 70 is a cultural shop stocked with meaningful gems of Cyprus, inspired by life on the island that was set up in 2005.
"This is when I started actually getting to know the locals, the technicians in the area, Phaneromeni's people, and began working with them," she said. "Later I started observing the people that passed by, and their comments. In this way, I managed to really 'listen' to what the area was in need of. That's how Phaneromenis 70 turned out to be what it is today. A place that includes the locals and the tourists in all its cultural and social actions."
In a way, that is what Delivering Views does as well. It acts as a meeting point for foreign visitors and locals to indirectly meet and exchange their perceptions of a place they briefly share. We have all been locals and we have all been tourists. What if we become both at once It is exactly this approach of seeing Cyprus through the eyes of others that Kyriaki feels is the greatest benefit of the Delivering Views project.
Find Delivering Views #26 at Phaneromenis 70, Nicosia. Tel: 22-663320. www.phaneromenis70center.org