The MX5's conception in the 1980s was far from straight forward. The company wanted something to differentiate themselves from the other Japanese brands, and after months of passionate appeal from a single visionary engineer, agreed that it should be a lightweight roadster. Still, questions remained. Initial plans included one for a front-wheel drive car and one for a mid-engined car, before Mazda finally settled on the front engined, rear-wheel drive formula that had become so popular among the exciting but poorly built British roadsters of the 1960s.
While rear-wheel drive cars would not be as cheap to manufacture, Mazda knew that it was imperative if they wanted to offer a true driver's car. The development project was dubbed 'Jinba Ittai', which means 'rider and horse as one' in Japanese. Unknowingly, a small group of Mazda engineers working out of the company's California design house had just laid the blueprints for one of the all-time greats.
In the 32 years since the MX5's 1989 debut at the Chicago Autoshow, the MX5 has spanned 4 generations and sold well over 1 million units. Today, the latest edition will set you back €31,900 and come with a range of options and goodies that the early models could only dream of.
Here, however, I have a 1998 car. It's the final year of the 1st generation, with the all-important pop-up headlights. It's got the 1.8 litre, 4-cylinder engine (larger of the two options), and pumps out 129hp, put to the rear wheels through a 5-speed manual gearbox.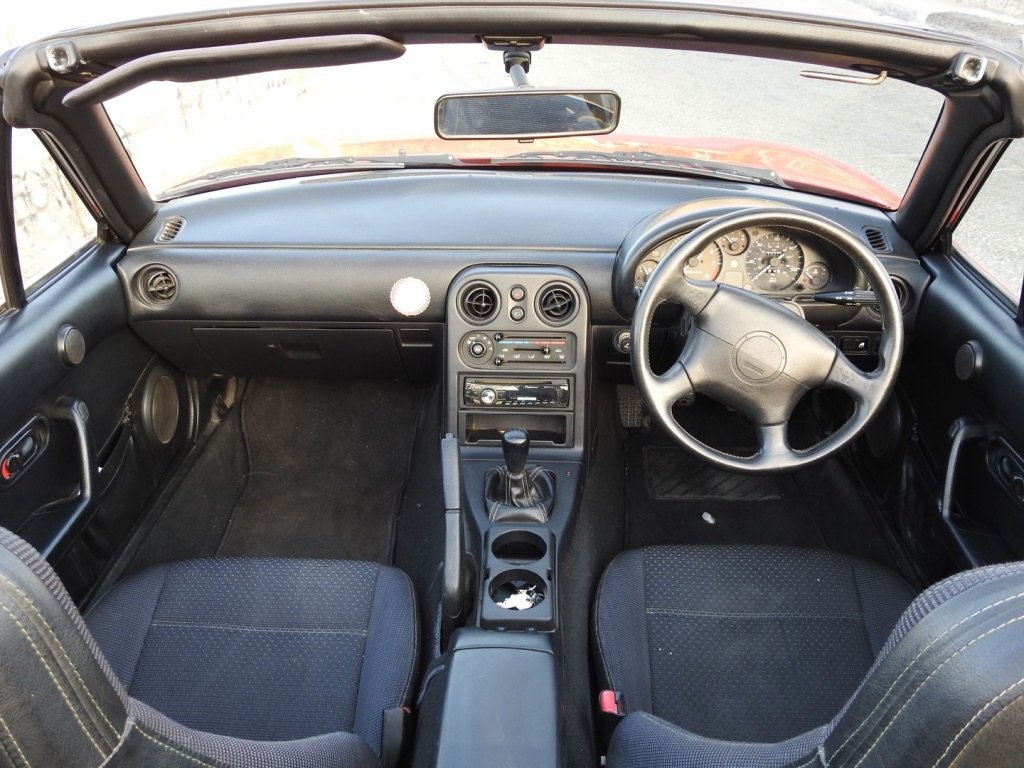 After 5 minutes of driving, even non-petrolheads will understand exactly was is meant by 'Jinba Ittai'. The low centre of gravity and 960kg dry weight provide hilarious handling – you can really throw this car about without worrying too much about pesky inertia, and the suspension soaks up anything you throw at it while not being overly harsh when you're cruising.
The gearbox is an absolute joy to operate. Its rumoured there was an entire team whose job it was to ensure the shifts felt mechanical and slick. You can tell. Driving about, even at modest speed, you're kept constantly entertained by the prospect of mastering the next gearshift. You could daily drive this car, and still love every journey.
The engine is far from remarkable, but it doesn't need to be for you to have fun. On the contrary, with so little power you can spend more time safely at the limit. You can grab this car by the scruff of the neck and it won't bite – and that is saying something considering it has neither ABS or traction control. What's more, anything more special under the bonnet would have driven up the price of the car and maintenance, and that would have corrupted the project's core ethos.
The pop-up headlights, not available on any new car since 1999 due to amendments to pedestrian safety laws, help cement the car's status as a young classic. Flash someone during the daytime and they enthusiastically burst up out of the bonnet, usually putting a smile on the face of whoever you're letting out.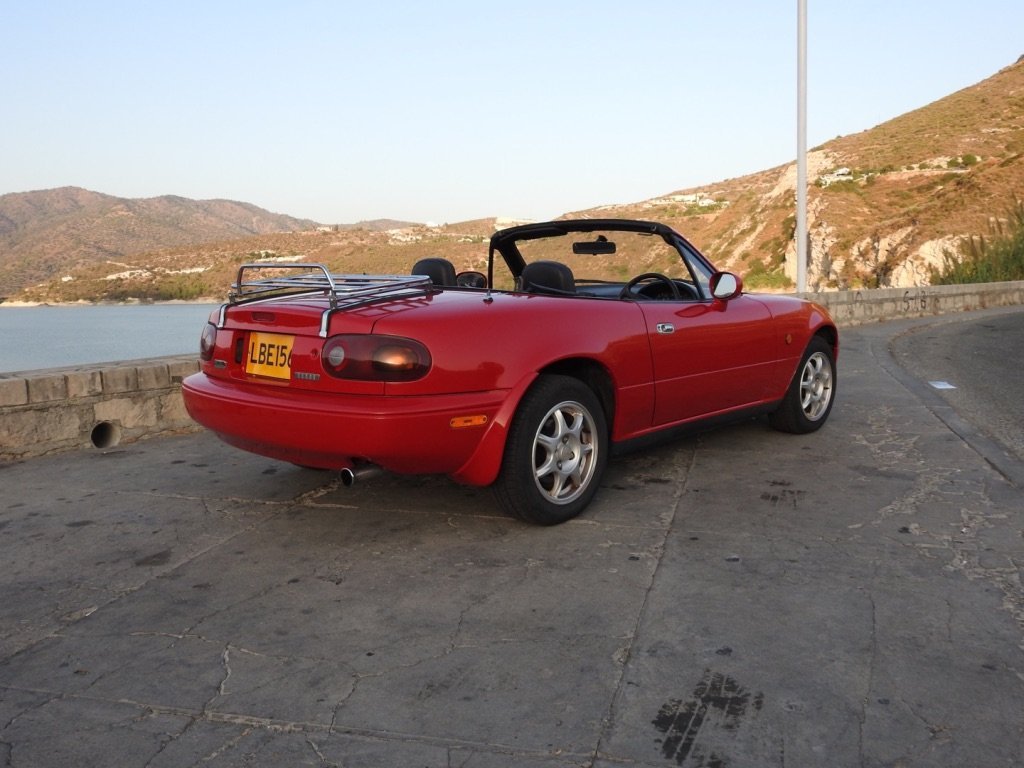 The door sills are low, which has the effect involving the environment as your drive along. It might sound strange, but with such unobstructed all-round visibility and complete exposure to the elements, the MX5 is the perfect vehicle from which to enjoy a scenic drive. It feels uncannily like a luxury go-kart.
In terms of drawbacks, it's pretty useless on the highway – too loud and rattly to be considered for any long journeys, and it is really, really low. Somehow, it doesn't seem to scrape on anything, but with the roof up you better have been attending yoga class if you hope to retain any dignity while getting in.
That being said, if you can find one of these in Cyprus that hasn't been tastelessly modified (good luck), it is a fantastic purchase. For around €5,000, not only will you be buying a ticket to countless days of driving joy, but you will actually be making an investment. The MX5 has already started creeping up in price, and as the electric revolution continues I would expect cars with such character to become more and more popular amongst enthusiasts.
The MX5 is unpretentious. It was created to bridge territory between fun, affordability and reliability in a way that only Japanese engineering could have at the time, and its sales numbers and loyalist following are resounding confirmations that Mazda achieved their goals. Sure, it's not going to win you any drag races. Nor is it going to be of much use if you plan to woo lady-friends. But if you're serious about driving and able to turn a blind eye to the absence of a few modern-day creature comforts, the MX5 will absolutely win your heart.