Cyprus is one of three EU countries where one-fifth of enterprises with more than 10 people employed used internet-connected devices last year.
On Friday, Eurostat reported that in 2020, 18 per cent of enterprises in the EU with more than 10 people employed used devices or systems which can be monitored or controlled remotely via the internet.
Cyprus is slightly above the EU average, and is, with 20 per cent, at the same level as Sweden and Croatia.
Among EU member states, Czechia recorded the highest share of enterprises, 44 per cent, followed by Finland with 40 per cent.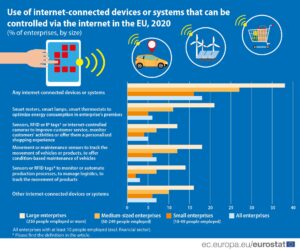 Less than 15 per cent of enterprises in Hungary (14 per cent), Portugal (13 per cent), Bulgaria (12 per cent), France (10 per cent) and Romania (7 per cent) used such internet-connected devices or systems last year.
"Devices or systems to optimise energy consumptions in the enterprise's premises were the most popular in large enterprises: 21 per cent of large enterprises used them," Eurostat reported.
"Among medium and small enterprises, devices or systems to track the movement of vehicles or products or to offer condition-based maintenance of vehicles were most commonly used: 12 per cent of medium enterprises and 6 per cent of small enterprises used them."