The Solomons is the world in technicolour: turquoise seas, cerulean skies, golden sands, and jade palms. It's the original tropical paradise; a South Pacific dream in kaleidoscopic polychrome.
While the majority of the 650,000-strong population still depend on agriculture, fishing, and forestry for their livelihoods, life on the bigger islands of the archipelago is a little more modern: although roads often peter out into tracks and buses are erratic, regular ferries unite the larger islands, and an international airport connects to Brisbane and Fiji.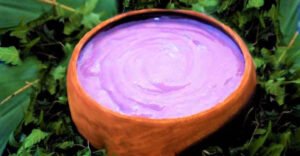 More of a savoury cake than a pudding, the local treat of cassava pudding is made from grated cassava, sweet potato and coconut milk (and occasionally corned beef, in which case it's known as kara). Traditionally baked in a motu (an outdoor oven) under scorching stones, the concoction is mixed, wrapped in banana leaves and baked all afternoon. It's reputedly delicious. And pretty sustaining too. Just what you need if you're returning with the catch of the day…
Seafood is, of course, integral to the local cuisine. Tuna is a favourite, often baked and served with rice or noodles (and super-hot chillies, to lend the dish a little spice). But everything from marlin to sailfish, mahi-mahi, giant trevally, wahoo, Spanish mackerel, coral red trout, and red sea bass might appear on the menu, depending on the time of year.
Fruit is another staple: ulu, or breadfruit, is served alongside most dishes; bananas, pineapples, mangoes, passion fruit and watermelon abound; and exotic fruits (including the carambola, giant granadilla, soursop, and pawpaw) are commonplace.
There's also poi, considered the islands' 'national' dish. Made from fermented taro roots, this purplish Polynesian staple (not to be confused with Samoan poi, a creamy dessert created by mashing ripe bananas with coconut cream, or Tahitian po'e, a sweet pudding made with bananas, papaya, or mangoes cooked with manioc and coconut cream) is a standard at any celebration: a tempting side to chicken or fish. And, like most things in the Solomons, a colourful addition to a multi-coloured existence: poi, when cooked correctly, is purple!