The 'dearMoon' project offers eight artists a place on SpaceX's Starship, the first civilian lunar orbital mission. Alix Norman meets the Limassol pianist hoping to secure a seat
Two years from now, the world's first civilian lunar orbital mission will take place. SpaceX's rocket, Starship, will lift off and, roughly 48 hours later, circle the Moon. Aboard will be eight talented artists from around the world, set to perform – for the very first time – from space.
Space tourism is not a new idea. Between 2001 and 2009 seven space tourists flew to the International Space Station aboard a Russian Soyuz spacecraft brokered by Space Adventures at an estimated cost of $20–25 million per trip. In 2019, NASA announced a similar collaboration with SpaceX, in which private astronauts could also journey to the ISS for a cool $35,000 per day. So until now, a trip into space has been solely the purview of the super rich: billionaires with a burning ambition to break free of their earthly confines. But with the launch of dearMoon that will all change: the project is offering eight artists from around the world the trip of a lifetime on Starship, courtesy of Japanese billionaire Yusaku Maezawa.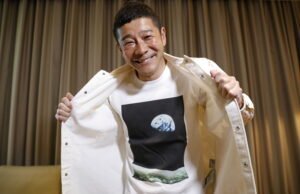 The chief executive of Start Today Co and the man behind Japan's most successful e-commerce site, Zozotown, 42-year-old Maezawa clearly has a passion for the arts. He began life as a musician, a drummer with an indie punk rock band. And since amassing his fortune (estimated by Forbes at $2.9 billion) he's pursued his passion, investing lavishly in works by Warhol, Basquiat and other record-breaking artists. So it's perhaps no surprise that the mogul has used his immense wealth to snap up eight tickets on Elon Musk's first civilian lunar orbital mission, and is offering those seats for free – under the dearMoon project – to artists and performers from around the world.
Hundreds, if not hundreds of thousands, have applied but just eight talented exponents of the arts will, in 2023, take their place on Starship, there to perform for the world. And 35-year-old Limassol-based award-winning musician Tatiana Stupek – already through to round three of the five-stage selection process – hopes she will be among the chosen few.
An intrepid adventurer who delights in parachute jumps and hot air balloon flights, Tatiana is well-known for her feats of athletic and musical daring. She's played the keyboard both at the top Mount Elbrus and while submerged on the Mediterranean seabed; performed on the gusli (an ancient East Slavic multi-stringed instrument) atop Mount Kilimanjaro, and on the frozen ice of Siberia's Lake Baikal. In the coming months, she plans to climb Argentina's Aconcagua, there to claim the Guinness World Record for highest musical performance. But, should she be chosen to participate in the dearMoon project, she'll surpass all her previous achievements!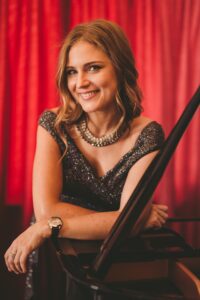 "I'm already through to the third stage," Tatiana exclaims. "The first stage was to complete the application; having heard about dearMoon from a friend, I managed this just before the deadline! The second stage involved a lengthy questionnaire, including details of my background, age, talents, ideas and health. And in the third stage, which I will receive in just a few days, there will be a more specific assignment to complete…"
Quite what this third task might entail, Tatiana doesn't yet know. "But I'm very much looking forward to it!" she enthuses. "I have lots of ideas, and I very much hope the organising committee will look favourably on my application. If I pass, I will be on to the fourth stage" – a live interview – "and then the fifth, which will be a medical assessment in late May."
A qualified scuba diver and freediver, Tatianna is unconcerned about the medical checks – "I'm extremely healthy," she grins. Neither is she worried about her mindset: this talented young woman is bursting with life, enthusiasm and compassion – she's known island-wide for her work with local charities – as well as a desire to share the beauty of music with the world.
"And I think that's what the dearMoon project is all about," she says. "It's an opportunity for people all over the world to share in a unique artistic experience. Art of any sort – be it music, painting or dance – transcends language, and that means whatever the organisers choose to broadcast from the lunar pass will be accessible to all, uniting hundreds of thousands of people. Imagine being able to share the beauty of Beethoven's 'Moonlight Sonata' with the whole world, while you're actually seeing the Moon close up!"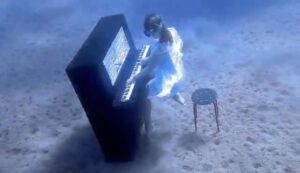 The SpaceX mission will also fulfil one of Tatiana's own, more personal, dreams. "Going into space is something I've always wanted to do," she admits. "I've always hoped that, in 20 or 30 years when space tourism becomes more common, and much cheaper, I might have a chance to go. But this is a much more immediate opportunity, and I'm thrilled just to be considered.
"Lastly," she concludes, "dearMoon would be a wonderful chance for me to celebrate my adopted homeland. I may have been born in Russia, but I've lived on the island for 13 years, and every time I climb a mountain or swim to the bottom of the sea, the flag of Cyprus goes with me! And it will go, again, if I become one of the artists aboard Starship; taking the flag of Cyprus will be a testament to the way arts help us shape and share our own experiences – the experiences of our country, of beauty, of hope, connection, and love which unite us all."
For information on the dearMoon project, visit https://dearmoon.earth/
For information on Tatiana, visit http://tatianastupak.com/