Launched in 2004, the Mercedes CLS was a game changer. It set out to offer the style and dynamic advantages normally associated with a coupe, without sacrificing the practicality of having four doors and spacious rear seats.
It basically established an entirely new segment, which today is brimming full of choice. Anyone in the market for a fancy four-door 'coupe' can browse the BMW 8 series gran-coupe, Audi A7 and Porsche Panamera, all of which adopt similar silhouettes to the pioneering CLS.
The equation was simple. The CLS was for those who wanted everything that an E class offered, minus the Taxi/Uber associations. Price and practicality suffer slightly, but all-important looks are enhanced. Ironic then, that Mercedes' first attempt at the CLS looked like a regular saloon had been super-heated and then awkwardly sat on. Still, it was better than Porsche's first shot at the Panamera, which saw them (I imagine) turn to a defecating dog for design inspiration.
In this, the third generation CLS, Mercedes have done better. The colour and wheel combination on this specific car work well, and the car looks fantastic from most front angles. Nevertheless, there exists a crucial flaw: It looks far too similar to the (considerably cheaper) CLA. 'OK, big deal! People confuse models all the time!' I hear you say. Well, maybe, but not me. Sad as it may sound, at my level of vehicular nerdery these confusions are rare. Was it intentional on Mercedes' part? Or has all the budget usually reserved for design made its way to the Electric Vehicles department? I don't know the answer, but I would definitely consider it a point against the CLS that it looks nye-on identical to its €25,000 cheaper brother.
Step inside and once again you'll have trouble differentiating this car from other Mercedes Models. The S class was the first to debut this interior configuration (with two large screens and four central air vents) and since then it has found its way into most variants of the E class and now the CLS.
This time though, I am not complaining – its brilliant. Interiors are notoriously difficult to get right – they need to be stylish, comfortable, intuitive and durable all at the same time. Mercedes have a winning formula here, so there are no gripes about it being reused. The Burmester sound system is impressive – far more capable than the equivalent system installed on the C class/GLC models, and I think the leather looks great in beige.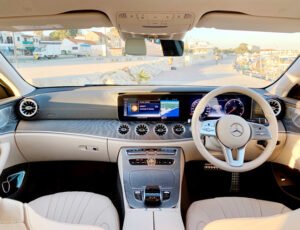 The S class was the first to debut this interior configuration (with two large screens and four central air vents) and since then it has found its way into most variants of the E class and now the CLS.
Having spent a lot of my youth watching Top Gear, I grew up with hearing Jeremy Clarkson say things like 'Sure it's quiet, for a diesel. But that's like being well-behaved… for a murderer.' Diesels have long had a boring reputation. They don't sound too good, generally feel sluggish and when the Volkswagen emissions scandal broke I, like many petrolheads, thought it was the final nail in the coffin for diesel road cars. Indeed, their employment is being rapidly wound down, with many European nations having already announced plans to ban diesel car sales or merely tax them out of existence.
Shame then, that just as they're going out of use, they're getting really, really good. I would even go as far as to say that the 3.0 inline six-cylinder engine in this '400d,' variant is better than the (itself brilliant) 3.0 used in M40d version BMWs. It's so torquey, so smooth and produces its power near the top of the rev range so it's actually fun to drive!
The 9-speed gearbox works tirelessly to conceal any traces of turbo lag and, surprisingly, it doesn't sound too bad either. Consumption is impressive considering the power, with the car using less than 5 litres of diesel for every 100km travelled. I don't know what more you could want from an engine. Well done, Mercedes.
Pricewise, the car is currently on 'special offer' in Cyprus, starting at €53.600. That'll only get you the 220d, however, with a paltry 194hp. You'll need to fork out another €11.500 for the 335hp 400d as seen here, but I assure you it is absolutely worth it. Put some nice paint, wheels and leather on it and you're easily past €70.000. Still, that's cheaper than its compatriot rivals, despite being more powerful and just as well equipped.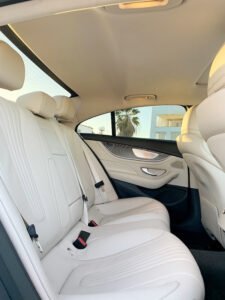 All in all, I was impressed with the CLS. The trick is not to see it as a stylish version of a saloon car, but rather a practical version of a coupe. If you often have rear passengers, the CLS provides the sweeping design and sporty dynamics of a coupe without the need to get out of the car and move a seat forward every time somebody wants to get in the back.
Yes, it does look too similar to the CLA, but spec yours with this impressive diesel engine and a generous sprinkling of options and it certainly won't feel like one.