"It is an illusion that photos are made with the camera," once said famous French photographer Henri Cartier-Bresson, "they are made with the eye, heart and head." Indeed, there are so many ingredients that make the art of photography come to life, beyond composition and lighting. There's seeing, observing the scenes around you, noticing the shadows of the city and the different shapes objects make. With the aim of making the world of photography more accessible to people from all walks of life, a new space in old Nicosia has dedicated itself to all things photography. 'Noise' is the latest artistic addition to the capital city.
Photography lovers may see the connection between the name and the art as it refers to a photographic term used to describe visual distortion. "'Noise' looks like small grains on the picture," explains shop owner Andreas Loucaides. "I chose this name because noise is one of the elements that makes a picture look imperfect from a technical point of view, which is something that I personally like on photographs."
Fresh on the block, the photography store opened in mid-April for just one week before the new lockdown began. Located on 4 Pericleous street, Noise shares the neighbourhood with a few other creative shops that hope to bring more life and art to the old city. Its owner is, of course, involved in photography working as a professional covering numerous themes from landscapes, portraits and documentary photography to cultural and social events.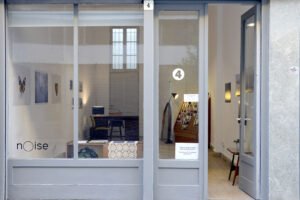 "As a student in Athens," says Andreas, "I was a member of the photography club of the University of Athens where I had the opportunity to learn about important photographers, like Henri-Cartier Bresson, Robert Capa or Diane Arbus. This awakened my interest in photography and since then I started taking photographs and becoming more involved in the world of photography until I started studying it."
A photography degree later and numerous jobs as a photojournalist and a freelance photographer, Andreas wanted to create a space that would make photography more approachable and affordable. A space that would not have the formal character of a gallery and would attract anyone – passers-by, tourists, anyone with an interest in photography or not. In between his day job and his photography studio Iliografia where he often runs workshops, Noise photography shop is where you'll find Andreas. It is mostly open in the afternoons on three weekdays and Saturdays, though opening hours are updated often given the shop's recent launch and current restrictions.
Despite being open for just a few days before having to temporarily close because of the lockdown, Andreas said the response has already been very positive, with visitors wanting to find out more about the works on display, upcoming projects and photography in general.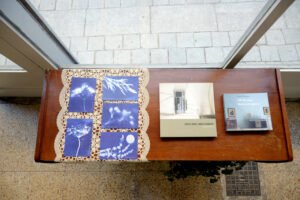 Currently, the shop is showing digital prints of a small selection of Andreas' work in different sizes, some darkroom prints, as well as photo postcards featuring different views of Cyprus – its landscape, culture, society and customs. "There is also a smaller selection of photography books, printed work of other Cypriot photographers and a series of cyanotype postcards," adds Andreas. "All of the displayed work will be updated regularly, with the addition of more works and books by other Cypriot photographers."
Providing a platform for more local artists is at the core of what Noise aims to do. "I am interested in featuring local young photographers with a fresh point of view, but also some classic work from already established photographers," explains Andreas. As such, the shop already hosts some works by well-established photographers, like two of Nicos Philippou's books and cyanotype cards by Katerina Procopiou.
Andreas hopes the space will become a hub for art lovers. "I would like Noise to become a meeting point for photographers and photography lovers (and not only), where they could showcase their work and interact with each other. Apart from the regular collection displayed at the shop, there will also be presentations featuring the work of specific artists. As soon as the circumstances allow it, regular events combining art and music will be organised in collaboration with the other artistic shops and studios of the neighbourhood, with the aim to make Pericleous a lively street and a destination for artists and people in general."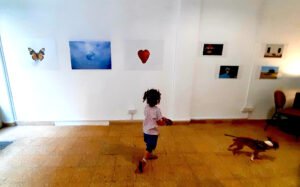 The shop's location, a few streets from Ledras, is important as the heart and charm of the city holds its own significance for Andreas. "Nicosia is a city with a very interesting history and an intercultural character, especially the old town. Photography, as the main medium of visual documentation, has, I believe, a place in the old city. Many of the works, especially the postcards, display some aspects of the city itself.
"There are many good photographers in Nicosia and interesting photo exhibitions taking place at times, but the scene could be more active. There is a lot of space for development," concludes Andreas hoping to add his touch to the local photography scene.
Noise photography shop is on 4 Pericleous street, Old Nicosia, 1010. Facebook page: @noisecy