THEO PANAYIDES meets a star of stage and small screen for 40 years who is a confirmed introvert but is now standing for MP – not because it was a long-held dream, but to encourage progressives to go out and vote
The house is no accident. She'd always planned on living somewhere like this, says Popi Avraam, 'this' being a custom-built place in the proverbial middle of nowhere, outside the village of Lympia. There's a frisky Alsatian named Ektoras and a very loud songbird named Syfis, whose background chirping nearly drowns out our conversation (he apparently has a taste for Maria Callas). There's a garden, a henhouse, and fields all around. This is where one of the best-known actresses in Cyprus finds her equilibrium after a day at the theatre, drama school (she teaches too) or TV studio. This is also where she'll sit studying bills and drafting legislation, assuming she succeeds in being elected to Parliament on May 30.
Does she think it'll happen? "I neither think I'll be elected, nor do I aim to be elected," she replies counter-intuitively. "My goal isn't to be elected – it's to wake people up, and get progressives to go out and vote." Getting into politics (unlike building the house) was never a long-held dream, she was just pushed into it by "the corruption, the arrogance" of the present government, she explains – especially after the pandemic revealed how little they care about culture. Being an artist isn't even an official profession, as became apparent in the difficulties artists faced in securing state support. "So one day they're giving me awards, the next they don't even know I exist – on paper, I mean. As a professional."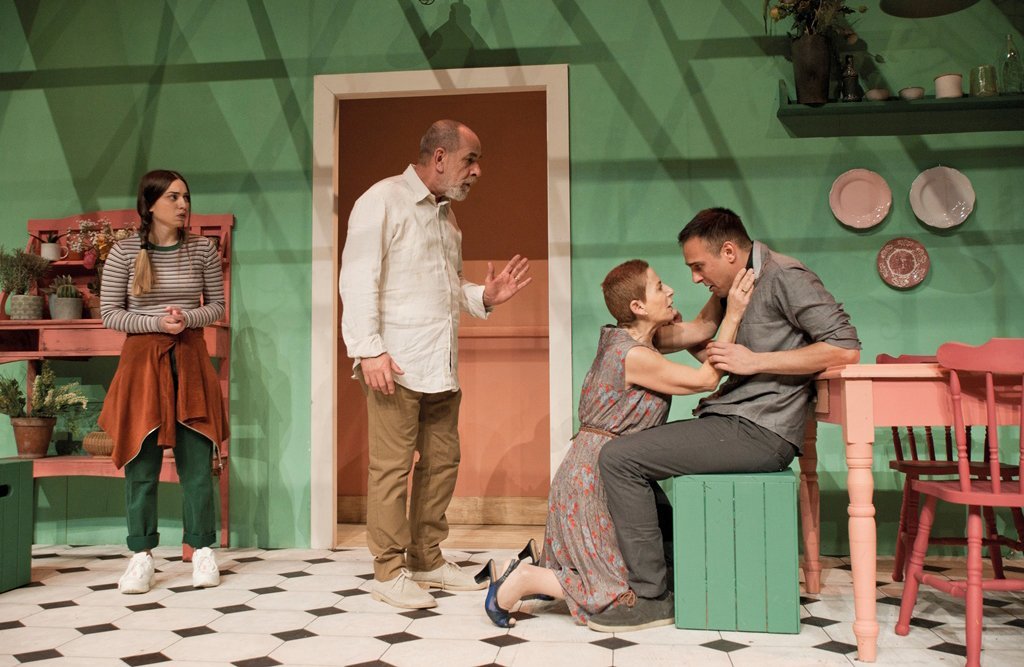 Her most recent award was the annual Grand Prize handed out by Thoc, the Cyprus Theatre Organisation, given to Popi last year not just for her triumph in Wit (the Margaret Edson play, staged by Theatro Dionysos in 2019) but also in recognition of her "active, steady presence and contribution to Cyprus theatre over nearly 40 years". At one point she recalls the filmed plays she used to watch on CyBC as a teen – stuff like Brecht's Caucasian Chalk Circle and Goldoni's Servant of Two Masters; this was not today's dumbed-down CyBC – and recalls the actors who appeared in them: "Vladimiros, Despina, Jenny…" she recites, first names being enough for anyone with even a cursory knowledge of Cyprus theatre. She herself is a different generation (she was born in 1957) – yet her name recognition is similar, especially given how ubiquitous she's been in the local comedy shows which have taken over from Caucasian Chalk Circle.
Popi, in other words, is famous – yet it's such an unlikely fame, both in terms of her temperament and (above all) her background. The house, we repeat, is no accident. Moving to a village – or the outskirts of a village – nine years ago was partly a case of coming full-circle. She was actually born and raised in Mathiatis, just across the highway on the way to Lythrodontas, a small, ethnically mixed village where her father came from Paphos to work in the mines.
Popi is the fourth of seven siblings; to say that the family were working-class is putting it mildly. Dad was a manual worker – hard work, she says grimly, dangerous work, mining and digging ditches and carving out holes with a pickaxe. He'd be two metres down in the hole, swinging away in the heat, and a large bucket would be lowered on a rope to be filled with rocks; one time, recalls Popi, the rope snapped on the way up and heavy rocks rained down, nearly killing him. Meanwhile, her mother worked in the fields (other people's fields, of course) and all seven kids – plus their parents – slept in a single room, two to a bed, which was also their kitchen and living room. "My fate," she shrugs, "was predetermined. Maybe learn a trade, or else get married and start having children. That's what girls of my generation did, in a village."
How did she manage to escape this fate? Was she rebellious, defiant? The answer, it appears, is 'Yes and no' – or perhaps 'Only on the inside'. A clue may be gleaned if we fast-forward to Athens in 1976, 19-year-old Popi with 3,000 drachmas in her pocket (just about enough to stay in a small hotel for a few nights) and vague dreams of becoming an actress. The dreams were exceptionally vague; she didn't even know you had to pass exams, at least for the national drama school – but a helpful receptionist directed her to another, smaller school, where she recited a poem by Cavafy (in lieu of an actual audition) and was accepted, despite being painfully naïve and inexperienced. Clearly, it was partly out of pity, admits Popi, and wonders if being Cypriot in the post-invasion climate had something to do with it – but no, she corrects herself, they didn't even know she was Cypriot until months later.
"But what about your accent?" I ask, puzzled.
"I didn't have an accent," she replies, surprisingly. "I didn't have an accent – why? Because, as a child, I didn't speak. I watched people, I observed people."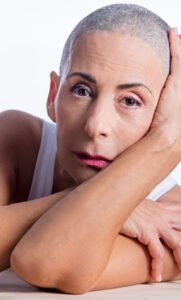 It's a telling detail – a glimpse of the kind of person she was, and perhaps continues to be. It's not unheard-of for famous actors to be born in out-of-the-way places, but their story is usually of a big fish in a small pond; they were too much, the place couldn't hold them. Popi Avraam tells a different story. She was happy in the village, she insists, happy playing outside and following the workers at harvest time, tying the wheat into sheaves (just as she now spends hours weeding and pruning her large garden) – and meanwhile she watched from a distance, silently cultivating the slight remove that's so often the mark of an actor, constantly playing a part without even knowing it.
She was good in school, despite being dyslexic; a teacher intervened to allow her to attend high school in Nicosia. She moved to the capital for the last couple of years, lodging with a family where the mum was mainland-Greek (that's how she picked up the accent, shedding her thick village consonants when she moved to Athens; even now, she speaks 'good' Greek during our interview). It's unclear when the notion of becoming an actor first took shape; I assumed she'd seen some live theatre in childhood, maybe a travelling company swinging by the village – but in fact the first time (apart from those CyBC plays on a neighbour's TV set) was around the age of 16, on a school trip to Thoc. "I don't remember what the play was," she says, with the air of a story told many times before. "I don't remember who was in it… I just remember sitting down, and – I don't think I even moved a finger, I just sat there stunned from beginning to end. It was something – ahhh! –" Popi takes a sharp intake of breath, "amazing to me".
Why acting, though? Maybe, as already mentioned, because she was always acting anyway, keeping her inner life largely hidden (books were her main escape, reading every tome in the school library and constantly borrowing from the once-a-week travelling library) – or perhaps (a related point) because acting is a way of externalising emotion for a woman who, even now, is something of an introvert. "Oh yes!" she exclaims when I ask the question. "I may seem sociable, but I'm really not. Solitude feeds me. Being alone for hours on end feeds me."
Doing what?
"Listening to music, mostly. Reading…" She shrugs noncommittally; classical music is her soul food (arias, mostly; no wonder the bird is into Callas) – but solitude is a choice in general, "being alone with myself, with my garden, with Nature, my dog, my animals. It's a blessing. It's a balance".
It's also, potentially, a hazard. Popi got married in 1987 (she has three kids, a son and two daughters), but it didn't last. How long did it actually last? "Six and a half years," she replies, and chuckles: "Why do I say 'six and a half'? Because I like to joke that the [Greek] junta lasted seven!". We should hasten to add that she and her ex-husband are on good terms, indeed this might be one of those cases where divorce was the best thing that ever happened to them; being married was the real problem. "Generally speaking," she explains without rancour, "I feel I'm one of those people who can't really share their life with someone… I need to be alone, to have time to think, to study. So marriage really wasn't for me". Theatre, of course, is collaborative too, like marriage – but that's fine, in fact that's the joy of it. It's where introverts join forces, donning borrowed clothes and borrowed words to unlock all those feelings ripened in hours of solitude. One could say it's a garden, like her own beloved garden, each plant growing on its own but made stronger by being part of something bigger.
Like all actors, she's sacrificed much on the altar of theatre. Her years in Athens were life-changing, a time when she went on street protests, watched plays, made friends, fell in love – but also went hungry, worked a day job (cleaning rooms in a hotel) in addition to studying, endured poverty and sexual harassment. She recalls walking to the hotel every day at 6am, confronted by rough, vulgar men walking to work "who'd be like 'Omigod your tits, your ass!' – and some of them brushing past me, leaning into me". She was groped on the bus, propositioned by hotel guests; later, trying for TV roles in Greece, it was made explicit that getting hired was conditional on having sex ("so obviously I never did TV"). Even without all this extra hassle, the job itself sucked her dry – so much so that she took a long break from theatre after her divorce, applying for menial jobs in greenhouses and florists' shops: she needed contact with the soil, she recalls, "to watch plants grow". The proprietors turned her down, embarrassed by the thought of a famous actress sitting in their nursery mixing seeds and planting succulents.
Maybe there's a bit of her village childhood in that fondness for manual labour – and there's surely a bit of her thrifty mum (who could make a chicken last three days for her family of nine) in Popi's serious, conscientious attitude to life. She's never been a drinker, or a party animal; she loathes addiction, and dependency in general. She appears in silly TV comedies, but never watches them: "When I watch TV, I watch the news. News, and more news". She seems quite severe, I note – at least with herself. "With myself yes, I'm strict," she agrees. "Not just strict, I'm ruthless!" On the kitchen counter is a bottle of water supplemented with essential oils, to be drunk over the course of the day; she's on a 30-day cleanse, a frequent tactic. She eats home-cooked meals, never takeaway, and takes no medicines, only homeopathic. Acting, she explains, is a vocation. Your mind must be sharp, your body focused.
And what about the work? Serious, again – and often bold, severe, disdaining vanity. She shaved her head for Wit, and performed Lysistrata in Turkish in the occupied north (this was in 2004, soon after the checkpoints opened), learning her part phonetically which must've been a challenge for someone with dyslexia; she also starred in Dervis Zaim's Shadows and Faces (2010), a provocative drama – never shown in the Republic – set during the ethnic conflict of 1963. Popi's strong bicommunal politics are a big part of why she's standing with Akel in the elections (another reason is simply that Akel is assiduous in courting creatives; the party apparently sends a bouquet of flowers to every theatrical premiere in Cyprus) – and presumably it's also an echo of her working-class roots, the rural background she loves in the abstract (they had such dignity, that generation of villagers) but surely had to push against in practice, using the secret inner steel that propelled her through the drudgery, and continues to do so.
The house is her sanctuary, filled with light and space and colour. The work is her outlet, allowing her to access the passions she otherwise keeps tightly marshalled. "It's not just an ordinary profession, where you go to the office then go out and have fun," she explains of acting, adding a note of rebuke to 'have fun' as if the very thought were outlandish. Being an MP would be tough, she admits – if she were elected, which again is unlikely – but she'd rise to the occasion, and do all the work as required; she's extremely responsible, says Popi Avraam, and besides "I'm a person who's always strived for perfection". I leave her in the small perfect bubble she's built for herself, washed by a flood of morning sunlight and the operatic chatter of birdsong.