By Jonathan Shkurko
Before I start, I need to make a very important point. I am not a pizza fundamentalist. The world is big and varied and so is pizza. Whether it is deep pan, Chicago-style or New York-style, I eat and enjoy them all, albeit in different ways. Except for the one with pineapple – fruit has no place on a pizza – every different type of pizza has the right to exist.
That said, the "real" thing, the traditional Italian, better still Neapolitan pizza, is the undisputed queen of the species. Fluffly, moist, doughy – but not too much as to taste uncooked – and topped by few selected ingredients, it is hard for authentic pizza to displease even the choosiest palate.
Unfortunately, in Cyprus, it is also hard to come by. Well then, all hail the people of Quattrino Pizzeria, who made this Italian writer filled with nostalgia feel a little closer to home on a warm evening in May.
As chef Leo was telling me while I was waiting for my Four Cheeses and Pancetta to cook, the secret to a good pizza is to carefully select what goes in it, as well as on it.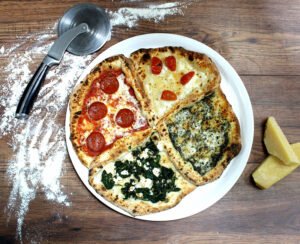 What he meant was that good toppings are not enough – those, according to him, should always be fresh and tasty – but a good "pizzaiolo" should also put the right flour, the best extra-virgin olive oil and even the water at the exact right temperature to make a pizza that can be called authentic.
Leo clearly knew what he was talking about, as my Four Cheeses and Pancetta tasted like no other I had in Cyprus before. I don't just mean good, many pizzas in Cyprus are indeed good pizzas, but they lack that Italian trademark, unmissable to the careful and experienced eye.
First of all, nothing beats the deep and smokey flavour that comes from a proper wood-burning oven.
Second, there should enough tomato sauce on the pizza to help blend together the crust, the mozzarella – traditional or buffalo, that makes no difference – and the toppings, but not so much that it turns the pizza soggy or too sauce-heavy.
Third and perhaps most importantly, there should be enough pizzas on the menu to choose from, but not so many as to confuse you and make the choice unnecessarily hard.
Check, check, check. Bravo Quattrino and bravo chef Leo!
After my first visit, I went again a week later to try the Margherita. One might think that a good Margherita is an easy pizza to make. After all, it's just tomato sauce, mozzarella and basil, right? Wrong!
The humble Margherita is perhaps the trickiest to concoct. Being so simple – and I say simple in the best possible way – means that one tiny, little detail gone awry will eventually reflect on the final result.
Anchovies, salami, prosciutto and olives often help mask small mistakes. But with the Margherita, one cannot lie. It is either very good or passable – again, no pizza, apart from the one I've already reluctantly mentioned earlier, deserves to be called bad.
The Margherita at Quattrino is very good and that should be enough for everyone to give it a try.
If you really have to get something other than pizza, chef Leo makes a few pasta dishes including an excellent lasagna too and the size of it will leave you full for the entire day. The place has only one table so take away is almost always a necessity. But take my word for it, just once try to eat your pizza at the only table available at Quattrino, chef Leo will make it worth your while.
VITAL STATISTICS
SPECIALTY Pizza
WHERE Quattrino Italiano, Athalassas Ave 76E, Strovolos, Nicosia
WHEN 6pm to 10pm from Monday to Thursday, 6pm to 10.30pm from Friday to Sunday
HOW MUCH €6.50-10 for a pizza
CONTACT 77 776277