Cyprus' epidemiological picture has continued its steady and dramatic improvement, with major reductions across the main criteria – from hospitalisations, cases, deaths and other indicators.
In the last 14 days, the cumulative diagnosis rate fell sharply to 218.6 per 100,000 compared to 431 last week, and 689 the week before that.
Last week, Cyprus exited the European Centre for Disease Prevention and Control (ECDC) categorisation of 'dark red' but remains in the red.
And while the island has made major strides in reducing the rate of cases per 100,000, as of Friday it remained at 218, meaning that it is still in the 'red' – despite being tantalisingly close to the 'orange' categorisation.
The rate of 218 puts Cyprus in the middle of the 'red' category of 150-499. To qualify as 'orange' it will need to lower that figure to 50-149 and to meet the 'green' criteria it must achieve a rate of 25 cases per 100,000 or lower.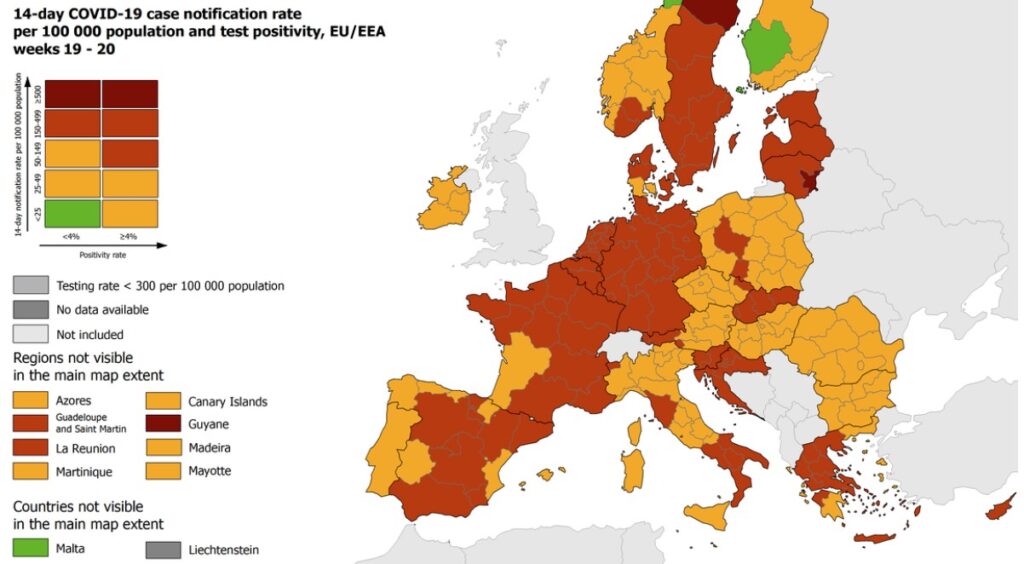 Testing continues to remain at very high levels, with 739,607 rapid tests and 86,043 PCR tests conducted within the last two weeks – translating to a rate of 83,289 rapid tests per 100,000 people in the two-week period.
The major improvements led to the announcement on Thursday that a fresh round of relaxations are set to take place, with hopes picking up of a 'normal' summer – despite the enforcement of the SafePass.
Between May 12 and May 25, a total of 1,941 cases were recorded of which 53.2 per cent were male and the majority (68.8 per cent) were identified in the 20-59 age group. That age group is the broadest, however.
Nicosia had 691 of those cases (35.6 per cent), Limassol 601 (31 per cent), Larnaca 298 (15.4 per cent), Famagusta 160 (8.2 per cent) and, finally, Paphos 114 (5.9 per cent). Another 77 cases (four per cent) were either from the British bases, people who live abroad or information was not available.
Of the cases, 97.7 per cent were locally transmitted while 2.3 per cent were acquired from abroad.
And as for the deaths, men continue to account for about two thirds of all fatalities from Covid-19 with 238 of the 357.
The median age of death from Covid-19 remains steady at 80.
Of those who are recorded to have been infected with the coronavirus, 5.3 per cent required hospital care as of May 26.
But the total number of Covid-19 patients continues to steadily decline, with just 82 receiving such treatment islandwide as of Thursday.
The Famagusta referral hospital had 14 patients; Nicosia general hospital 36; Limassol general 23; Larnaca four; and Makarios Hospital five.