A stray dog called Bobby rescued from the streets of Cyprus features in Disney's blockbuster Cruella as the canine sidekick of famous actress Emma Stone.
According to the Daily Mirror a charity called Rehoming Cyprus Dogs saved Bobby, who was eventually adopted by Hollywood animal trainer Julie Tottman in 2019 before going on to be one of the film's main stars.
"Bobby is one of the easiest rescue animals I have worked with. He's so natural, he picks the acting up and he thrives doing it," Tottman told the Daily Mirror.
"You get a bit more on set from a rescue animal because it's like they have seen the bad and are so grateful, and they love and adore you for saving them.
"I always cry, it's lovely when they do their first scene knowing where they have come from.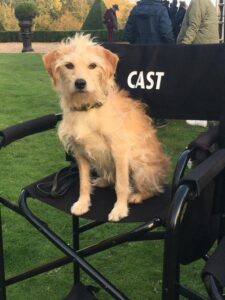 "The world writes them off, but I know from experience that rescues are often the hardest working, most loyal and loving animals."
Tottman also said that Bobby was extremely malnourished before the director of the charity Helen McGarry found him in Cyprus.
"When they found him, he was extremely underweight, and nervous of men, indicating he had been mistreated. He was a typical scabby street dog, he's still got scars."
Tottman has worked with multiple animal 'actors' in the past, who ended up appearing in well-known movies, most notably in the Harry Potter series, where she trained Hagrid's dog Fang, Hermione's cat Crookshanks and several owls.
In Cruella she had to coach Bobby on how to catch a necklace thrown to him by the villain, crawl under a table, and deliver Stone's lunch in a sandwich bag.
Bobby's biggest task took a month of training, with a scene where he had to save Cruella from a fire while she was tied to a chair.
The 101 Dalmatians prequel, which landed on Disney+ and Cyprus cinemas this week, shares the origin of Cruella and how she got her hatred of Dalmatians.