Akel, Edek and Elam on Monday declined President Nicos Anastasiades' invitation to take part in a wider acceptance government.
Akel, however, appeared ready to support any reforms that would benefit the people.
Speaking after meeting Anastasiades in the morning, Akel leader Andros Kyprianou said there was no political basis for his party to take part in the government.
"I made it clear that to make this happen there needs to be a political basis, a political background on which to set this cooperation and it is obvious that as regards us, we have no political positions that are related or even bordering the positions supported by the Democratic Rally (Disy) on many issues," Kyprianou said.
The two men also discussed reforms and the recovery and resilience fund with Akel emphasising that its main priority is how to best serve the interests of the many.
Kyprianou told the president that his party will support reforms that serve the people without any reservations.
"We are prepared to listen, propose, recommend, and function constructively, always guided by how to make the life of ordinary people better."
One of the people tipped to take over the health ministry is former Akel MP Adamos Adamou, a widely respected politician and doctor.
Kyprianou said they did not discuss any names with the president since the party was not interested in taking part in the government.
He said however, that Adamou would be judged by the people if he chose to take part in a Disy government.
Kyprianou added that it would also displease the party if Anastasiades approached other people who belonged to the Left.
The meeting was part of an initiative by Anastasiades to form a government of wide acceptance.
Earlier, Anastasiades met Disy leader Averof Neophytou who left the presidential palace without commenting.
He also saw Edek chairman Marinos Sizopoulos and Elam's Christos Christou.
Later in the day, the party's political office announced that "Edek was and remains in opposition." It said that, after being briefed by Sizopoulos of Anastasiades' proposal, it has decided that it would remain in opposition, arguing, among other things, that participation in government presupposes convergence in established positions.
Far right Elam also said it will not be taking part in a wide acceptance government.
"Elam will remain an independent political force," Christou told reporters.
But the party will study every bill submitted to parliament and decide accordingly on the basis of public interest and the good of society, Christou added.
Anastasiades is expected to see the rest of the party leaders on Tuesday.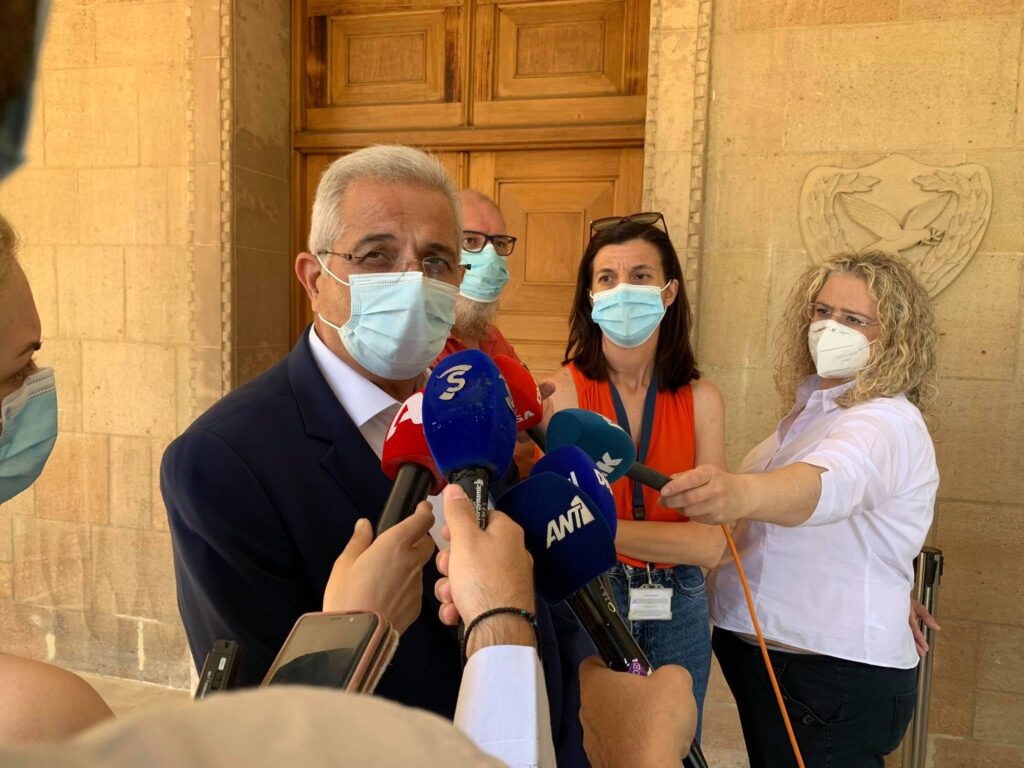 Kyprianou speaking to reporters after leaving the palace (Christos Theodorides)