A 14th century tombstone was handed over to the archaeological museum of Limassol district on Friday by Tasoula Hadjitofi, president of the NGO Walk of Truth that is active against art trafficking and will be exhibited in Limassol castle so as to be accessible to the general public.
The tombstone was in the north and was featured in the antiquities department's "Lacrimae Cypriae: Les larmes de Chypre", Vol. I. written by Imhaus Brunehilde (2004), the department of antiquities said. It is among a large number of antiquities missing since the Turkish invasion of 1974, it added.
It has an engraved inscription which among other features the name Joseph de Sur from Tyre, who died on November 1, 1332, AD.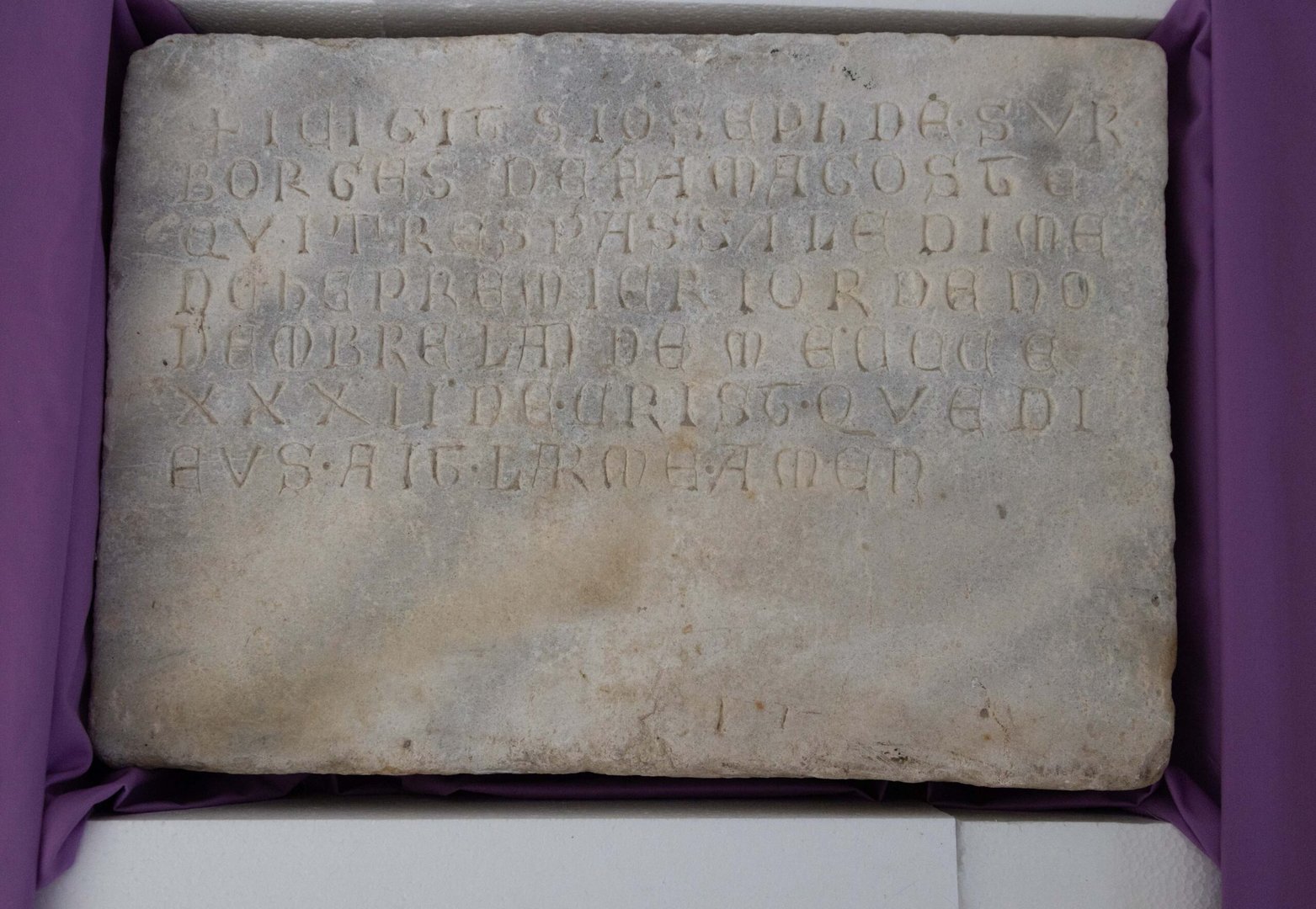 During the handover, Transport Minister Yiannis Karousos whose portfolio includes the department of antiquities, thanked Hadjitofi, adding that the department appreciated the contribution of members of the public and organised groups in protecting and promoting the island's cultural heritage.
"I urge the public to continue to support the efforts of the competent authorities as regards these issues," Karousos added.
Joseph de Sur died in Famagusta (then known as Engomi).  "This means that the tombstone, along with other antiquities, was in the occupied areas," Hadjitofi had said last month.
The man who found it, who wished to remain unnamed, found the gravestone in mud while searching for stones for construction purposes in Larnaca 12 years ago. It is not known how the tombstone ended up in Larnaca.
The unnamed man said they chose not to give the gravestone to the authorities because 'it would end up locked up in a box', deciding instead to contact Hadjitofi after watching a recent interview.
He said he had received offers from various people who wanted to buy it, but he refused.
Hadjitofi recommended the person who found it be honoured "to encourage others who have cultural treasures to return them to the state".