Before Covid, there were 1 billion vulnerable and disadvantaged children in the world. Covid is thought to have increased this number by 20 per cent.
Tony Hollingsworth, a veteran producer, is managing a massive annual and global campaign to help these children. The word 'massive' does not really do it justice. Entitled 'Listen', it will reach 500 million people, feature 100 stars and artists, and it will give grants to 75 proven projects. It will continue for years, indefinitely.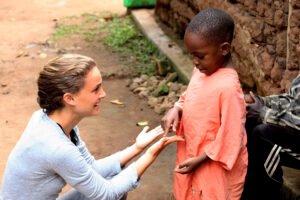 And Cyprus could be one of the countries that host the project's production, not only making this country associated with  a great cause, but also investing in the country and creating jobs for Cypriots.
"We have our offers from two other EU countries already and are waiting for the one for Cyprus. It appears that the Minister of Finance wants us to come, but he is waiting for his team to answer a small technical question," Hollingsworth told the Cyprus Mail.
His problem is that the decision must be made quickly as the campaign goes public in March 2022.
"We need to start to set everything up from end of July. We need the in principal decision now."
It would be a great shame for Cyprus to miss this opportunity.
The name of the Listen campaign is of the greatest significance. The children's charity sector is made up of thousands of small organisations doing good work but with little ability to communicate the solutions they have to the problems faced by the world's over 1 billion vulnerable and disadvantaged children. Hollingsworth's campaign is asking the world to listen to problems and solutions but not from a TV presenter or a film or TV star.
"Too often, vulnerable children are seen on camera, but never heard. The Listen campaign will take the opposite tack: We will let the children explain the problems they have and the way their project is helping them to a Hollywood star, whose role it is to ask questions and listen to the answers. The star's job is to help the child tell their story most completely and they can only turn to the carer to fill in the gaps," Hollingsworth explains.
But Hollingsworth insists that this is not just about developing countries; it's for children all around the world.
"Vulnerable children suffer deprivation in many ways – lack of money is not the only problem," he says. "They may be in a major city in a wealthy country, and still have poor education or end their day hungry or with poor parental attention. We want to reach vulnerable and disadvantaged children, everywhere."
The 'Listen' campaign will run across all new and traditional media, and will include the following main elements:
Online and mobile presence 52 weeks a year
13-week heavy PR and Social Media campaign
62 x 2 minute International news items plus regional news items.
10 x 24 minute Episodes of 'From the Listen Studio'
10 x 5 minute International Episodes of 'Listening to Our Children' plus regional episodes
1 x 90 minute  Feature Documentary 'Why Listen'
Listen Live from the LA Coliseum plus regional live shows
  Global Broadcast Event 'Listen Live Plus'
10 weeks Listen Creative Artist promotion for citizen artists
Tony has over 30 years of experience working with companies, governments and foundations at the intersection of communications, media and popular culture. His credits range from, conceiving and producing the global media campaign that reached 600 million and repositioned Nelson Mandela from "black terrorist leader" to "black leader", to consulting for the US White House on a public campaign in a response to 9/11.
His campaigns have repositioned brands, profiled important issues, and raised over $21 million for causes (Amnesty International, Red Cross, the Anti-Apartheid Movement and children's charities). He has worked with most of the world's major broadcasters from the BBC to RTVE, from ABC and Fox to Globo, from SABC to NHK and his work has been supported by governments, major corporations and UN agencies.
How can Cyprus play a role in all this?
"We decided after Brexit that we would like to manage and produce a large part of The Listen Campaign from an EU country," Hollingsworth explains.
"We are making the same offer to three EU countries. Cyprus plus two others.
With the right support Cyprus could produce the TV series "Listening to Our Children" and the feature film documentary "Why Listen", both of which will feature at least ten major international film stars and a few local ones. This series and the feature will be seen in 60 to 100 countries around the world. The feature film documentary is 90 minutes long and could be presented by two major international film stars from the historic sites of Cyprus."
This will clearly associate Cyprus with the world's largest media campaign for a cause – helping the world's vulnerable and disadvantaged children. It will position Cyprus as supporting the campaign and for caring about these children.
"A moral position which should help counterbalance the image problems Cyprus has had from the likes of corruption and passport scandals," he notes wryly.
The Listen Campaign will involve more major film stars than any film and will involve major entertainment companies like Disney and ABC, Viacom, DMI and Zee across the world. They will get to see that Cyprus is a place that produces the high quality content.
This second "positioning effect" will help the country attract other producers of film and TV content.
These two positioning effects are worth far more than the employment and local spend on the production. However, even on that front Cyprus would do well.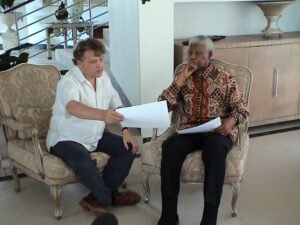 "We are the best sort of TV/Film production for a country to attract. As Listen is an annual campaign we will set up production for these elements of The Listen Campaign in Cyprus, we will employ and train up locals, plus bring missing skills to Cyprus but employ and pay them in Cyprus. We will help the sector grow far more than the 'hit and run effect' of a visiting location shoot," Hollingsworth says.
"In addition to the production we will manage a slice of the campaign – dissemination of news items, management of the community, management of the shop/loyalty scheme, back room systems for data and accounting and digital asset management from Cyprus."
The question now is whether Cyprus will act quickly enough to grasp this golden opportunity.