British residents are being urged to get biometric residence cards. They don't count as ID, but they do have your fingerprints.
British expats registered or living permanently in Cyprus can now apply for a new plastic biometric card proving their residency status, but the question for many is why should they bother?
First and foremost, they are not technically ID cards and simply prove residency status. You cannot travel on them. You cannot use them as ID in a bank. You cannot get a Covid-19 rapid test with them. Put simply, your ID remains your passport.
And yet ironically this card contains far more identifying information than your British passport.
The biometric cards for British residents show the holder's name, sex, nationality, date of birth, height, a photo, signature, card expiry date, serial numbers and unique ID. The back will display the date of issue, place of birth and aliens' registration number. And, most controversially of all, the card will also show your fingerprints.
"The ID residence document is a biometric residence card and does not replace a passport, it can only be used as a proof of residence status. For UK nationals resident in Cyprus prior to December 31, 2020 it ensures access to services and free movement rights in Cyprus," the British High Commission told the Cyprus Mail.
In the lead up to Britain's final withdrawal from the EU on December 31, 2020, British expats had to go through the arduous process of getting their paperwork in order before they moved from EU citizens to third-country nationals.
They had to scurry around to ensure they had one of three bits of paper all called 'a yellow slip' which offered different layers of status — an MEU1, an MEU2 or an MEU3, with the latter proving they were permanent residents.
These easily torn, annoyingly sized A4 and – yes – yellow pieces of paper prove a British expat or their dependent or partner is legally living in Cyprus.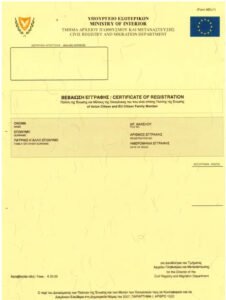 Many are reluctant to carry around these flimsy papers with them 24-hours a day and they can now be exchanged for the practical-sized plastic card, known as UKW1, replacing the existing MEU1, UKW2 (for the existing MEU2) and UKW3 (MEU3).
The British High Commission is urging British expats to get the cards.
"These cards are a good idea and it is a requirement to be registered, indeed, without the correct residency documentation access to services including healthcare could be lost for those living in Cyprus before December 31, 2020," the British High Commission told the Sunday Mail.
The healthcare issue raises another irony. The MEU is not an official ID but the registration number is the one used for your access to the national health system, Gesy. This means you use the 'yellow slip' to have your Covid-19 vaccine under Gesy, but your official ID – your passport – to have a rapid test.
At present, it is not mandatory to convert current valid paper documents to the new card, although all MEU holders and their family members have the right to obtain it if they wish so, the British High Commission said, after consulting with the interior ministry and the Cyprus Residency Planning Group.
However, the old residency documents still suffice, at least for the foreseeable future.
This is just as well, as many are already questioning the need for the new card and have no intention of obtaining one.
"It took quite a while for me to get all of my papers together and was a long, drawn out process to get my MEU3. I had a few difficulties with immigration and then they couldn't find my file. After going back and forth, I finally got it last year," said a 35-year-old British resident who only wished to be identified as Jessica.
The problem is that exchanging the yellow slips for a biometric card still involves a trip to immigration. For those who jumped through immigration office hoops and the piles upon piles of paperwork to get their MEU3 permanent residency yellow slips, the thought is off-putting.
Holders of the MEU3 document can convert the document into a biometric card by submitting a copy of their MEU3, a valid passport and copies online through the platform eas.crmd.moi.gov.cy.
But that doesn't get you off an 'in person' visit to immigration department for them to obtain your biometric data: yet another photo, yet another signature – both already provided when you got the MEU3. And, the new thing, fingerprints.
The latter, not yet a requirement for British passports, has been included in Cypriot passports and ID cards issued since last July.
It will also cost €30.
All that for something that doesn't count as official ID and you don't yet need if you were registered as living in Cyprus before December 31, 2020.
The decision as to whether to take that extra trip to immigration department only faces those resident in Cyprus before Brexit. Any Briton arriving in Cyprus to take up residence after January 1 this year will automatically be issued the UKW card when they register with the authorities.
But there may be good, practical reasons for long-term expats making the effort as Tracy Simpson discovered.
"I didn't realise what it meant to now be a third country national until I crossed back through the Greek Cypriot checkpoint after a trip to the north last week," she told the Sunday Mail.
The official asked her for proof that she was legally resident in the Republic and asked to see her yellow slip which she didn't have with her.
"It never occurred to me to take it with me. It's so big and flimsy and already a bit ripped. I only have it on me when I know I'm definitely going to need it."
She was let back over but warned she was no longer an EU citizen and must carry her residence permit on her next time.
For Simpson, a hardy, purse-sized UKW3 card suddenly seems like a good idea.
What's what for British expats
An MEU1 residence document is the initial registration for UK nationals and family members, an MEU2 for non-British third country dependents of British nationals, and an MEU3 is a permanent residency document for UK nationals and their family members living in Cyprus for over five years. The biometric card versions of these are: UKW1, UKW2 and UKW3.
The biometric cards are the new residency documents required for British nationals resident in Cyprus under the Brexit Withdrawal Agreement.
This agreement guarantees UK nationals and their family members already living in Cyprus (before December 31, 2020), the same rights that they had before the UK withdrew from the EU, meaning that they can continue to live, work and study in Cyprus.
"All UK nationals now require either an MEU if issued before 31 Dec 2020 or a UKW (the new card) if an application was made after January 1, 2021," the British High Commission explained.
Those now resident in Cyprus for more than five years and who did not get an MEU3 before December 31, 2020 will automatically be issued with the new biometric card, UKW3, when they apply for permanent residency status.
Documents needed for application include a copy of a valid MEU1, or MEU2, passport (and copies), water, electricity or any other bills (except phone bills) for the past five years, or bank statements or monthly statements of social insurance contributions for the past five years, or any other document which proves continued residence in Cyprus.
Once the right of permanent residence is acquired, it will only be lost if the resident is absent from Cyprus for five consecutive years.
The new biometric cards UKW1 and UKW2 will be valid for five years and the UKW3 for 10 years.
To exchange a valid MEU document for a biometric card : http://www.moi.gov.cy/moi/crmd/crmd.nsf/All/E1C17B76ED2B212BC225864C00378042?OpenDocument