From an eight-year-old joyrider to a owner of a car museum, life for one Limassol man has featured more than motor vehicles as he is also a successful businessman. THEO PANAYIDES meets a man with a fearless streak in amongst the historic cars, rare cars, novelty cars…
Dimis Mavropoulos – better known as 'Dimi' in his London years – sits in his office at the Cyprus Historic & Classic Motor Museum in Limassol. He leans back in his chair, a stocky, majestic 71-year-old with a halo of snowy-white hair, the first two buttons of his shirt undone for a touch of debonair brio. His smile is broad, his manner expansive. He likes to call people 'darling', making for a mildly surreal moment when we're interrupted by a call from the mayor of Limassol: "Hello, mayor! Are you well, darling?".
No surprise that the mayor and other local notables phone Dimi on a regular basis. Not only is he on the Limassol Tourism Board, he's also among the best-known Limassolians in general; he was even king of the carnival in 2013, an annual honour bestowed on the city's favourite sons. (That was also the year of the haircut which is why his royal name was 'Mnimonios the Great', 'mnimonio' being Greek for 'memorandum'.) He's royalty in another, unofficial sense too, being part of the hugely prominent Lanitis family – his father's uncle was the NP Lanitis – yet the main reason for his renown has nothing to do with family. Dimi, quite simply, is the most successful Cypriot rally driver of all time.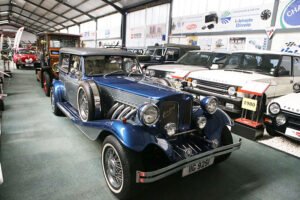 He's won more Cyprus championships than anyone else, though he won the Cyprus Rally – the sole international event in our championship – only once, in 1990, that being a memorable year when he won all seven events on the calendar, a feat unmatched before or since. It wasn't only Cyprus, of course; living in London for 30 years (1969-2000) he's raced all over the world, 382 rallies in total, but his record in Cyprus is especially impressive – and even when he didn't win, he came close. He competed in the Cyprus Rally 30 times, and finished in the top three in 28 of them. "I am the best finisher," he declares with not a hint of false modesty.
Dimi doesn't really do modesty, false or otherwise. His name is emblazoned on the sign for his museum, in the style of those fast-food chains owned by American celebrities – though that's where the metaphor ends because the Motor Museum isn't fast food but a labour of love, a collection he's amassed since his return to Limassol in the early 00s. It opened in 2014 with 48 cars, at a previous location in Ypsonas that quickly proved inadequate; it moved here – 'here' being a hangar-like space in Zakaki, on the city's western outskirts – with 120 cars, and now has 224. It'll soon be moving again, to custom-built premises which will be about three times bigger and will also feature "other additions" like a snooker hall and a shooting gallery.
Meanwhile here we are, the vast room resembling a parking lot where people have been parking their cars for 100 years and forgetting to pick them up. The oldest models are replicas of the 1886 Benz (the first car ever made) and the 1912 Ford Model T; the most recent include the last Mini Cooper ever to roll off the production line in October 2001. There are novelty cars: Mr. Bean's green Mini (one of the actual cars used in the show), Margaret Thatcher's Rover P5B, a bulletproof Cadillac Fleetwood weighing 4,500kg which was how Makarios liked to get around. There are rare cars, like an Aston Martin Cygnet (one of only 150 ever made) or a Graham Paige from 1929 that took four years to renovate. There are also ordinary cars, evoking their era with the unexpected, piercing power of a piece of music.
I'm not much of a car person, but it's uncanny how the mere sight of a Ford Capri can unlock a bunch of 80s memories (I couldn't even have told you it was called a Ford Capri), or how oddly moved I was to be reunited with the Citroen – the 2CV, it turns out – that would always remind my childhood self of an old lady wearing pince-nez. What's Dimi's own favourite car? An impossible question to ask of a collector – but the Audi Quatro, his racing car for many years, might be one contender. Another might be the Mini Moke, the 60s sports car – more of a glorified dune buggy – which he liked to drive for a lark in his London heyday, when he lived in Chelsea and dined in Mayfair. "I would be in a beautiful fur coat," he recalls, "in London, in a Mini Moke. And at Annabel's, let us say, which is the best exclusive club. And when I came out it would be outside waiting for me, and all the Rolls-Royces would be parked here and there – because they were common. Mini Moke was not common."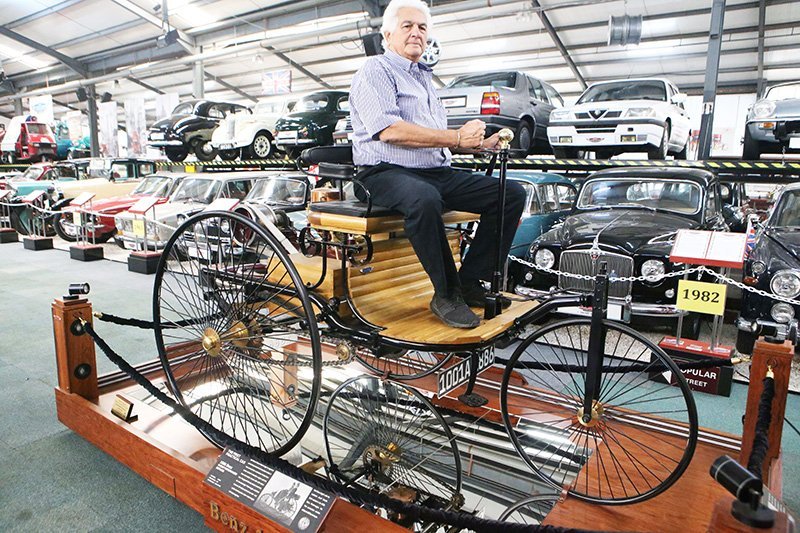 He must've cut a dash, a bachelor for many years (you married late, I point out; "Yes. I enjoyed life") and a wealthy businessman as well as a racing driver. "Listen," he explains with a knowing chuckle as our interview is winding down, "I'm not being pompous or anything like that, but I have done a lot in my life. In all aspects. And a two-hour [interview] is not enough. We only picked up about two per cent of my life."
At least we got most of the good stuff – starting with one of his best stories, the unofficial start of his racing career at the age of eight when he started driving his mother's car (without permission, of course). During one of these jaunts, the diminutive driver was spotted by police, who ordered him to stop; Dimi instead drove off at speed – a feat in itself, given that his feet barely reached the pedals – and led the cops on a car chase through the streets of Limassol that involved three police cars and lasted for nearly four hours (!) before he was apprehended. The cops were inclined to make allowances, but Dimi's dad insisted that they throw the book at him: "He said 'No, I don't want him home. Take him to court, punish him'… Then my mother used to come and bring me food in jail". The boy was locked up for four days, an eternity to an eight-year-old; somehow, the experience didn't put him off reckless driving.
Is it really reckless, though? We'll get to that in a minute – but first let's focus on his dad Stamatis, a rather stern figure who was born in Egypt, orphaned at an early age, then took refuge with his uncle in Limassol where he set up the Lanitis farm in Fasouri, one of the biggest in Cyprus. There's a photo of him in the museum, standing between a pair of Caterpillar tractors – the actual tractors are among the exhibits, which include other utility vehicles like a fire engine, a London bus and a Daimler Ferret tank – and his work ethic was apparently fierce, a habit he instilled in his three children.
Dad wouldn't let them take days off, even to go on school trips. On public holidays, "I was driving a tractor cultivating our farms," recalls Dimi. "My brother the same. My sister would go to the packing plant." Dimi, the youngest by eight years, was a rebel from way back. "If you told me 'Don't drink water' I would go and drink two tons," he explains by way of example. "I started smoking openly from 12 years old. I'd go to school and the teachers used to come to me when they ran out of cigarettes."
Did he and his father have a good relationship, though?
"Very good relationship," he replies instantly – then shrugs, unperturbed: "But I didn't agree."
It's a telling detail, and perhaps a key to understanding Dimis Mavropoulos. Some might be inclined to cry victim, and feel resentment at having been oppressed as a child; Dimi, blessed with boundless self-belief and seemingly born without fear, sees it only as a disagreement between two strong characters – which is fine by him. He's not fazed by disagreement, he just does what he wants anyway. Note, for instance, that he's very social, and has lots of friends, but "I have my own – what I like, let's say. Maybe what I like is not everybody's kettle of fish. But don't forget I'm a person who, if something comes into my mind, I will do it. And I'll do it well."
Easy to see how that personality type would translate to a great rally driver. What's the secret to being so successful? "In rallying, you are alone," he replies cryptically. "The secret is down to you, your co-driver, the car and the elements." His fearless streak was a factor, so was his perfectionism; so, undoubtedly, was his stubbornness. Dimi calls my attention to a photo on the wall (his office is a mini-museum in itself, packed with photos, certificates and press clippings): the photo, from 1988, shows a racing car going full-tilt – it gives the impression of hovering over the road – on what turns out, on closer inspection, to be three wheels. "I went 42 kilometres without a tyre," he recalls. "And I came second overall… I didn't have time to change. If I'd changed, I would probably have dropped down to third."
Was that reckless driving? Rallying is reckless by definition, in that taking risks is part of the sport: "I rolled many times. If you don't have accidents, you're not fast enough". But recklessness implies irresponsibility, whereas rallying is deeply responsible: the driver takes responsibility for everything, and pushes himself to his limits. "At the rally, you're alone," repeats Dimi. "You have a machine, and you drive that machine to the maximum of your abilities. And no-one can say you drive safe," he adds, making it sound like an insult, "because then you're slow… You push a little bit all the time. You are pushing yourself to increase the limit of your abilities."
That constant pushing doesn't make for an easy-going personality. He freely admits to not being easy to live with, nor is he much good at compromise: "I am what I am, you like me or you don't like me as I am". His marriage – to a woman from another prominent family, the owners of the Grecian hotels in Ayia Napa – only lasted eight years, though it did produce three daughters, and he also has a fourth daughter with his present partner (all four girls have creative, challenging jobs – three are in media and show business, the fourth owns a line of boutiques – having perhaps inherited their dad's self-assurance). He's dabbled in politics but – despite being a well-known Limassolian – not too successfully, which he blames on his bluntness and inability to lie as required. "I have enemies. Because, if I want to say or do something, I do it."
I ask if he ever gets depressed, and the answer is revealing. "Never! Never depressed… I don't even know what depression is. And I'm not a good helper," he admits, looking a little abashed, "for somebody who is depressed, because I don't understand." Dimi shrugs, trying to articulate his thoughts on the subject: "I may be sad. But, if I cannot change something, life goes on".
I assume it comes back to his confidence, his absence of fear – his strong sense of self, above all. People get depressed precisely because they can't change something, but Dimi has the confidence to take it in his stride. You couldn't call him selfish, after all he's spent much of the past few years raising money for charity, mostly by organising classic-car rallies (the Sunday after our interview he'll be handing out cash to families who've lost someone to Covid-19). He's like some benevolent monarch – making him king of the carnival was all too appropriate – looking after his subjects without ever losing his regal composure.
One more thing should be mentioned, and that's control. That's why rallying doesn't count as reckless driving, because it's controlled (losing control could be fatal) – and Dimi too, despite his flamboyant 'darling's and Mini Mokes, is a highly controlled character. The apple of his eye is a yacht called the Perla Bianca which he likes to sail around the Med, especially Monte Carlo; I ask if he ever gambles there, and his reply is unequivocal. "Not. At. All. I am not a gambler, I am not a smoker and I am not a drinker. I've never been drunk in my life". Yes, he used to race cars – but that was on the weekend, during the week he ran a successful business as a fruit importer (he talks about packaging grapes as passionately as he does about rallying). Even now, he remains a shrewd businessman: yes, the museum is a labour of love – but he always tries to collect based on how rare the cars are, and how their value is likely to appreciate. That way, "at least I feel my money is not wasted".
Dimis Mavropoulos has indeed done a lot in his life: father, racer, eight-year-old joyrider, man about town, entrepreneur and museum owner. There's no easy formula to explain his success – but he did what he wanted, and did it hard. He takes me on a tour of the Motor Museum, pointing out Volvos, Maseratis, Rolls-Royces (even a Trabant!) – then I make my way back to the highway, my mind reeling with tales of Mayfair shindigs and narrow automotive escapes. Someday I'll go back for the other 98 per cent.