A colourful venue with excellent service and vibrant Indian street food packed with flavour has burst onto the gastronomy scene of Paphos and it looks as if Naamaste is on its way to success.
Naamaste opened on May 1 and despite the effects of the pandemic has already garnered a loyal band of customers.
Head chef and owner Joe Hossein split from his business partner at his previous restaurant Namaste (with one 'a') to venture out on his own, with the aim of opening a second Naamaste in two years' time.
Set on a side road off Poseidonos Avenue in Kato Paphos, Naamaste's frontage adds a welcome splash of colour to the street, as do the eye catching light fittings that adorn the ceiling both inside and outside the venue.
Mismatched tables and chairs offer seating for the 90 covers (inside and out) and the occasional 'poster look' wall more than hint at an Indian street food vibe, which is the entire premise of Naamaste.
There is not a chicken tikka masala, lamb madras or vindaloo in sight as we peruse the menu.
This is Indian food like no other.
Sharing platters that highlight authentic street food from Mumbai and Dheli and pretty much everywhere in India are a must to try, as are the Dosas, a sort of Indian pancake that is made with rice flour and lentils and eaten in the south of India for breakfast, lunch and dinner. They are high in protein and Joe is proud to have introduced them to the restaurant scene of Paphos.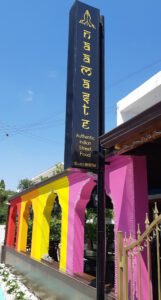 Cold appetizers include a sharing Chaat platter and Bhel Puri, made of crushed crispy puffed rice coated in fresh mint and date chutney. There are also hot starters, the stir fry cauliflower is delicious and try the beetroot cutlet for something different, fried crispy beetroot and mashed potato patties served with fresh mint and tamarind chutney.
There are seven Dosas to choose from and staff are super helpful and will offer advice on choices. Main dished include Naamaste chicken, King prawn masala and South Indian fish curry.
It's a hard job settling on anything, I love Joe's food and have tried many of his dishes before, so we opt for the Channa batura (chick peas masala with puffed bread) chilli chicken, stir fried cauliflower, beetroot cutlet, king prawn masala, peshwari naan and cumin rice to share.
We also order a small bottle of Stowells Chardonnay (€4) and a Cobra beer (€3.50) to wash it all down with.
Although the venue is filling up fast (it is imperative to book ahead as when the food runs out, that's it), the food arrives pretty quickly and is piping hot, wafting inviting aromas as it is brought to our table. Everything is served on metal plates and serving platters which adds to the authentic experience.
The food is different and delicious; Joe grinds his own masala spices which add an extra something to the texture and taste.
The flavours are well balanced and the food tasted by the kitchen all the way to reaching the table to ensure each dish is perfect, as ours are.
This is nothing like Indian food you find in other restaurants in Paphos.
The beetroot cutlet is round, crispy and a delight. The King prawns are large and juicy and the sauce well balanced while the peshwari naan is nothing like I have ever tasted before. No fault can be found with any of the dishes, each one is perfection.
We just didn't have room for dessert, but the Gulab Jamun and Kulfi are popular choices, rounding it all off nicely.
A meal here will set you back around €20 a head (starter, main and a couple of drinks) and it's well worth a visit.
Naamaste offers an authentic and unique Indian Street food experience, ensuring top quality food and service in a lovely atmosphere. It's not hard to see why the chef's latest venture is taking Paphos by storm.
VITAL STATISTICS
SPECIALTY Indian street food
WHERE Naamaste, Kleious, 6, Kato Paphos
WHEN 6-10.30pm Tuesday to Sunday
HOW MUCH Sharing Chaat platter €7.50, Lamb Dosa €5.95, King prawn masala €13.50, Peshwari Naan €3.50, Kulfi €4
CONTACT 96 067591, https://www.facebook.com/naamastepaphos