In the man behind hairdressing experience Blow, THEO PANAYIDES meets someone who is effortlessly friendly and gives off a cool vibe as he tries to make everyone feel good
The directions are intriguing. Turn into Kypranoros street in central Nicosia, says Angelos Pattas, and there you'll find Blow, his large and luxurious hair salon – but you won't know you've found it, because the shop is "incognito". There's no sign, no shopfront – just a gleaming black façade giving nothing away, two-floor-high panels of thick, opaque glass. It's like the whole business is hidden behind a mask.
Angelos too is hidden behind a mask – in fact he's double-masked, an N95 under an olive-green, Helmut Lang surgical mask, and has been for the past 15 months. I guess it makes sense, after all Blow gets crowded (there are 22 stations), the black-glass panels don't allow for any windows and he spends 50-60 hours a week in close proximity with customers. Still, I'm glad when we decide to sit outside, meaning we can see each other's face – above all because the masks, like the panels, give the wrong impression. He's not at all remote or inaccessible, and neither is his shop.
Blow is admittedly exclusive (read: expensive). I ask an indelicate question, and get a straightforward answer: for women, a simple cut starts at €35, going up to €60 if the appointment is with Angelos himself. (For men – who comprise about 15-20 per cent of customers – the equivalent prices are €23 and €37.) Still, one of the main selling points about Blow has always been the eclectic crowd it attracts, "a very interesting crowd, from kids to old ladies – but all of them looking for a twist. We've never had women wanting something classical". What you pay for isn't just Angelos' skill, it's the cool vibe he brings and the whole experience he provides. At staff meetings, which take place often (he employs 25 people here, plus six more at a branch in the Amara Hotel in Limassol), he always tries to impress one thing on his team: "When people come through that door, they're not just coming to have their hair straightened".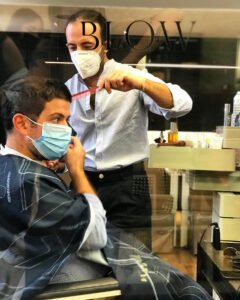 Behind the glass panels, in other words, is a buzzing, high-energy place – and behind the mask(s) is an effortlessly friendly 36-year-old with a Roman nose, shoulder-length hair (it used to be waist-length throughout his 20s, then he decided to change his look) and warm, permanently amused brown eyes. The expression in the eyes is remarkable, an intense creative engagement that feels like it's throwing out a challenge ('Impress me!') but also softened by something languid and generous, washing away any pressure ('It's okay if you don't'). A friend who's into astrology claims his sign (he's an Aquarius) is inclusive, prizing the 'we' over the 'I' – and it's true, he admits: "I like the collective. I like everyone to be feeling good".
He started young, and kept going. What's most unusual in his life (so far) is perhaps that he's never had to compromise, never had to take a boring day-job while secretly pursuing his dream. Everyone he's ever met seems to have been cordial and supportive. His dad, for instance, is a military man – a retired brigadier, no less – and the mind runs to all kinds of stereotypes about soldier fathers and hairdresser sons, but in fact both his parents offered unconditional support, even when other parents might've asked him to tone it down a bit.
"My house was always where the whole crew would gather," he recalls of his teenage years. Going out on a Saturday night typically took half of Saturday: "Getting ready to go out – and of course I had lots of input on everyone's hair, makeup, clothes and so on – my friends were a bit of a freakshow, basically," he adds with a chuckle, "anyway, the whole point was getting ready at home, it didn't even matter where we ended up going… I had a Singer sewing machine so I'd sew clothes for my girl friends, do their makeup, do their hair – and the hair had to be different each time!" The whole process took hours, a bunch of flamboyant teens getting squealy and excitable – and Angelos recalls his parents falling asleep on the sofa and having to be woken up, "just to see us and give the thumbs-up. Because they really loved that whole freakshow".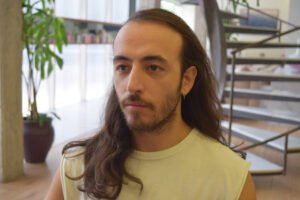 Parental support breeds self-confidence – or perhaps he was that way anyway. "At 13, the house was a hair salon, I'd turned it into a hair salon. The living room was full of mobile hair sinks, and my teachers were among my customers." He also started making braids, using samples which an uncle had brought from Africa – a so-called 'postiche', with the braids attached to a bun (he'd buy the bun from a pharmacy and use his Singer to reinforce the elastic, to bear the weight of the braids). The braids were a hit at local salons, and indeed he recalls hearing an ad on the radio once, "advertising these hair pieces that I'd made. No-one knew they were being made by a 13-year-old child".
At 19, he opened Blow, having previously spent two years doing "editorial hair" – for magazine covers and so forth – on the Cyprus fashion scene. (His friend and mentor was Charilaos Meletiou, a fashion designer now based in Paris.) The salon was an instant hit, garnering buzz on the strength of his name, the spectacular parties he'd throw, plus the striking design of the previous premises – which, unlike the current premises, emphasised transparency.
The façade was a long glass window with customers being groomed in plain sight, "almost on the pavement", sitting face-to-face separated by a very thin Capellini mirror. The floor and chairs were black epoxy, the stations individually illuminated with spotlights instead of the usual neon lighting; the effect was dramatic. Sometimes, when they threw the aforementioned parties, the façade would be used for back-projection, screening videos made by Angelos himself and his friends, "who now live in London or Paris or Milan and they're all very creative, they work at well-known fashion houses".
We're sitting just outside the entrance to Blow, and he keeps pausing to greet departing customers – but now we're interrupted by a rakish, very eye-catching young man who parks his car and sashays across the street with a loud cry of "Aaaaa-ngel!!!". This is Spyros, a photographer and one of the creatives in question – but Spyros lives abroad (in Berlin), like the other creative friends: "I'm the only one left," admits Angelos wryly. Why do they all leave Cyprus? He asks that question himself, he says, "and they all reply that it's only because I've made my own world that I'm able to live here".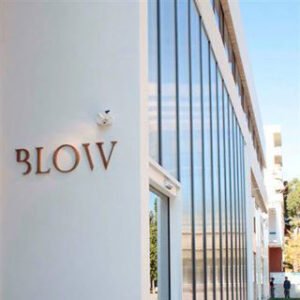 Hard to say if the friends are right – but they're right about one thing, he has indeed made his own world. Success came easily (or at least early) for Angelos Pattas, he became known in his teens and has been a top name in his profession for 17 years now – but it wouldn't be right to assume that it happened by accident. Hairdressing wasn't even his plan (it was more of a hobby), he'd actually hoped to study design or photography, but once it took off he approached it with a single-minded focus. Even as a child, he recalls, when his parents took him to a shop "they'd always remark that I knew what I wanted". He has that kind of temperament.
"I'm in-between," he shrugs amiably. "My accountant says I'm the only creative person she knows who understands numbers." He negotiated his own bank loan at 19, to open the shop, and drew up his own business plan. The waist-length hair is (or was) deceptive, at least in suggesting a hippyish devil-may-care character. He's a worrier – his fingernails are bitten to the quick – and naturally structured, systematic; he knows what he wants. Like his friends say, he makes his own world.
His main relaxation, for instance, is sitting alone at home, listening to music – but "I always sit at a table, never on the sofa… I'm not a sofa person". His other relaxation was taking weekend breaks (at least pre-Covid) so he made it part of his routine, flying to Athens on a Saturday night – straight from Blow to the airport – and back on Monday. He'll exercise every day, and does it systematically – and very intensely, for a couple of hours, usually from 6.30 to 8am. (He wakes at six, comes to Blow around 10 and works till seven, though it typically takes another four hours to put the place to bed.) For the past few years he's been doing gymnastics, working with a former pro, doing the punishing practice routine – handstands, rings, etc – usually reserved for teenage athletes. The instructor didn't take him seriously at first, assuming that a man in his 30s would soon drop out, but clearly didn't realise who he was dealing with. Now "we've both become maniacs," laughs Angelos.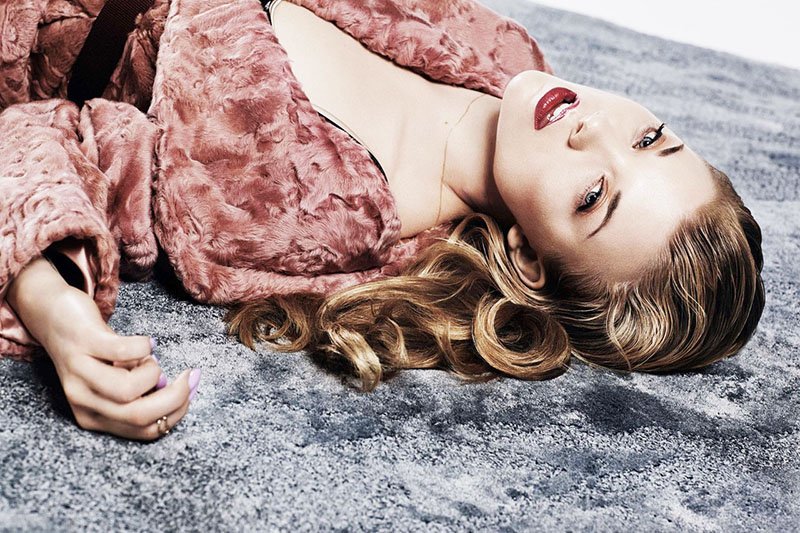 Focus – and its close cousin, patience – is important in doing what he does. Being a hairdresser is unusual enough already; it's such a tactile, sensual profession. (You touch people for a living.) "You're setting off signals," he admits. "Pushing buttons." He has magic hands, "I hear it 10 times a day". People won't willingly submit to being touched by a stranger, though – so, subconsciously, they start to see you as more than a stranger; you become a butler, a confidant, even a friend. What do they talk about while he's sculpting their hair, he and his (largely female) clientele? "Everything."
With great intimacy, however, comes great responsibility. A hairdresser – especially a famous one who claims to offer a whole experience, as Angelos does – can never be tired or grumpy, nor can he think of himself too much. His approach is artistic, he makes no bones about it: "I see it as a sculpture," he affirms, each head of hair being "a small project" that you mould, as with clay. The focus, however, must be on the customer – which is not always easy. Hair is important, especially to a woman; "It's the frame of the face, nothing's more important when it comes to beauty". Their relationship is odd to begin with, a kind of aesthetic vampirism: people pay to exploit his good taste, his sense of style (it's a bit like posing for a painter, only the subject takes the painting away with them and the artist is never mentioned). Some may be demanding, or unreasonable. Some may be snobbish, or treat him like a servant.
This, however, is the point about Angelos Pattas. He's not difficult; like we said, he's effortlessly friendly – maybe because of his temperament, or perhaps because he's secure in the little world he makes for himself. Despite his creative restlessness, despite his flamboyant tastes when it comes to art, he can get along with anyone. "I don't have an ego," he shrugs. "I don't have a big ego".
Maybe it's his Aquarius-ness again, wanting everyone to feel good. Back in school he was actually part of two groups of friends, his aforementioned "gay-friendly" crowd but also his sister's friends who were "more macho, more mainstream or whatever". One assumes he was somewhere 'in-between' again, bringing structure to the mad creative gang and a touch of madness to the more sedate one. He's also blessed with huge reserves of patience, in fact he takes pride – it's a challenge he sets himself – in always keeping his cool. Only once in 17 years has he lost it with a customer, and "even then I was very, very polite, I even apologised but I said: 'Sorry, I can't go on'." I don't dare ask what the woman in question did to destroy his sangfroid.
And the future? It's hard to say. "All my friends keep asking 'Aren't you bored? Aren't you bored?'," he chuckles. "I'm not, that's the truth." Still, it's easy to imagine him moving on – after all he's been doing this since he was a kid, plus he tends to crave a new project every three years anyway (the most recent one was the Limassol shop, two years ago). The clarion call of joining his creative chums in London or Paris may be hard to resist. He's already worked with Conde Nast on many occasions, flown to far-flung locations for magazine covers; he's even styled hair for Natalie Dormer (Margaery on Game of Thrones), for a L'Officiel cover sponsored by Chanel. His world is bigger than just Kypranoros street.
We decide to leave it there – but right at the end, just as we're fist-pumping Covid-style, a youngish woman comes out of the hair salon, looking exhilarated. "I'm leaving as a whole other person than when I arrived," she babbles to Angelos, with an air of being unable to hold herself back – then beams: "And I feel really, really good!". The woman nods, looking pensive: "I needed that," she says, having presumably not come to Blow since pre-lockdown, then walks off slowly. I recall something he said earlier, that hair is dead (it's just dead tissue) but a hairdresser makes it come alive – and perhaps he makes the person come alive in the process too. A whole experience, indeed.