Foreign workers in Cyprus tend to be more highly educated than the average number across the European Union, a report has indicated.
According to data from the European Union's statistical service (Eurostat), 37.5 per cent of working age foreigners in Cyprus originating from other member states have a university degree. This is 1.1 per cent higher than the average percentage across the European Union.
Similarly, 41.2 per cent of working age foreigners in Cyprus from non-European Union countries have a university degree. This is a whopping 11.6 per cent higher than the European Union average.
The Eurostat report also notes the high level of Cyprus' native population between the ages of 25 and 54 who have a degree.
"For the native-born population, the highest share of those aged 25-54 with tertiary education in 2020 was observed in Cyprus (54.3 per cent), and the lowest share in Romania (21.1 per cent)," Eurostat said.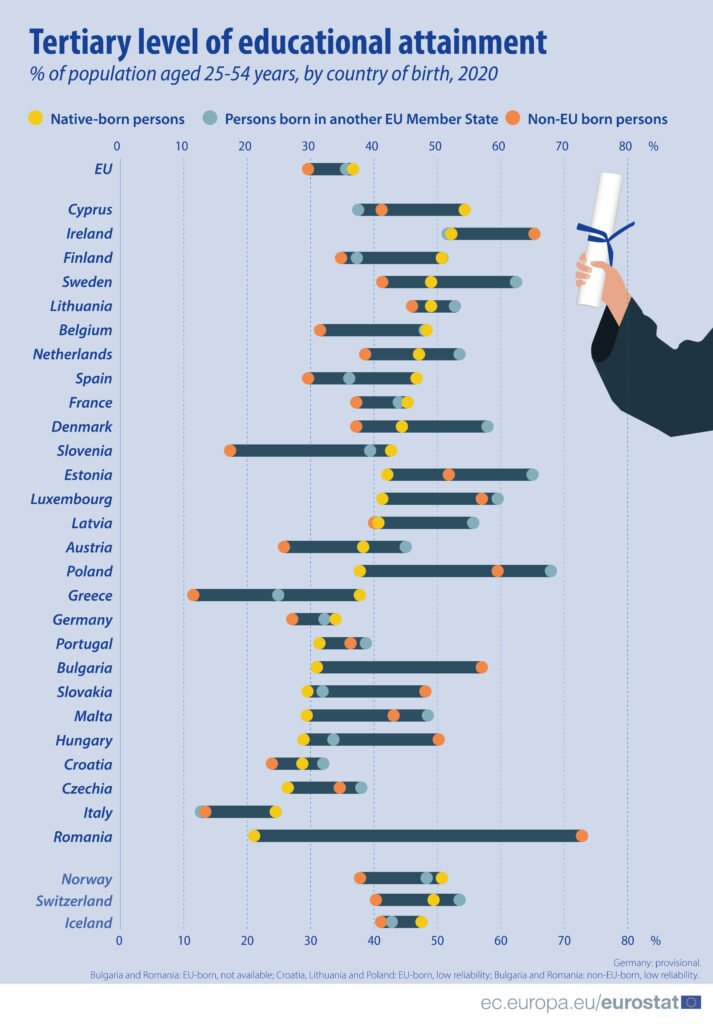 These encouraging statistics are crucial for Cyprus since a high level of educational attainment has an important role to play in the successful integration of migrants into their host countries.
The Bonn-based IZA institute, a nonprofit research institute and one of the world's leading international networks in labour economics, reports that economists have found that educated migrants can contribute positively to the economic growth of their host country in a number of ways.
"This means that the immigrant population can be characterized by an elevated share of people with high abilities that give them a comparative advantage in accumulating human capital and make them more likely to be top researchers or innovators," the IZA has reported.
Furthermore, the IZA report also explains that diversity, both in terms of culture and ethnicity, can be a fertile ground for new ideas and innovation, whether in a business or research context.
"Immigration furthermore generates more diversity. There is evidence that ethnic or cultural diversity can be a source of innovation and better problem-solving in team production, and the dynamic returns to diversity may be stronger in a research or knowledge-intensive environment," the report says.
Moreover, the Organisation for Economic Co-operation and Development (OECD) reports that in some cases, for example Australia and Canada, highly educated immigrants' children benefit from their parents' education levels.
"Linked with the high education levels of their immigrant parents, immigrant offspring tend to have better outcomes both at school and in the labour market than their peers with no migrant background," the OECD reported.
Elsewhere in the European Union, the Eurostat data shows that Poland has the highest percentage of European Union member state migrants between the ages of 25 and 54 with tertiary education with 67.9 per cent, followed by Estonia with 65.0 per cent and Sweden with 62.4 per cent.
In terms of migrants born outside of the European Union with a university degree, Romania had the biggest share with a massive 72.8 per cent, followed by Ireland with 65.3 per cent and Poland with 59.5 per cent.