Tree planting programmes and reforestation after a fire require a delicate balancing act
By Antigoni Pitta
State forest has not escaped unscathed from the fires that swept through Cyprus in recent weeks, but modern practices mean the forestry department will not automatically oversee a massive tree replanting programme.
"After every fire, we assess whether human intervention is needed, and only proceed if necessary," forestry department spokesman Andreas Christou told the Cyprus Mail. "Even though planting more trees seems like the most logical next step, the aim is to let the forest regenerate itself – a more ecological and natural approach."
A week after the devastating fires that killed four people and destroyed around 55 square kilometres of land in the Larnaca and Limassol districts, help is coming for villagers and farmers from the ten affected communities in the form of a package of measures announced by the Cabinet on Wednesday.
The blaze, which the government has called the worst fire in living memory, broke out in Arakapas in the mountainous area of Limassol on Saturday afternoon, destroyed or damaged dozens of homes and businesses and reduced farmland, scrub and pine trees to ashes before it was brought under control on Monday.
Amazingly, however, no state forest was damaged and in fact it was last month's smaller fire in Ayia Marina Xylatos that targeted state forest land.
The three-square kilometres of forest area lost in Ayia Marina will be left to naturally regenerate, as seeds from the conifers in the area will find their way into the land and eventually, in a few years, grow into new trees, Christou said.
The forestry department was established during British rule to address extensive deforestation as a result of overgrazing and unregulated tree felling.
A lot has changed since – the department's goals today mainly focus on preventing fires, helping forests adapt to climate change and maximising their carbon sequestering capacity through targeted conservation and development actions, forest conservator Dr Areti Christodoulou told the Cyprus Mail.
This ties in with the national effort to reach the targets set by the European Green Deal, whose goals include reaching EU-wide carbon neutrality, meaning reaching net-zero CO2 emissions by 2050.
"Unfortunately, Cypriot forests could not escape the effects of climate change," she said. "During the especially dry period of 2005-2008, a combination of dry soil, high temperatures and competing species put local ecosystems under extreme stress, which called for the measures that make up today's forestry policy."
The focus is on improving the viability of forests in the face of Cyprus' changing climate.
Both afforestation – planting new forests on treeless land – and reforestation is a delicate balancing act.
The old approach of planting trees to achieve maximum tree cover was originally for maximum productivity of timber, BirdLife Cyprus director Martin Hellicar told the Cyprus Mail. "But in Cyprus, that's not why we need forests. The main reason we need forests is because the systems are so important in terms of adapting and mitigating climate change, absorbing CO2, and acting as a sponge to regulate water in the outlands."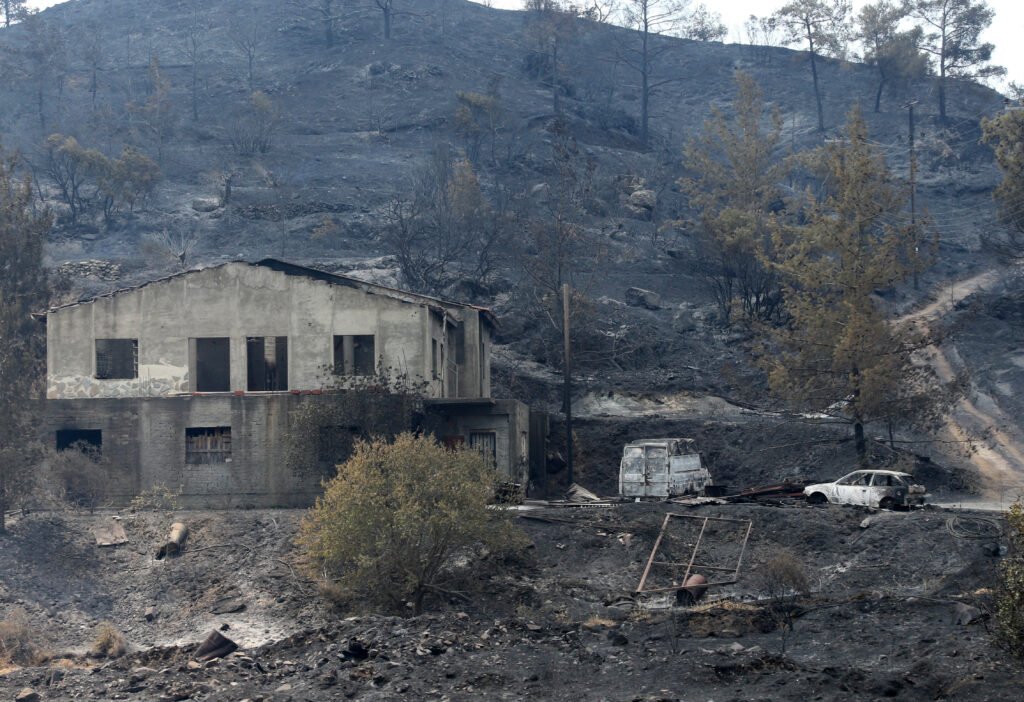 The aim, said Christodoulou, is to install, restore and improve forest greenery and ecosystems to the greatest degree possible while taking into account the prevailing ecological and socio-economic conditions plus the need for other land uses.
This obviously includes restoring state forests that have been destroyed by fires or other factors. The department has turned over a new leaf on its methods, abandoning its old intensive replanting approach, best exemplified by the efforts that followed the 1974 invasion which destroyed around 20 per cent of the island's forests.
Instead of sending bulldozers to terrace the land and plant a dense forest, the department lets nature "do her job," as Agriculture Minister Costas Kadis said following the Arakapas fire this week.
Fires have always been part of the system in the Mediterranean because it's a dry climate, said Hellicar.
"As long as you manage to protect the soil after the fire, and minimise erosion, then the system will come back because the native species are adapted to recovering after a fire," he said.
"It's an instinctive reaction to say 'we've lost all these trees so let's plant more' but it's much better for the system to let it go through the various stages before it goes back to being forest again," he said. "That creates a richer and more stable system. From an ecological point of view, it's better."
In terms of afforestation, the focus is on expanding forest areas to cover available land near residential areas, or planting trees within urban public land and along highways. Priority is given to areas declared as state forests or recovered by the forestry department from other uses.
The forestry department will also look at areas of state land that are eroded or prone to erosion, vulnerable to the effects of climate change, or underused, such as old mines and quarries. The best example of this is department's collaboration with the mining authority on the project to bring life back to the abandoned Amiantos mine in Troodos.
The forestry department's efforts also aim to restore populations of native trees such as oak and terebinth (Tremithos) in areas where they have shrunk as a result of human factors like urban development and changes in land use. But picking the right species is important and can vary depending on the terrain.
"For example, plane trees need more water so they will thrive near rivers, whereas cedars grow in higher altitudes," Christodoulou said.
The focus is on planting a variety of endemic and native species to form multilevel clusters where possible. Such species include drought resistant trees and bushes like the carob, olive and mastic. Where conditions allow, bee-friendly species and those that provide food and shelter to fauna and prey are planted in greater proportions.
So should we all do our bit for climate change and go out and plant a tree in the countryside? And if so, what should we plant and where?
Absolutely not, says the forestry department which generally remains tight-lipped about which species are preferred and in what terrain.
"Our actions are targeted, measured. What we don't want is members of the public going off and planting trees on state land, unregulated," Christodoulou said. "The public can help through the initiatives like 'Planting for the Climate' which we regulate in collaboration with local authorities and communities."
Under the scheme, members of the public are offered free saplings selected by the forestry department to plant. "Participants in this scheme commit to planting the trees, which we provide, but also to looking after them for the next three years, which are critical in a young tree's life." The goal is for a million saplings to be planted by 2030.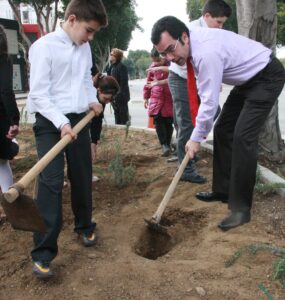 Orestis Matsas from environmental NGO Friends of the Earth Cyprus raised some concerns about the logistics of the scheme. Considering that annual production is set to increase from 75,000 saplings to 300,000 in coming years, the NGO questioned whether they can realistically be planted and maintained according to the necessary criteria. At the same time, the NGO said that groups created for the purpose of mass tree planning have found it difficult to identify public green spaces in which to plant trees.
A second concern was the ecological viability of the scheme. While tree planting can be beneficial for a number of reasons, "it is important that these plantings do not invade existing ecosystems". To remedy this, Friends of the Earth believe each planting operation must begin with an initial plan and controls to ensure it will be "compatible with the characteristics of the site and avoid ecological degradation".
Friends of the Earth said that while tree planting is all well and good, it's also important to conserve and protect existing greenery. Without reforms to legislation that allows local authorities to cut down mature trees "under various pretexts", we will continue perpetuating unsustainable development, the NGO said.
"At the same time, the existing greenery is endangered by arson and human error which, unfortunately, can lead to fires of enormous proportions, such as the one that occurred recently, with tragic consequences for the people, animals and ecosystems of Cyprus."