By Andreas Nichola
With summer now in full swing and the temperatures rising, a day trip out of the house to a refreshing beach is just the ticket. However, that sea breeze and lounging about all day soon works up an appetite.
We had been recommended a place to eat just a short drive away from the beach. Doma restaurant in Pernera is slightly off the main tourist strip but not so far off you can't get back to the lounging after your dinner.
The tidy little restaurant, decorated in blue and white, was reminiscent of something you might find by the coast on a little Greek island. Beautiful bougainvillea climbing overhead on a wooden frame gives the place a pop of beautiful, natural colour.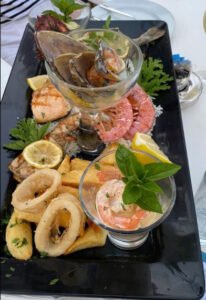 Despite coming straight off the beach and not exactly in our evening best, we were welcomed with warm smiles and friendly staff who didn't seem to pay much attention to our attire, though my partner was a bit embarrassed. My more laid back 'it's fine' attitude seemed to pay off in the end as the focus seemed to be on making us feel welcome and comfortable.
Despite being in a tourist area and close to the street, the place was surprisingly peaceful, perhaps it was because we were a little early and had beaten the dinner time rush but either way we felt content and relaxed.
The menu is very extensive! Starters, specialities, grilled food, seafood, steak, pizza, pasta, kids' food! It was almost overwhelming! I can imagine that, if the restaurant is very busy with many orders for different dishes, the kitchen may struggle to keep up with a normal level of service.
Not really knowing what I wanted but, knowing what I didn't made the selection process a little simpler. To be honest there was nothing on the menu that particularly wowed me and really made me want to try it. It was your standard international cuisine restaurant menu with a few local options such as stifado, kleftico and meze thrown in. A big plus for the restaurant is, if you are planning on going with children, not only is there a decent menu just for them but also a play area to keep them occupied and active. Much better than being sat in front of a tablet with headphones on!
We both decided we wanted a different type of seafood, so we settled on the fish platter which is advertised on the menu as a two-course meal. Salad, dips and pitta bread constitute the first course, while the platter itself, with a variety of eight different seafood options, comes as the second course.
The platter arrived and looked like a mountain of food. My partner was particularly keen on having some of the grilled octopus. Alas, it was grilled tentacle, so I had just a bite and let her have the rest. The kalamari rings were tasty but had been cooked from frozen and the grilled shrimps were literally just two shrimps. The swordfish, salmon and mussels were extremely good though and very well cooked. We enjoyed the food but were not blown away. And despite the platter looking like it was loaded with food, it was more just a sample of different items on the menu. I think that had it not been for the first course and the chips and vegetables that bulked up the size of the platter, our hunger probably wouldn't have been satisfied. But on the subject of the first course, the salad was very fresh, the pittes fluffy and warm and the dips as tasty as you would expect.
When we asked for the bill we were also offered a complimentary drink which was a nice touch. Offering a drink when we were done added to the relaxed atmosphere because it didn't feel as though they were trying to get rid of us to free up the table. Alongside this, being in an area that is a well-known tourist destination, the prices were surprisingly reasonable. Weighing up the price, location and quality, Doma offers good value for money. That, plus the friendly staff – and that free drink – left us feeling pleased that we had visited.
VITAL STATISTICS
SPECIALTY International
WHERE Perneras 24, Pernera, Paralimni, 5296
WHEN 3pm-11pm
CONTACT 99 476707
HOW MUCH €29.90 for seafood platter, €28.50 meat platter, €5-7 for kids' menu items.