By Paul Lambis
She recalls her grandmother fondly, walking down a grand staircase; her chin raised and her sustained fixed posture. Her hair, chicly held together in an elaborate bun; her gently dyed cheeks and the vivid pink lipstick that emphasised her lips. A modern Cypriot Cinderella, dressed in fashionable trousers with an incredible beauty and love for her people. In her latest book, Maria Kanther pays tribute to her grandmother, Zena Kanther, a firm, no-nonsense woman, and an exceptional philanthropist who was given the title 'The last princess of Cyprus.'
At first glance, Maria appears to be the opposite of her grandmother. Dressed in a trendy, psychedelic blouse and a pair of distressed jeans, this writer, radio presenter and television talk show host's warm personality instantly broke down barriers and made me feel as if I had known her for years. However, it was Maria's poise and candour that made me realise there is a great deal of similarity between her and her grandmother, the legendary Zena.
Released last autumn, Maria's best-selling book is the biographical account of Princess Zena Kanther De Tyras, the woman who was born into poverty in a Paphos village and rescued by an American millionaire after working as a cabaret dancer in Nicosia. "Most people think my grandmother's life was a bed of roses," says Maria. "Before she became one of the richest people in Cyprus, Zena Kanther endured hardship and struggles."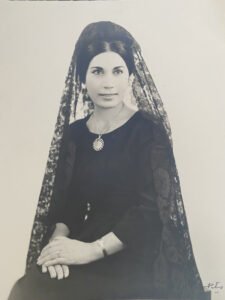 Born in the early 1930s in the village of Tala, Zena (her real name was Theognosia) had a difficult start in life. With six older brothers, she recalled in her own memoir how her alcoholic father was a womaniser, often violent and aggressive to her mother. Forced to drop out of school at a young age, Zena was only taught the basics in reading and writing. She spent most of her days seated under a tree in the village square, and often relied on the kindness of strangers to provide her with food and something to drink.
Barely a teenager, Zena relocated to Limassol where she later met a man and fell in love. Their brief relationship resulted in her falling pregnant, and although marriage was on the cards, his family intervened leaving Zena alone as an unmarried, single mother in a strange town. Zena did not allow her unfortunate circumstances to define her. In the depth of despair and debt, she accepted a job as a dancer in a cabaret and became known across the island for her sophisticated shows.
While working as a dancer, she met her husband, American millionaire Christian Kanther. Rushing to his aid after he had been beaten and robbed on the street, the man came back to the cabaret a few days later to offer his thanks in return for her act of kindness. Despite the eight year age gap between them, the couple became romantically involved and were married in 1952. While everybody believed that she was living a fairy tale, the irony was that she was suffering due to her husband's alcoholism.
Despite her personal struggles, Zena did not allow her wealth, nor her fame get to her head. She wanted to give back to the community and became a philanthropist, spending millions of pounds. Actively involved in the Greek Cypriot fight against colonial rule from 1955 to 1959, Zena was also an acquaintance of EOKA leader Georgios Grivas; her war-time efforts included hiding the Greek Cypriot general in her own basement. She acquired the moniker Princess de Tyras in 1967 from Prince Pavlos Palaiologos.
"I was always intrigued by my grandmother's story," reveals Maria. "I would often drive her crazy, inundating her with questions about her past, her experiences of the war, and her philanthropy. I was in awe whenever the house staff would refer to her as a princess." Maria describes her grandmother's commanding presence, often turning heads whenever she walked through a door. "She had a no-nonsense approach. Her behaviour was honest and open, and she would often say exactly what she meant."
Maria and her sister would visit their grandmother every year during the summer holidays from Greece, staying at Zena's palatial home for two months of the year. Zena Kanther was a fan of old cinema and would rent out classics to keep her granddaughters occupied. Maria recalls her grandmother's fondness for ice cream, and her obsession for cleanliness, often ordering the young girls to remove their shoes before entering her home.
"When I began researching my grandmother's life, I was overwhelmed with the many stories that began to surface, shedding light on Zena Kanther, and the positive impact she had on so many lives," says Maria. "Telling her story is an opportunity to shine the spotlight on a woman who was an incredible mother, grandmother, socialite and philanthropist."
Despite a glamorous, jet set lifestyle, surrounded by aristocracy, celebrity encounters and famous politicians, Zena Kanther led a lonely life suffering from Alzheimer's disease for the last ten years of it. In her book, Maria paints a portrait of an exuberant, historical woman who made a huge and lasting contribution to the island; a portrait of a significant figure that has become a part of Cyprus' popular culture.
Find the full interview with Maria Kanther on Culturescope Season 2 Episode 4 on Cyprus Mail's Good Living portal from August 16