Sometimes, just sometimes, you know you are going to enjoy a meal out before even sitting at the table. It has a lot to do with the vibe, not just at the restaurant itself but also the general area around it.
I don't normally find myself wandering around Stasikratous, despite it being one of the most well-known – and, in the not too distant past, swankiest – streets in Nicosia.
But an unusually breezy and cool July evening in the capital set the perfect occasion to rediscover it and to try one of the newest places in town, Think 30.
Opened only a few weeks ago, Think 30 escapes categorisation but can best be described as a Mediterranean fusion restaurant, as it features ingredients from Greece, Italy, France and Spain.
Extra points for the very extensive and varied choice of cocktails. The two I tried – one with a mastiha base and the other brilliantly combining gin and Aperol – were among the most original I've tried in the past couple of years.
It feels like a posh place but the location is hip rather than elegant and the staff, despite being attentive, never turned unnecessarily deferential.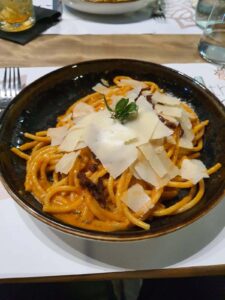 But I digress. After all, it is the food that must take centre stage when one writes a restaurant review. And boy, it certainly delivered!
Along with my dining companion, with whom I shared every dish, my dinner consisted of two starters, an amberjack ceviche in citrus bath and gnocchi with oxtail and arseniko cheese foam, two mains, orzo with seafood, Lefkada salami and peppers, and bucatini pasta with pancetta and San Michali cheese, and a dessert, a ganache chocolate bar with caramelised hazelnuts and caramel ice cream.
Hours have passed after my dinner and I still cannot choose which dish I liked the most. If I really had to choose – and it really is a hard choice – I would say the gnocchi hit the perfect spot, perfectly balancing the texture of the dumplings with the sapidity of the Naxos cheese.
However, the ceviche, with an unusual combination of onions and orange, was also among the best I've ever tried and the two mains, both pasta dishes, were worthy of praise for their richness and complexity.
No matter how full I was, I felt I had to try the dessert and, despite the fact that I would have appreciated it more with a slightly emptier stomach, the chocolate bar was the perfect way to end a great meal.
The menu at Think 30 was created by renown Greek chef Dimos Samourakis, executive chef at Santorini's La Maison, head chef at Athens' hip 7 Food Sins, with stints at Stockholm's two-Michelin starred Gastrologik and Barcelona's Roca Moo.
I think it is fair to say that, thanks to chef Samourakis and to Think 30, Nicosia's restaurant scene just turned up a notch!
VITAL STATISTICS
SPECIALTY Mediterranean food
WHERE Stasikratous 30, Nicosia
WHEN Monday-Saturday: 9.30am-12am, Sunday closed
HOW MUCH €9.50 to €14.50 for starters, €16 to €26.50 for mains, €8 to €11 for desserts
CONTACT 22 333808