More than 40 buses with around 500 Turkish Cypriots travelled to the Kokkina enclave on Sunday morning through the Limnitis-Kato Pyrgos crossing to attend the commemoration events for the 1964 Tylliria battles.
In total 44 buses with 510 passengers crossed from the north through Kato Pyrgos to attend the ceremony at the Turkish Cypriot enclave of Kokkina in the Tylliria area, to mark the 57th anniversary since the Tylliria battles.
On August 8 and 9, 1964, during battles between Greek Cypriots and Turkish Cypriots, Turkish aircraft bombed villages in the area leading to the deaths of several civilians and soldiers and almost raising to the ground Pachyammos, the village next to Kokkina.
Each year, people from the north travel to Kokkina, which is now a military area, to commemorate the Turkish Cypriots who were killed in the battles. Turkish Cypriot leader Ersin Tatar also attended. He reportedly arrived by helicopter.
Education Minister Prodromos Prodromou and Defence Minister Charalambos Petrides represented the government in the national memorial service for the people who died during the Tylliria battles, held at the Ayios Raphael Church in Pachyammos.
After the church service, runners of the reservist commandos association carried a flame from the Lorovounos area where battles took place, to the church. Wreaths were also laid at the monument outside the church.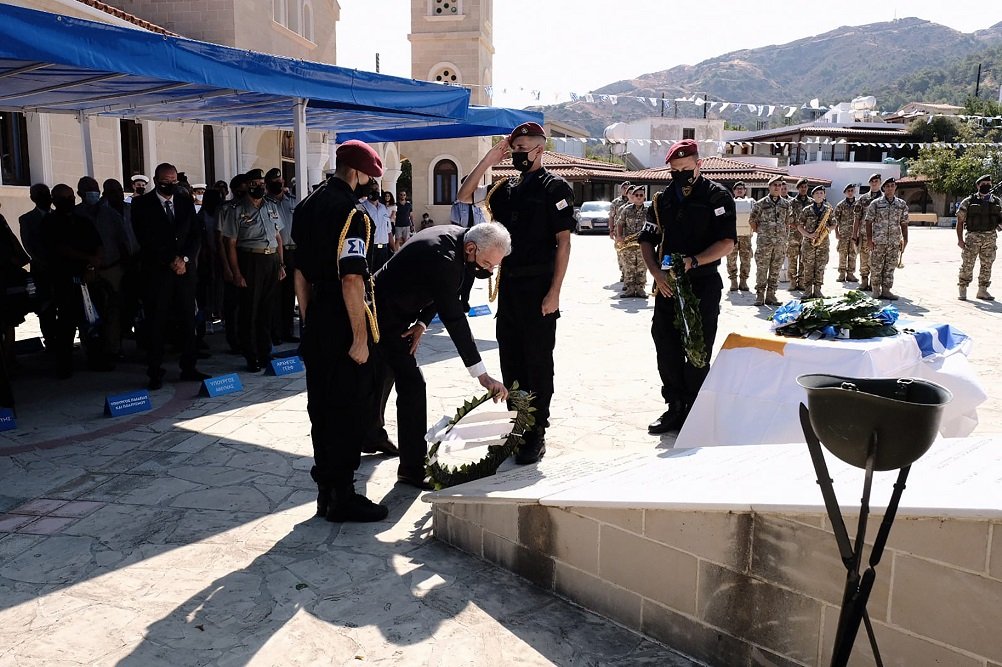 The events are also marked by the Greek Cypriots of the Tylliria area.
Kato Pyrgos community leader Nikos Cleanthous told the Cyprus News Agency August 8 is a 'dark anniversary' for the Tylliria area but also for Cyprus in general.
He said the area's population had paid a heavy price during the Turkish air force's airstrikes.
Cleanthous also said that since then, when Kokkina became an enclave, the Tylliria region was cut off from the rest of Cyprus and has since remained "neglected and abandoned."
The area residents, he said, have been facing massive difficulties since and were struggling to remain in their villages and not move to the cities.
Cleanthous explained that the events of 1964 have excluded the Tylliria area also from the east to the area of Limnitis while the biggest problem has to do with the Kokkina enclave, since the road connecting the area with Paphos, but also Paphos with Nicosia remains closed, causing great difficulties to the residents of the area.