French firefighters battled throughout the night to contain a wildfire in the hills behind the coastal town of Saint-Tropez, said local government official for the region on Wednesday.
A local government official for the southern French region of Var, where the fire first broke out on Monday, said the fire still had not been contained as of the early hours of Wednesday.
French firefighters hampered by strong winds were battling to contain a wildfire in the hills behind the coastal town of Saint-Tropez on Tuesday as campsites packed with holidaymakers were evacuated.

Around 900 firefighters and planes carrying water were tackling the fire but it was still not under control nearly a day after it began at a highway service area, authorities said. They urged those evacuated not to try to return to their homes.
French President Emmanuel Macron left his nearby summer retreat to thank the firefighters for their efforts.
"The worst has been avoided, we must remain humble in the face of these events (…) Climate disturbances will lead to more such fires," he said, adding that France had been less badly affected than some other countries in southern Europe.
Waves of extreme heat have hit much of the Mediterranean region in recent weeks, with wildfires from Spain and Greece to Turkey raising uncomfortable questions over global warming and countries' preparedness.
The French fire, which hit several villages in the southern Var region, spread quickly overnight into Tuesday as high winds propelled the blaze across 5,000 hectares (12,350 acres) of land, burning through some 3,500 so far.
"We were completely surrounded by the flames," said Stephane Gady, mayor of the village of La Mole, which is nestled near pine forests close to the French Riviera.
No lives were lost in the area, Gady and local authorities in the Var said, but around 100 homes were destroyed. A campsite in Grimaud was razed to the ground. Charred mobile homes were scattered across the site.
At least six other campsites in the Var region were evacuated, the Var prefect's office said.
'IT'S CRAZY'
Another local mayor, Philippe Leonelli, said his seaside town of Cavalaire was spared, and was now sheltering some 2,000 people from nearby campsites in gyms and events halls.
"This time the fire spread in three hours through an area that would normally be covered in 48. It's crazy, that's how quickly it all went," Leonelli said, adding several colleagues had lost their homes.
Cavalaire is normally home to some 10,000 people, but the population swells to 90,000 during the summer months. The villages of La Croix Valmer and Grimaud were also hit.
Alexandre Jouassard, an emergency services spokesman, said some locals were being told to stay indoors with wet sheets under the door instead of fleeing to prevent road chaos in the area, known for its beaches and coastal resorts.
Fires also broke out in two villages in southwestern France, fuelled by gusts of wind, the Aude department prefect said, prompting the deployment of water-carrying planes and more than 500 firefighters, five of whom sustained injuries, one badly.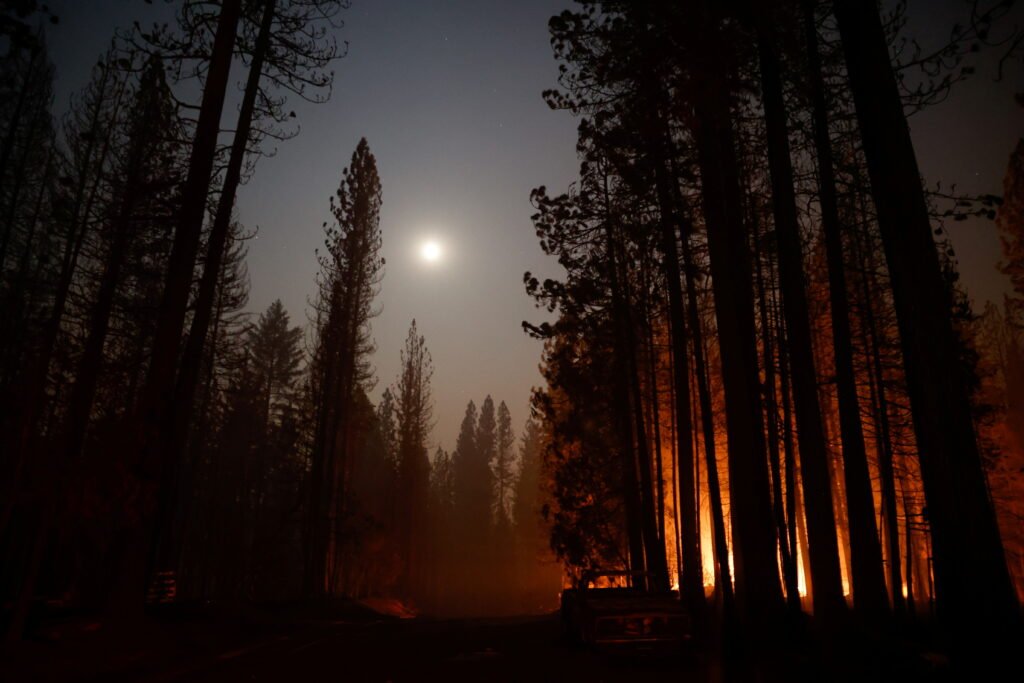 Smoke and fire are seen in Grizzly Flats, California, U.S. in the aftermath of Caldor Fire, August 17, 2021. REUTERS/Fred Greaves TPX IMAGES OF THE DAY
California's wildfire crisis escalated as resurgent strong winds fanned the state's biggest conflagration, drove flames from a separate, smaller blaze into a rural mountain community and prompted widespread precautionary power shutoffs.
Already the second-largest California wildfire on record, the Dixie fire raging since mid-July in the rugged Sierra Nevada range northeast of San Francisco had charred 604,000 acres of drought-parched timber and brush as of Tuesday morning, according to the California Department of Forestry and Fire Protection (Cal Fire).
That tally was up 34,000 acres from the day before, marking one of the fire's biggest 24-hour growth spurts since its earliest days last month.
Doug Ulibarri, a spokesman for the Dixie incident command, attributed the surge to extreme winds that blew up across much of northern California Monday night. But he said containment lines carved by strike teams around nearly a third of the Dixie's perimeter largely held up overnight, despite enlargement of the fire's overall footprint.
Some 1,200 homes and other structures have been lost to the fire, but another 16,000 buildings were listed as threatened, with evacuation estimates ranging from 12,000 to 28,000 residents.
The Dixie is the biggest by far among scores of fires roaring across the Western United States in a highly incendiary summer that experts see as symptomatic of climate change.
A much smaller blaze emerged Tuesday as one of California's leading wildfire threats this week when high winds pushed flames from the so-called Caldor fire, about 65 miles east of Sacramento, into the El Dorado County mountain hamlet of Grizzly Flats.
Cal Fire said two civilians suffered serious injuries during hasty evacuations of the area early Tuesday and that an unspecified number of structures were seen going up in flames.
The Sacramento Bee reported that property losses in Grizzly Flats, a community of about 1,200 residents, included an elementary school, a church and a post office.
The California Governor's Office of Emergency Services put the overall number of people displaced by the Caldor fire at more than 11,000 as of Tuesday night, with mandatory evacuation orders posted for several communities, including Pollock Pines and Somerset.
The flare-ups of the Dixie and Caldor blazes came as the state's largest utility, Pacific Gas and Electric Company (PG&E), initiated deliberate power shutoffs across northern California to reduce wildfire risks posed by possible wind damage to transmission lines.
The company cited forecasts of sustained winds reaching 40 miles per hour, with higher gusts in foothill and mountain areas, as well as tinder-dry vegetation and low humidity levels.
The precautionary blackouts were expected to disrupt electricity service to 51,000 homes and businesses scattered across 18 counties, PG&E said. The company said it expected winds to abate Wednesday, allowing service to be restored within the following 24 hours.
Waves of extreme heat have hit much of the Mediterranean region in recent weeks, with wildfires from Spain and Greece to Turkey raising uncomfortable questions over global warming and countries' preparedness.