While the pandemic may have changed the way we shop for fragrance dramatically, with beauty hall testings becoming a thing of the past, shoppers are seemingly required to take a leap of faith when purchasing a new scent online, most likely defaulting to known and loved brands. We increasingly turn to familiar scents which can act as a security blanket yet choosing the right perfume can be tricky. Much like finding the right pair of jeans, finding a signature scent that sums you up and smells like the right fit lends itself towards being an instinctive experience. We've taken a look at some iconic, elegant fragrances.
Guerlain Santal Royal Eau De Parfum
The Absolus d'Orient Collection will take your olfactory senses on a unique oriental journey. Under the masterful eye of Thierry Wasser the fragrance unveils a few of its secrets through woody, ambery and spicy scents, capturing the power and beauty of the Orient in a delectable fragrance. Guerlain is one of the most premier luxury labels of fragrances in the world. Their contribution to the perfume business harkens back to the 19th century when royalty wore their scents .
Benigna Parfums Floral Trio Collection 
As a new European favourite developed in France, this prestigious perfume house with their headquarters in Miami, Florida, is known for creating long-lasting fragrances that tell a unique story on everyone's skin. The brand has charmed the luxury perfume industry through their unique fusion of artistry, luxurious fragrances  and compelling storytelling- even going as far as developing the eminent Hollywood film. A quick glance at the composition of the fragrances reveals precious and elusive elements such as Bulgarian Rose, Ambergris, Musk, Oud and Orris. Many of the ingredients are rare and the most expensive in the industry and have been aged up to 5 years in order to produce a fragrance oil with unparalleled longevity and depth.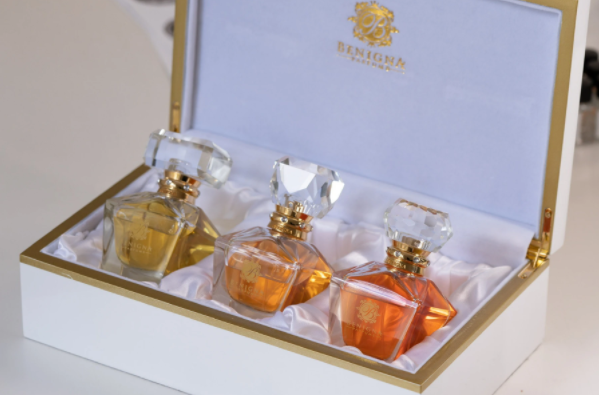 Image Credit: Benigna Parfums 
Thierry Mulger Angel
As one of the most popular and iconic fragrances by Thierry Mulger, Angel belongs to the category of East Asian scents but combines seemingly opposite notes. Fruity and floral ingredients complement the base nuances of vanilla, patchouli and sandalwood. Adding extra olfactory interest notes of bergamot, apricot, tangerine, caramel and chocolate gives the fragrance a more mature and intoxicating profile. 
Christian Dior Balade Sauvage 
With a scent reminiscent of a tropical vacation, this delectable fragrance is inspired by the island of Panarea. Formulated with notes of bergamot, fig, orange blossom and sea breeze, the combination mimics the different scent experiences one will encounter while close to the ocean. This fresh, citrusy scent is beautifully balanced with delicate touches of amberwood and vanilla.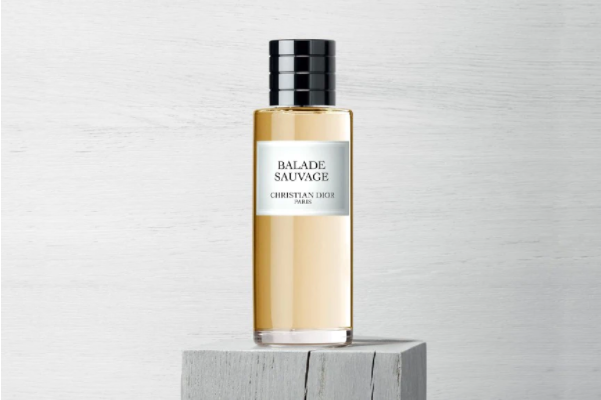 Image Credit: DIOR official website.
Roja Parfums Special Edition Elysium Pour Homme Pure Perfume
This ultra-fresh fragrance effortlessly blends citrus and zesty lemon, grapefruit and lime. Invigorated by the sweet harmony provided by the lily of the valley, rose and jasmine, Roja's Elysium carries fruity notes of crisp apple with a warm heart of pink pepper and woody notes. This olfactory delicacy has a soft base of benzoin and smooth vanilla with sensual touches of ambergris, reinforcing the top note of musk. 
Chanel Chance Eau Tendre 
A classic fruity and floral Chanel perfume suitable for spring and summer. The light, airy fragrance has no heavy combinations in its base, heart or top pyramid and is perfect for the woman who prefers a low-key, uncomplicated scent. This floral fruity fragrance for women was launched in 2010 under the careful eye of Jacques Polge. Featuring top notes of quince and grapefruit and delectable middle notes of hyacinth and jasmine, the fragrance redefined the classic feminine scent. 
Though Chanel No. 5 was the world's first abstract fragrance, which incorporated more than 80 ingredients in a complex, multi-layered formulation process Chanel Chance Eau Tendre seems to take over
Maison Francis Kurkdjian Amyris Femme 
This delicate floral oriental perfume has a base of vetiver, musk and ambergris that's complemented by notes of California orange, lemon flower and iris resulting in a floral, woody and luminous fragrance. At the young age of 25, Francis created Jean-Paul Gaultier Le Mâle, which remains a global bestseller. Other notable fragrances by this brand include the multi-award-winning Elie Saab Le Parfum and Iris Nobile for Acqua di Parma. 
More than Scent
Fragrance has the unique power to transport the mind and lift spirits and a signature scent should be timeless and wearable. Our memories are so often laced with scent with one whiff holding the power to evoke meaningful moments from our past. Aside from returning to old faithful scents, your signature scent has the potential of becoming an enduring calling card that signals your presence to friends and loved ones whenever you arrive. Finding a fleeting favorite can act as a reminder of a specific period in your life for years to come. 
When on the hunt for the perfect scent, keep in mind that a good fragrance should have a balance of complimentary scents, longevity and should match your personality. Essential oils deliver much more than synthetics in terms of longevity and balance.