Music is not only the word, but almost a magical force for one musician on the island. THEO PANAYIDES meets a restless soul who finds solidarity in jamming
We open on a brick terrace house in Sheffield; a dining room, with an upright piano in the corner. The year is 1988, or thereabouts – and six-year-old Jamie Paul is sitting behind the piano making music, or what sounds to his six-year-old mind like music. "I remember I used to sit – probably before my feet could even reach the pedals – I used to sit and just bash away at it. Sometimes for hours, making up songs that made no sense, that were musically terrible. But, for me, that was fun."
Fast-forward 33 years to the Amavi Hotel in Paphos, specifically the plush Selene bar where Jamie sits on a Friday morning, having played there the night before. It's a regular gig which he's had – lockdowns permitting – every Thursday for the past two years, having moved to Cyprus five years ago and married his wife Sancha (a jewellery designer) soon after. The bar gig, where he plays funked-up cover versions for the Amavri's well-heeled patrons, isn't his main musical project, however. That would be Trio Frisson, playing keys and vocals alongside bassist Byron Athinodorou and drummer Lefteris Lefkatis, "a fusion of Soul, Groove, RnB & Reggae" according to their Instagram – and of course there are also one-offs like the Hillside Soul Festival, a two-day event (the Trio are among the bands playing) taking place this week, on Tuesday and Wednesday, at the Paradisos Hills Hotel in Lysos.
What happened in the interim, between 80s Sheffield and 21st-century Paphos? In a word, music. Seven years in his teens with an acid-jazz band called The Tranceplants where he played bass from the age of 12 (!) to 19; a stint on the keys with a hip-hop/funk outfit called Ujigami – where he got into sample-based production and also started writing "long extended verses with wordplay and metaphor" – then to the Leeds College of Music for a degree in Music Technology, then several years playing underground clubs and venues with bands called Sherlock & Holmes and The Sound of the Baskervilles. (If only young people put half the energy into changing the world that they put into band names, eh?) He recalls "big, pumping clubs packed with people", and regales me with talk of chord extensions and Fender Rhodes pianos. Oddly, we don't talk much about famous albums or singers (though Otis Redding is revealed as an early influence, and Miles Davis' Kind of Blue as a desert-island favourite). He loves music, but not as a fan; what he actually loves is the business of making music.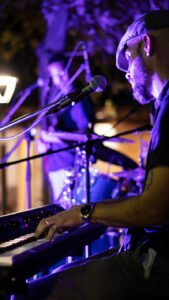 We say 'business', but that's rather a loose descriptor; making music has never been closely aligned with making money, even in the days before the internet made it all freely available. The classic joke, says Jamie, is of the musician who's dating a girl, and what she'll invariably say just before taking him home to meet her parents: 'Please don't tell them you're a musician'. His own parents – Dad was a photographer, Mum a psychologist – subscribed to the healthier notion that doing what you love is just as important as making a living, and encouraged that passion in their children. (Jamie's brother is a stage designer.) He's never been rich, he says easily – "but not everything in life is about money, as long as you pay your own way and are self-sufficient… My life goals, I suppose, are somewhat different to a lot of people's."
A level of comfort is important, for sure, but "I value time, I think, above all else… I might be – certainly over the years I have been – renting a cheap apartment, and eating cheap food and driving an old car, all those kind of things which to a lot of people might seem problematic, if that frees me up in my life." There's a well-known quote by the Chinese philosopher Lao Tzu, "'A man is rich when he knows he has enough'. And I really do believe that. I don't need to be this consumer, who needs these material things. Most of the money I've earned in my life I've spent on travelling."
The travel was to places like India and Thailand, all the usual haunts one associates with a certain type of British bohemian. Jamie ticks a lot of boxes: Left (or Left-leaning) in his politics, a Zen Buddhist when it comes to spiritual beliefs. I forget to ask if he's vegan, but his physique certainly isn't that of a burgers-and-souvla fan: he's rangy, whip-thin, his arms tattooed, his brown eyes shrewd, a flat cap permanently perched on his head. The cap has become a trademark, he admits, a bit of style and even a nod to his heritage ("My granddad always wore one of these; this is a Yorkshire flat cap all the way!"). His singing voice is husky, soulful; his energy's unusual, being intense – even a little overpowering – without being aggressive, indeed it's notable that not once, in the various bands of which he's been a member, has he fallen prey to what he calls "musician drama". Trio Frisson did start out with a different drummer (founder member Stylianos Pourgouras, known as 'Stitch') but Stitch left to do a PhD in England – in Sheffield, of all places – not because of any bad vibes. Yet almost all bands end by breaking up, don't they?
"I think a lot of that comes from musicians' ego," he notes mildly.
And his own ego doesn't get in the way like that?
"I like to think not."
It's not that he's placid, or happy to be led along (he actually seems more of an organiser than a follower; he's currently busy putting together promotional material for the Hillside project); it's just that he tends to "answer to a higher power" where making music is concerned. There's a certain "diva attitude" that can start creeping in, he explains, at which point a band's days are numbered – but for him that's never a factor, "it's always been about the music. Many years ago, I was introduced as 'This is my friend Jamie. He's cool, he's humble' – and that stuck with me for years afterwards, I thought it was such a compliment". The 'higher power' to which he humbly defers is, of course, music: "It's the music, it's all about the music. It's all about wanting to do more music, better music, new music, different music. It's always been about that."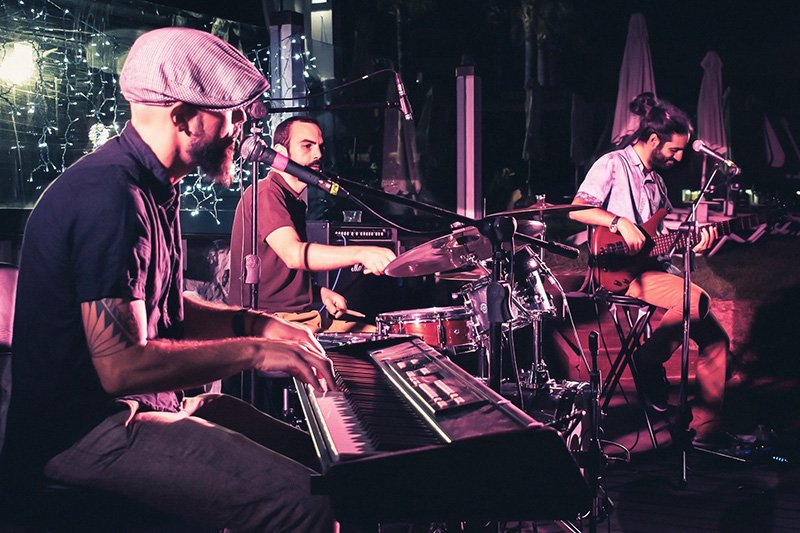 Music takes a capital 'M' where Jamie Paul is concerned. It's all he's ever done, albeit not just playing and recording (he's also worked as a sound engineer and other techie jobs). It's how he tends to bond with people: his best friends – both here and in Britain – are all artists and musicians and, after meeting Sancha at a street-art festival in Limassol, "like most other relationships and friendships in my life, we hit it off talking about music". (She, like him, is a vinyl collector.) It's how he tends to define others, thus for instance I ask about the band dynamic in The Tranceplants and he replies with a summary of musical tastes (the others were more into prog and even Zappa, "I was a bit of the oddball" being into British hip-hop like Roots Manuva). Above all, however, music – or The Music – is a power, a "magic force", a quasi-deity, as real and majestic to him as God to a prophet.
"I can ramble," laughs Jamie, which is true enough – but he waxes eloquent when it comes to discussing his vocation. We do talk a bit about other things. He and his wife live in Geroskipou, near the edge of the rock bluff at the bottom of the village (they initially lived in Sancha's studio to save money, among the tools and machines). Jamie's branching out into film, mostly short documentaries for other artists. Lockdown was of course bad for business, and also "a stressful time" – yet he doesn't sound too stressed, indeed he took advantage of lockdown to hone his filmmaking skills. I suspect he's too engrossed in creative work to be stressed about something as extraneous as Covid – just as he was too into music to ever be much of a party animal. "We weren't really into the whole drug-nightclub-party scene," he recalls of his teens and early 20s. "There was a lot of gigs, there was gigs all the time. We would always be either playing or going to see other bands."
Again, it's all about the music – but in fact there's a very specific tweak to that, a very particular meaning in the way he experiences music (and perhaps life in general). As already mentioned, he's not really a music buff; it's the playing he adores, the moment, the connection. "It's easy to say 'Stevie Wonder', 'Nina Simone'," he shrugs when I ask about musical influences. "But, at the end of the day, it's the musicians that I've played with who've had the most bearing on what I do."
There's a pattern here. Jamie calls himself "a humanist, and perhaps a socialist" when it comes to politics – meaning what he hates above all is division, polarisation: "I really feel like we're all in it together". Solidarity is important to him – and it's that same solidarity, the concord, the brotherhood (and sisterhood) that exhilarates him when it comes to music, the miraculous harmony of musicians jamming together. "We wouldn't even need to look at each other," he recalls of his seven years with The Tranceplants (it's increasingly becoming that way with Trio Frisson too). "You get that with musicians who are very familiar with each other – when everyone's in the zone. Y'know, the zone – it's that magic place you want to find yourself in, when you're playing music." Jamie nods, growing more ardent by the moment: "It's the zone. It's the space where time doesn't exist, it's the space where the universe," he cups his hands to denote an imaginary globe, "becomes this – sort of melody, or harmony, or rhythm, and anything outside of that is either non-existent or just incidental. Everyone's there, everyone's inhabiting this space. That's the goal, really. That's where you want to be."
The zone is approached in real time, in the real world; "You can never get that playing over Zoom, working remotely". Though he spends many hours on a computer, making music, Jamie's "someone who hasn't embraced social media at all," he admits rather stiffly – not just because of the new online landscape, with music being essentially used as bait (and musicians left penniless) so companies can gather data and sell it on to advertisers, but also because social media goes against what's "real". Everything he prizes – the soul behind soul music, the Zen Buddhist emphasis on the moment – comes back to that yearning for the incandescent oneness of the zone. Jamie's personality type is perhaps the explorer, forever on a hunt for authentic experience.
He's restless, that's perhaps not apparent at first glance; he gets claustrophobic. The reason why he fell in love with Cyprus was because "there was so much space to breathe" here, he tells me (maybe there is, at least compared with north London). He's almost entirely self-taught when it comes to music; "I've just wanted to make whatever I've liked… I've always had this drive to DIY it". His parents did eventually start him on piano lessons – to get some peace and quiet, more than anything – but in fact he burned through one piano teacher after another, bored with their classical methods and 'Frere Jacques's. He could probably never survive in a nine-to-five job (not that he's tried). It makes perfect sense that a restless person would crave the headlong creative rush of playing music – and recoil from the narrow conformism of both social media and the bourgeois obsession with making money.
He's never been rich, or even especially famous. At the end of the day, he's almost 40 and still plugging away, playing gigs in piano bars. What would stand as his biggest accomplishments, if he were run down tomorrow by the proverbial lorry? "My biggest accomplishments are only as good as the musicians I've worked with," he replies earnestly, yet a bit evasively. "My biggest fortune was to fall in with exceptionally talented musicians from a young age." Can he really be said to have 'made it' in the music business, after a lifetime of trying?
Maybe not. Yet he's also found success on his own terms, and the trying – it turns out – brings its own rewards. Turning 40, he asserts, holds no terrors for him. "I'm more grounded, and more philosophical, and more aware and more focused than I've ever been, and that comes with age," says Jamie Paul. "You naturally reach a certain point where you have to decide, y'know, 'Am I chasing rainbows here? Should I be doing something else with my life? Or is this worthy of my time and my attention – just for the sake of the music, for the sake of the art?'
"And, at the point when you realise 'Yes, it is worth doing, and it is worth doing just for the art'," he adds – gazing at me coolly from beneath the Yorkshire flat cap – "at that point, I believe, you can call yourself an artist."