The coronavirus has caused a second pandemic: anxiety. As mental health issues worldwide escalate, ALIX NORMAN looks at the latest in anti-anxiety tools (and how to get a discount)
During the Covid pandemic, anxiety has rocketed. And we're not talking 'oh-I'm-a-bit-worried-let's-have-a-drink' concern, but a full-blown mental health epidemic that's sweeping the world!
A recent World Health Organisation survey suggests the pandemic may cause 'Bereavement, isolation, loss of income and fear that trigger or exacerbate mental health conditions. Many people may be facing increased levels of alcohol and drug use, insomnia, and anxiety.' And to top it off, they add 'Covid-19 itself can lead to neurological and mental complications, and those with pre-existing mental disorders are also more vulnerable to SARS-CoV-2 infection.'
If there's one thing anyone with mental health issues really doesn't need, it's hearing yet more dire warnings. And I should know – I was happily flirting with anxiety long before corona reared its ugly head! So in the last year or so, I've stepped up my coping game, trying all sorts of new things to alleviate worry and panic…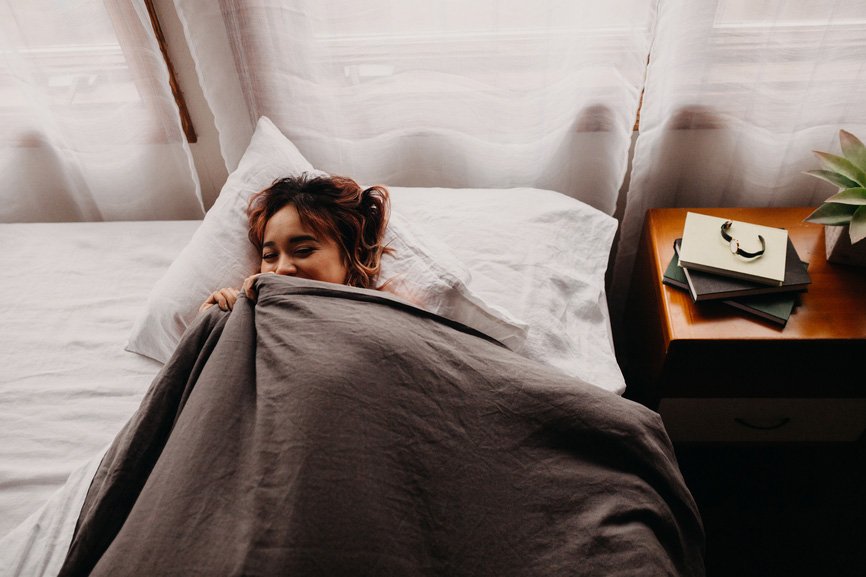 Some work really well: meditation, homeopathy and deep breathing. And as a firm believer in the gut-brain connection, I practically rattle with pro- and pre-biotics! Some worked in moderation: CBD (the oil) and CBT (the therapy) have both been useful at times, as has aromatherapy (mostly lavender for insomnia). And positive thinking (a practice I always believed was hokum for hippies) is actually quite effective! And some weren't for me: most notably medication, though it's a good choice for many anxiety sufferers.
But the latest item in my anxiety toolbox (something I've only just discovered) has been the weighted blanket…
Relatively new to the market, weighted blankets are filled with a heavy material (usually minuscule beads of some description), and generally total about 10 per cent of your body weight – roughly five to seven kilos for an adult. The idea is that you swaddle yourself up and enjoy the benefits of 'deep pressure stimulation' (the same kind of thing you find in massage), which tells the nervous system to calm down and stop stressing.
Used to relieve pain, lessen anxiety, and improve mood, weighted blankets are not just a boon to anxiety sufferers, but also used by those with autism, ADHD, osteoarthritis, insomnia, chronic pain, and people recovering from surgery. I have a friend who, though just 29, had an operation on his spine a couple of years ago; he swears by his weighted blanket. An acquaintance who suffers from endometriosis, PCOS, and chronic back pain, has been telling me for years that weighted blankets are her go-to for anxiety-related aches. And a colleague whose daughter has been diagnosed with ADHD tells me her weighted blanket is the perfect soother for when things get a little out of hand. So last month, I decided to go on the hunt for one of my own…
First, I tried Bazaraki – because, as a starving creative, I rather hoped someone might have one for cheap. Alas, weighted blankets are still few and far between on the island, and it appears that those who have one hang on to it! So I gave amazon.co.uk a shot, and discovered a huge range of well-reviewed weighted blankets at the €150 price point. Which I could just about afford, were it not for the additional shipping costs, taxes, and my inability to get to the central post office during working hours. Finally, in desperation, I searched 'weighted blanket Cyprus' – and lo and behold, found a site that was selling seriously professional blankets of the tip-top type right here on the island!
I had a chat with the sellers, the eminently helpful Katerina and Dimitris, who import the blankets under the brand Hi-Quality. I put in my order, and within two days I was the proud owner of the latest in anti-anxiety devices! Katerina – who herself uses her own product – was incredibly knowledgeable about their use and composition: mine, I learnt, was weighted with hypoallergenic, odourless, non-toxic glass beads; layered with eco-friendly polyester padding; and covered in 100 per cent cotton. Washable by hand (or at a dry cleaner), it came complete with two duvet covers – both with the internal loops that stop the blanket from sliding around inside the casing – and was approximately 152 by 203 centimetres – perfect for my 5 foot 9 frame. There was also a seven-day trial included for free. So if, by any chance, the blanket didn't work for me (occasionally, this can happen), I could return it and get my money back.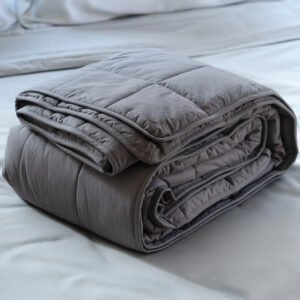 That was not, of course, the case. As soon as it arrived at my door (yay – no faffing around at the post office!) I rolled the blanket into its cover and plumped down on the couch. Whereupon, coddled and cosseted, I promptly fell into a blissful, hour-long sleep!
Over the past couple of weeks, the blanket has been a real boon. The morning the electricity bill came (and hot flushes mean my air conditioning is on more than I'd like), I shucked off the worry with a quick blanky nap. The day my internet crashed, I wrapped myself up and fixed the ether with minimal panic. And when my sister was quarantined after coming into contact with corona, I controlled my anxiety by sitting at my computer with the weighted blanket swathed around my nervous person!
Using the blanket has improved my sleep. It helps to calm my breathing and heart-rate when I'm feeling fearful. And, knowing I have a tool to deal with the worst of my anxiety attacks has been a huge boon in these trying times. Granted, I can't take my Hi-Quality blanket out and about (there have been times, standing in line for rapid tests, I wished I had it with me), but it's there when I need it. Corona anxiety? Bring it on. I have my tools, and I'm wrapped and ready!
For more information on the Hi-Quality weighted blanket, visit the Hi-Quality website. Prices start at €159.90, and shipping is free on the island. Covers are sold separately, but both blanket and covers can be purchased as a bundle at a discount. Readers of the Cyprus Mail will receive a further 10% discount by quoting the code CYPRUSMAIL upon purchase.